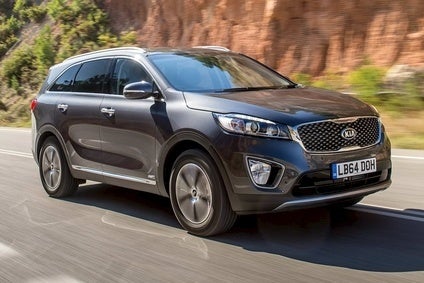 The Sorento must surely be one of Kia Motors' most profitable vehicles, especially in Europe. British market prices now stretch beyond the GBP40,000 mark, which arguably makes the latest model a premium brand vehicle.
The new generation model took a little time to reach the European region. The main mechanical news is an updated version of HMG's 2.2-litre four-cylinder diesel. Now Euro 6-compliant, it features a fourth generation common rail injection system, while the engine itself loses five kilograms.
The new 2,199cc diesel produces 197bhp (an increase of 3bhp) at 3,800rpm and 441Nm of torque (+19Nm) at 1,900rpm. All Sorentos sold in the UK have this engine. Top speed is 124mph, and 0-62mph takes 9.0 seconds with the six-speed manual transmission or 9.6 with the six-speed Hyundai-Kia torque converter automatic. And for the first time in a Kia, automatic variants as well as the manuals feature Intelligent Stop & Go (ISG). CO2 drops compared to the previous model. With manual transmission it's 149g/km or 172g/km for the auto, while official Combined consumption numbers are 49.5mpg and 43.4mpg respectively.
The third generation of this SUV is the top model for Kia Motors in Europe, though a replacement for the Mohave/Borrego (development code: VM) is due to be launched in South Korea and elsewhere later in the year. VM is almost certainly going to be even bigger than the current XL-sized HM-series model, so would likely be too big for the European region. The new Sorento has also gone large, measuring 4,780mm from bumper to bumper, which is 95mm longer than the second generation car.
Despite its length, this supposed seven-seater SUV hasn't really got a lot of room in the third row. The seats themselves are easy to flip down or up but you wouldn't want to spend much time back there if you're an adult. For smaller children, they're fine; but let's just say this is a 5+2, like the Discovery Sport.
The wheelbase is 80mm longer than the old Sorento and you can tell as passengers in the second row have noticeably more legroom, with the added overall length of the vehicle another factor in what is a 90-litre boost for the boot's capacity. Having said that, when the third row is raised, there is only 142 cubic litres of space, but this becomes 605 with the seats folded or 1,662 litres in two-seater mode. Third row seating, is, by the way, standard for the UK market.
Magna Powertrain was commissioned to build on the work it did with Kia for the development of the Sportage's 'Dynamax' 4×4 system. The company says that unlike some rivals' reactive systems, this one anticipates when AWD will be needed thanks to continuous monitoring of driving conditions. In normal mode, 100 percent of drive goes to the front wheels, but this can shift to a maximum split of 60/40 front/rear to improve cornering stability or should the road become especially slippery. If you want to go off-roading, press a button marked LOCK which splits the drive to 50:50 as long as you keep the speed below 25mph.
Something you immediately notice compared to the old car is how much quieter it is. Some of that is down to what is effectively a new engine, but Kia has also done much work on making sure NVH levels have dropped. The company says much of this comes from having fewer holes in the body structure, foam between the engine bay and the cabin, and what is claimed to be 25 percent thicker noise deadening material, plus a stiffer body-in-white.
Other technical highlights include a world-first CFRP sunroof frame which is said to save eight kilograms, a laser-welded tailgate (fewer parts, less weight, no need for garnishes to cover the join marks), and the amount of high-strength steel raised from 28 percent to 53 percent. The use of ultra-strong hot-stamped steel is up compared to the old model. This rises from 4.1 percent to 10.1 percent, and, reassuringly for rollover protection, it features mainly in the A- and B-pillars.
Something unusual is the car having been engineered with both mechanical and electronic parking brakes. In the UK, a handbrake is standard for Sorentos with a manual gearbox, with the electric switch alternative reserved for automatic variants.
New models are hardly ever launched lately without claims being made for major weight saving. In this case, none was needed, as the old model was hardly a heavyweight. The UM series Sorento has a minimum kerb weight of 1,932kg (manual), the spec sheet shows, which is less than the admittedly larger Volvo XC90 and Audi Q7, the two current slimmed-down champions of the biggish seven-seat SUV class.
There are KX1, KX2, KX3 and KX4 model grades, the high-spec one having been added at the request of dealers: it seems people don't think of Kia as a maker of cheap cars any more. This Volkswagen-style influence is visible both inside the car and also when seeing it on the road. You immediately link it to other Kia vehicles, and when taking a seat, things feel and look familiar yet somehow there is sense of newness. This is part of the genius of VW's brand building over several decades, and it keeps people coming back to trade in, just as Kia is now finding.
Lots of sensible or simply nice touches seem to be everywhere, with things like a soft headliner, a sporty-looking small circumference steering wheel and how about this: a clearly marked switch for brightening or dimming the dashboard lighting. Why do almost all other OEMs now hide this function behind multiple trial and error guess-presses of an infotainment system's screen, or worse, a rotary controller? The test vehicle (a KX-3 manual listed at GBP35,845) has a big Infinity branded screen controlled by touch not some dangerously illogical rotary controller backed up by multiple other knobs and buttons.
You find thoughtful touches throughout the interiors of all Kia models and on this one, such examples include the the handbrake and automatic transmission selector being switched to the driver's side for RHD cars.
Faults? Well, there were a few. The glovebox is small and so too are the door pockets and they could do with some soft lining, especially when you're paying thirty five grand. There were some some blanking switches beside the heated seat ones, but you would probably stop noticing that after a while. Something which has the potential to annoy longer term though, was a cheesy tune which played every time the start or stop button was pressed. And hey, why not have a key, especially as sometimes holding it down fired the engine and sometimes it didn't. And if you just want the accessories position, that's tricky. Let's not mention the security issues which seem to keep cropping up, though the latest one seems to be just for Volkswagen Group vehicles.
One good thing about the keyless entry to balance out my moaning is this: as you approach the car, the mirrors whir into place and the door handle illuminates. Touch it and the car unlocks, which is nice, and feels premium. You can also open and close the tailgate via a button beside the fuel door unlock switch – just like on a Porsche Macan.
Given the choice, I would go for the automatic as the 2.2-litre engine and manual transmission combination is not ideal. Even with just me on board there was a second or so of turbo lag just below 1500rpm, before a surge of torque appeared. Fully loaded it would be far worse and dangerous in some circumstances. Also, the first and second ratios are too low – this car needs the six-speed automatic as standard, but of course that affects the CO2 average. Perhaps then, a seven-, eight- or nine-speed auto option. Better still, HMG's forthcoming 10-speeder linked to a 250PS version of the R diesel, and about 500Nm of torque would be terrific too.
On the production side of things, cars for the UK market are sourced from Hwasung in South Korea, though of course the Sorento is again being built in the US (West Point, Georgia) for the North American region, where the new car is fresh for the 2016 model year. Hwasung has an annual capacity of 600,000 vehicles via two shifts and the plant has three lines for the various models made there. You might be expecting to see a note about production by the DYK joint venture, but for the moment at least, there are no official plans to build the UM series model in China.
The R diesel might be standard in Britain but elsewhere up to four other engines are available, offering power outputs ranging from 172 to 270ps. These include a 2.4-litre gasoline direct injection (GDI) unit, 2.4-litre and 3.3-litre multi-point injection (MPI) engines, and a 2.0-litre R diesel. The 2.4-litre four-cylinder petrol unit is offered in certain other European countries. A Sorento Hybrid is expected to be added for some markets in 2016, powered by the combination of a 1.7-litre petrol engine and one electric motor.
The US will again be the new model's largest market. As for the UK, Kia says its hopes to sell 3,500 units this year. In 2014, sales totalled 3,108 units. The retail to fleet split for the new model is anticipated at 75:43 percent, and so far, just under one third of all Sorentos sold in Britain have been of the top-spec KX-3 and KX-4. On average, prices for this model are up by five percent, reflecting the strength of the brand's continuing image shift, though there is also far more standard equipment even on the base KX-1.
Future Kia SUVs
As noted above, the next new 4×4 Kia will be the follow up to the seven year old Mojave (Borrego in some countries) which sold well for a time in the US and Canada before being discontinued there. It should be built alongside the Sorento at Hwasung with production expected to commence towards year-end.
The next (QL) Sportage will have its global public debut at the Frankfurt IAA in a month's time, and the first sketch of this fourth generation model was issued to the media earlier today.
A model which is seeking to take the brand into new territory is an additional C-segment model codenamed DE. This is closely related to Hyundai's Prius-challenger (codename: AE) but unlike that five-door hatchback, the Kia should be a crossover. The styling might be similar to that of the KED10 Niro concept, and that could well be the model name too. It may even be revealed as soon as September's IAA in Frankfurt, or failing that, it may appear at the LA show in November.
Below the Sportage, and coming in 2017, will be an additional model currently under development mainly for Europe. It is likely to be manufactured in Slovakia and similar in size not only to the Nissan Juke and Renault Captur size but also the China-only Kia KX3.
UK MD Paul Philpott talks new Sorento and his goal of reaching 100,000 registrations a year, Part 1 and, part 2