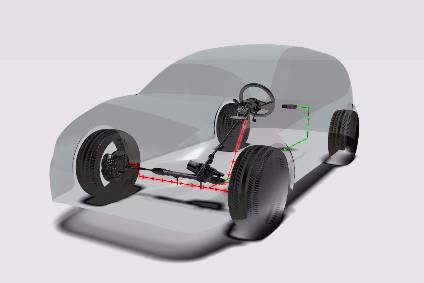 From a niche product for small cars to a technology of choice for all, electric power steering (EPS) remains ever popular as OEMs develop yet more fuel-efficient cars and push to reduce CO2 emissions. Continuing just-auto/QUBE's series of research snapshots, this one reviews some market and technical trends in the steering system sector.
An EPS system effectively eliminates the traditional hydraulic system's power steering pump, hoses, hydraulic fluid, drive belt and pulley on the engine. Such systems dispel the need for the engine to provide mechanical power for the steering system, providing both cost and performance benefits.
Other factors in accelerating the adoption of EPS include better reliability, improved control, down-sized and more powerful electric motors and enhanced battery performance.
While fitment of EPS systems are widespread on passenger cars, the technology is permeating across commercial vehicles, too. Bosch is a global market leader in steering systems for commercial vehicles and predicts that half the trucks in Europe, Japan and the US will have electrically assisted steering by 2025.
Dual pinion drive EPS
There are four types of EPS based on the position of the assist motor and size of car: column assist, pinion assist, direct drive and rack assist. Dual-pinion EPS systems are used for upper-mid size cars and small SUVs. The dual-pinion configuration utilises the steering pinion and the drive pinion section of the rack independently from one another in contrast to belt drive EPS. The steering pinion section determines the desired responsiveness of the steering system while the drive pinion section is designed for high torque transmission, thus providing an efficient power assist by electric drive. Dual-pinion EPS is most suitable for vehicle applications with a maximum rack force between 9 and 12 kN.
ZF claims it has an enhanced offering of EPS systems in China and globally with the introduction of its dual-pinion system due to launch in the Chinese market in 2018. "As the second most prevalent type of electric steering system in the Chinese market, dual-pinion is an important addition to the ZF product portfolio and is ideally suited for the mid-size vehicle and compact SUV segments both here and globally," said Peter Lake, member of the ZF Board of Management, head of ZF Corporate Market and executive vice president of sales and business development for ZF TRW.
Cyber secure steering
Cyber security has emerged as a growing concern in the automotive industry as connectivity systems proliferate.
For its part, Nexteer Automotive is strengthening its steering system offerings with cyber security technologies to protect against malicious intrusions and unverified steering commands. Its latest cyber security technologies consist of specifically designed hardware modules on the semiconductor level, as well as a multi-layered cryptographic software structure that identifies and authorises information and command flow between the steering system and other in-vehicle or external controllers. As vehicles adopt advanced electronics to enable automated driving, internet connectivity and V2X communication, they become more susceptible to remote hacking, Nexteer explains.
Steer-by-wire prospects
It will be several years before passenger cars are equipped with steer-by-wire.
Steer-by-wire does not require a mechanical link between the road wheels and steering wheel. "Steer-by-wire will be the steering system of the future," Bosch's Alexander Gaedke, told just-auto. "Our advanced development department is working intensively on steer-by-wire solutions and we have prototypes gathering important data. Many large OEMs show great interest in this technology and approach us for collaboration. Nevertheless, it will be several years before regular passenger cars will be equipped with this revolutionary steering system.
Nexteer agrees that interest in steer-by-wire is increasing. "Development of highly redundant architectures for automated driving has definitely reduced the gap relative to needed component designs," company executives told just-auto. "Moreover, given the available technology, the cost gap compared to base steering is much reduced."
Steering technologies for automated driving
Bosch used the most recent NAIAS to showcase its automated and connected technologies, including the global debut of a key requirement on the path to fully automated driving. Its EPS system with fail-operational function is a redundant feature that enables either a driver or auto pilot system to independently return to a minimal risk condition while maintaining approximately 50 percent electric steering support in the rare case of a single failure. The supplier maintains this technology will enable OEMs to comply with the fallback strategies as proposed in the Federal Automated Vehicles Policy documents from the US Department of Transportation and National Traffic Highway Safety Association.
Nexteer also used the 2017 NAIAS to reveal its latest steering technologies, including Steering on Demand System. This enables the transition between driver and automated driving control through safe, intuitive steering transitions for vehicles capable of SAE Level 3, 4 and 5 automated driving. The system also empowers the driver to tailor their driving experience through various driving performance options including a sport, comfort and manual override mode.
Continental recently formed a joint venture with Nexteer Automotive to develop motion control systems and actuator components for automated driving. "The joint venture focuses on the advancement of motion control systems and actuator components for automated driving," Alfred Eckert, Head of the Advanced Engineering Department at Continental Automotive, told just-auto "It will combine Nexteer's advanced steering and driver assistance technologies with Continental's portfolio of Automated Driving and advanced braking technologies to accelerate advancements in vehicle motion control systems. It will furthermore capitalise on Nexteer and Continental's history of innovation and leadership in the automotive industry and will combine global resources and expertise to improve vehicle dynamics and safety."
Behind the wheel of tomorrow's car
Until recently, most cars were designed from the outside-in, but increasingly, designers say the entire car is being planned around the interior. A case in point is BMW. "In designing the BMW Vision Next 100, the starting point was the interior," states BMW in a press release. To celebrate its centenary, the automaker unveiled a concept setting out its vision for the next century of motoring.
Despite the widely held vision of autonomous driving, BMW designers believe that drivers will still want to spend most of the time they are in their car at the wheel. "In the BMW Vision Next 100," adds the automaker, "the driver will remain firmly in the focus, with constant connectivity, digital intelligence and state-of-the-art technologies available for support."
The design of the interior permits various modes of operation: Boost mode, in which the driver is at the controls, and Ease mode, in which the driver can sit back and let the car take over. In Ease, the vehicle becomes a place of retreat with plenty of space and mood lighting. In Boost, the driver takes over and benefits from the subtle and intuitive support offered by the vehicle. All the time, the vehicle is learning more and more about the person at the wheel, thanks to its sensory and digital intelligence, which BMW refers to as the Companion. The Companion progressively learns to offer the right kind of support to transform the driver into the 'ultimate driver.'