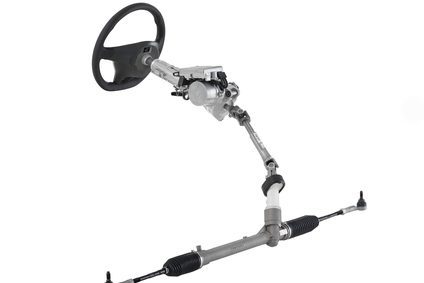 Continuing just-auto's series of research snapshots – pulled from its automotive research platform, QUBE – Matthew Beecham looks at how the application of electric power steering (EPS) is shaping up in developed and emerging markets as well as some novel steering and reversing innovations.
Once regarded as a niche product for small cars, EPS has become the technology of choice for fuel-efficient vehicles as manufacturers push to reduce their CO2 emissions. The other main factors helping accelerate the adoption of EPS include better reliability, improved control, down-sized and more powerful electric motors and enhanced battery performance.
Yet the sustained adoption of EPS by mid- and large-size vehicles depends, in part, on fine-tuning the existing technology to ensure drivers of those vehicles detect no change in 'steering feel' compared to their old model. An EPS system can effectively change the assist force for steering operation depending on information such as steering angle, velocity, speed and acceleration of the vehicle. It can therefore not only reduce the steering load but also optimise the assist force depending on the driving situation. EPS systems can also integrate with other on-board electronics to improve overall safety and driving performance.
EPS can help steer tomorrow's self-driving cars, too. By their nature, autonomous or even semi-autonomous driving will need to have all major systems electronically controlled in order to give the proper commands to get the vehicle from point A to B. Full steer-by-wire systems could provide some advantage in an autonomous vehicle, but it may not be necessary to go to full steer-by-wire to get the desired performance. EPS therefore opens the door for a number of additional features that can be added via the steering system. Parallel park is one such feature and there are several others including lane keeping assistance, lane guidance, side wind compensation, nibble suppression and vehicle stability enhancements. Hence the market for these features is expected to grow as EPS fitment becomes more standard.
While EPS is growing across most regions – in part due to the growing trend of global platforms where vehicle manufacturers are replicating models in each region where they have assembly plants – it is not limited to this phenomenon. In China, for example, TRW has already launched EPS column drive on several domestic platforms. "TRW has invested significantly and continues to expand its capacity for several advanced technology products to meet the needs of the China market," said Charlie Cregeur, global director, Steering Product Planning, TRW. "We recently expanded our EPS and electronics manufacturing centre in Anting, and have added new plants and expanded our footprint in Wuhan, Qingdao, Nanjing, Chengdu and Ningbo. TRW is creating the infrastructure to meet all market needs – from domestic vehicles to global platforms."
Brazil is also seeing the introduction of EPS and it is only a matter of time before this growth occurs with manufacturers in India and elsewhere.
As demand for EPS among the emerging markets gathers pace, steering manufacturers continue to push back the technical boundaries. For example, NSK has developed a slideable intermediate shaft for column-type EPS for vehicles in such markets. NSK claims this technology provides a superior handling feel and improved durability on rough, bumpy roads. By increasing the size of the slide joint, inner shaft and number of meshing teeth, the rigidity has thereby improved.
TRW took the opportunity to launch two new steering technologies at last year's IAA commercial vehicles show. The first, dubbed ReAX, merges two of the supplier's steering systems – hydraulic power steering (HPS) for commercial vehicles and EPS belt drive for passenger cars – to help improve driver control and stability. The second is its so-called ActivMode HPS pump which is claimed can deliver up to 50 percent reduction in energy consumption compared with traditional pumps in specific configurations. TRW anticipates that its ReAX system will be ready for production in 2017 for 2018 applications and is currently working with an unnamed vehicle manufacturer to research and develop semi-autonomous vehicle functions using the technology. ActivMode is estimated to be ready for production in 2016 for 2017 applications.
Meanwhile, Nexteer Automotive has developed an electronic architecture for EPS systems that, it claims, will make integration of new electronic features faster and provide greater functional safety. The architecture gives manufacturers a single, customisable 12-volt platform for all passenger vehicle types, from low-cost micro-cars to luxury SUVs. "Instead of using standardised architectures for different vehicles classes, Nexteer's single, highly flexible architecture adapts to suit individual customer requirements and future-proof platforms," said Bertram Moeller, Network leader Systems Engineering Europe, Nexteer Automotive. "The architecture also allows us to provide more power to the EPS, so that it can steer any passenger vehicle using a standard 12-volt supply."
Finally, an innovation from ZF Lenksysteme (now owned by Bosch) caught our eye recently that may strike a chord amongst those drivers who have ever struggled with reversing a car and trailer into a parking space (I stand guilty as charged, m'Lord, but that space was very tight.) ZF's aptly named Smart Trailer Parking could serve as your very own reversing assistant to put an end to such predicaments. The supplier has developed a clever app which can be used by the driver on a smart phone or tablet to manoeuvre the car and trailer into a parking space quickly and without fuss while keeping a (safe) distance from the vehicle. Whatever next?