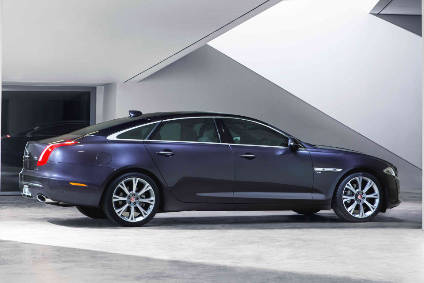 Never a big seller, nonetheless JLR does have plans to replace the now six years old Jaguar XJ. That won't be for another three years but in the meantime, a package of tech updates and a new diesel are paying sales dividends.
According to numbers from Jaguar, the retail sales total for the XJ series in fiscal 15/16 was 11,735 cars. The top five markets were as follows:
China (3991) 34% of XJ sales (all LWB versions)
USA (3748) 32%
UK (1327) 11%
Canada (351) 3%
Korea (344) 3%
These five countries represent 83% of all XJ sales with the remaining 17% made up of 70 markets. Jaguar is doing especially well in North America at the moment, which is mainly thanks for the addition of additional models, as these recently released numbers show. Globally, it's also very good news, with the brand's deliveries rising by 64% over the first six months.
Given that diesel power isn't offered in China, the US and Canada, it's hard to fathom why JLR would authorise the spending on a new engine. The 221kW (300PS) V6 is soon to become available in other models, thus easily justifying the cost of its development. Not that Jaguar Land Rover has profitability issues, as we know. Still, it's worthy of note that a Jaguar was given this engine ahead of the usual high-margin Range Rover and Sport.
The 2,993cc V6 has a torque output of 700Nm (516 lb.ft.) and the only transmission is an eight-speed torque converter automatic. Porsche recently claimed the new Panamera V8 to be the world's fastest diesel executive car but the XJ 3.0 doesn't hang about either. It will charge to 100km/h in 6.2 seconds and top speed is limited to 250km/h, which is 155mph.
The vehicle supplied by JLR was on 20″ wheels and its official Urban fuel consumption is 39.8mpg (7.1l/100km), with the more realistic Combined quoted as being 48.0mpg or 5.9l/100km. I saw 46mpg which is extraordinary for a car which weighs more than two tonnes. Sure it's mostly aluminium but don't forget there is a lot of glass, inlcuding the roof, and also lot of electronic safety and luxury gear on an XJ L.
The car is absolutely loaded with standard features, many of them part of the facelifted model which was announced in 2015. This includes a 1300W Meridian Reference Digital Surround audio system; park assist which now includes parallel, bay and exit; pneumatic self-levelling at the rear and recalibrated suspension; and an improved navigation system.
Model year 2016 XJs can be told from the pre-facelift cars by LED headlights and some additional bright trim on the lower grille, plus some fresh wheel designs and some very slight changes at the rear end.
Let's remind ourselves of a bit of the current generation's history. X351 was unveiled to the media at an event in London in July 2009. A rebodying of the previous generation car, it therefore uses an evolution of the the same alloy platform which JLR calls D2a. Both standard and long-wheelbase bodystyles are available and a glass roof is fitted to all variants.
Initial production started in November 2009. The first European deliveries had initially been scheduled for January 2010 but Jaguar delayed the car's launch – remember how the luxury car market was falling apart back then? The XJ finally went on sale in its launch markets (UK, China, Germany, USA) in May 2010.
The engine range initially consisted of a 380bhp 5.0-litre V8, a 464bhp 5.0-litre supercharged V8, a 503bhp 5.0-litre supercharged V8 or a 271bhp 3.0-litre V6 turbo diesel. A then-new base engine, a 175kW 3.0-litre (petrol) V6, had its debut at the Shanghai motor show in April 2011. This car was only for China ('XJ 3.0 Panorama Business Edition').
Jaguar revealed a new engine for the XJ, and the now old shape XF, at the Beijing motor show in April 2012. This supercharged 3.0-litre V6 produces 340PS. At the same time, the 5.0-litre V8 was dropped, though the supercharged 5.0-litre continued.
A new base petrol engine was also introduced at the 2012 Beijing show: Ford's 240hp turbocharged 2.0-litre four-cylinder EcoBoost unit. Jaguar calls it the TI 240. It was available in the XJ initially only in China but was launched in India, the first RHD market, in September 2012.
Assembly of the 2.0-litre XJ in India commenced during September 2014. The 3.0-litre V6 diesel was added three months later. This made the XJ the third JLR vehicle after the Freelander and XF to be assembled in Tata Motors' Pune plant.
A plug-in hybrid XJ prototype, the 'Limo-Green' concept, was shown to the media in September 2009. This EV had a 1.2-litre three-cylinder petrol engine which was developed by Lotus Engineering. An updated version, the XJ_e concept, followed at the Goodwood Festival of Speed in southern England in June 2012. This was a plug-in hybrid with Ford's EcoBoost 2.0 as a range extender. So far, nothing has come of this powertrain, but perhaps an Ingenium 2.0-litre would instead be the basis of a potential production version.
Production of an all-wheel drive XJ started in October 2012. This system is offered only in certain left-hand drive markets, and in combination with the supercharged 3.0-litre petrol V6. Announcing the 'XJ 3.0 AWD' (and XF 3.0 AWD) in August 2012, Jaguar stated at the time that it expected three-quarters of sales of its all-wheel drive cars to be in the USA.
The most powerful variant yet, the XJR, premiered at the New York motor show in March 2013. This car is powered by a 550PS version of the Ford-built supercharged 5.0-litre V8.
Jaguar announced the latest 2016 model year XJ in June 2015, ahead of the car's public debut at the Goodwood Festival of Speed later that month. This is also North America's 2016MY XJ. As well as the facelift and the higher output for the diesel, electric power steering is also new. The facelifted XJ went on sale from the fourth quarter of 2015. Model grades were also revised: R-Sport and top-of-the-range Autobiography (LWB only) joined the line-up alongside Luxury, Premium Luxury, Portfolio and XJR.
The new InControl Touch Pro infotainment system offers door-to-door navigation, iOS and Android connectivity, a Wi-Fi hotspot and 26 (!) speakers for that 1,300W Meridian audio system. A reconfigurable 12.3-inch TFT instrument cluster now offers full-screen navigation.
It can vary from country to country but overall, the XJ's powertrain range is as follows: 300PS 3.0-litre V6 diesel automatic; RWD, 240PS 2.0-litre petrol automatic; RWD, 340PS 3.0-litre V6 petrol automatic; RWD/AWD, 470, 510 and 550PS 5.0-litre V8 petrol automatic; RWD. Two variants of ZF's 8HP transmission family are offered: the familiar 8HP70 transmission and the lighter, more compact 8HP45.
I mentioned X351's construction earlier: Novelis supplies aluminium sheets for the car from plants in Nachterstedt (Germany) and Sierre (Switzerland). These it sends directly to Jaguar's press plant. Both standard (3032mm) and long (3157mm) wheelbase XJs are manufactured at Castle Bromwich, the UK plant also of course being the source of kits for vehicles assembled by Tata Motors in the Indian state of Maharashtra.
I've written about the XJ before and the latest car is still a great drive. It's possibly a bit on the wide side for some UK roads and in LWB form, you have to choose where you park carefully lest the front or rear end be sticking out of a standard sized space.
You can certainly notice an improvement to accuracy from the new steering system, not that it was anything near vague before – it's just more like a sports saloon now, rather than a sports-luxury car. The diesel has a delicious growl about it and the paddle shifts become addictive for downchanges.
Can this car compete with the likes of the S-Class, 7 Series, A8, Quattroporte, LS and Panamera? The Mercedes and BMW might have more high tech gear but do either of them look as good as the Jag in metallic black? And the cabin is like nothing else in the class. It's super quiet if the driver isn't indulging his or her inner enthusiast and even just opening a rear door, or having it opened for you, feels special. JAGUAR is illuminated in a beautiful soft light blue on the sill cover. There is a fold down desk which is the opposite of the flimsy affairs you can sometimes find in other alleged luxury cars, and a large screen for watching whatever takes your fancy.
Compared to the Lexus LS which is really showing its age and the segment leading S-Class, yes, the XJ can compete. It has somehow created its own mini segment as a kind of modest volume limousine which can lend Jaguar an almost Bentley level of presence. But without the flashiness. A few days ago I saw one pull at at a railway station near where I live and out climbed Prince Edward, his security detail discreet but all around. It suited him and perhaps that moment summed up the car: posh but unlikely to attract unwanted attention.
X360: the next generation XJ for 2019
X360 is due to enter production at Castle Bromwich in March 2019. The next generation of this big saloon should switch platforms to D7a, the cars and crossovers version of JLR's PLA aluminium architecture.
In the UK, JLR's own AJ200D (2.0-litre diesel version of the Ingenium family) is expected to be the main seller, but the Ford-built 3.0-litre TDV6 should also be available. As for petrol engines, expect AJ126 (supercharged 3.0-litre V6) and JLR's AJ200P (Ingenium 2.0-litre petrol). A supercharged V8 is yet to be confirmed. Some sources claim that an XJ Coupe is also under development but this is yet to be confirmed as the business case is by no means rock solid at this stage. There should also be a rival for the Mercedes-AMG S 65, to be badged as the XJ SVR.