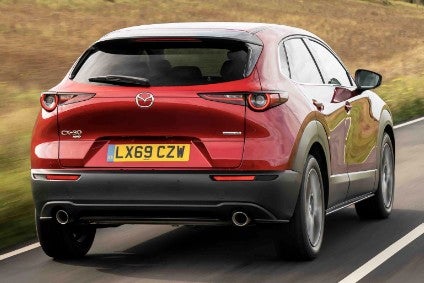 How does Mazda do it? In a world of so many lookalike crossovers, SUVs and cars, the brand's models maintain a consistent, premium appearance. What's more, each is somehow distinctive while the interiors use imaginative shapes and well crafted materials to give a near-BMW feel. The CX-30 is the latest example of these things.
This 4.4 m long SUV was a surprise world debut at last year's Geneva motor show but even then, we didn't fully appreciate what it represented. The name was odd but what was Mazda to do, when it already had an SUV sized between the CX-3 and CX-5, even if the CX-4 is a China-specific model?
The two digits don't only show where the CX-30 is positioned. More than that, they were a marker for a range of three vehicles. This first one laid the trail for the even newer MX-30, the brand's first electric SUV. The third of the three hasn't yet been announced; all we know is that a range extender electric vehicle is coming, the back up engine being a rotary.
The MX-30 and CX-30 share a wheelbase dimension and length, though body panels differ, the MX having RX-8-style back doors and of course a different means of propulsion. The third model, which might be called 'RX-30', is yet to be seen but it's likely to be around the same size as the other two.
Back to the CX-30, which has been in production since last August and available in Britain for some months now. Worldwide, there are four engines, three of which are available with six-speed manual and six-speed automatic transmissions, as well as in FWD or AWD form (depending on the country). The choices are:
116 PS and 270 Nm 1,759 cc diesel ('Skyactiv-D')
122 PS and 213 Nm 1,998 cc M Hybrid (mild hybrid) 2.0-litre petrol ('SkyActiv-G')
180 PS and 252 Nm high-compression 2.0-litre petrol ('SkyActiv-X')
186 hp and 186 lb ft 2,488 cc gasoline ('SkyActiv-G', mainly for North America)
The US-spec variant premiered at the LA auto show in November 2019, going on sale during the same month. New for the 2020 model year, it has a standard six-speed automatic gearbox, while all-wheel drive is optional. So globally, this model is something of a big deal, Mazda making sure there are all manner of powertrain options for relevant markets, something that certain rivals don't do, excluding customers who want AWD and/or a manual gearbox.
The CX-30 for our part of the world is manufactured at Ujina No.1, this large plant also being the build location for multiple other SUVs as well as the MX-5. Hiroshima isn't the only place where production takes place, China's Changan Mazda joint venture having added this model to its manufacturing base in May – nine months after build started in Japan.
One of the more unusual things about this SUV is its ability to maintain the elegance which we now associate with Mazda, even though there is a lot of dark grey cladding which ought to say 'rugged'. This has been applied not only and quite broadly around the wheel-arches, but below the doors as well as on the bumper covers.
The elegant-yet-robust appearance helps the CX-30 to stand out from the CX-3 and CX-5, and from many crossovers of a similar size.
Whichever angle you're gazing from, all the detailing says Mazda, from the slimline headlights and distinctively shaped chrome-look wing-shaped trim across the bottom of the grille, to the dual exhausts and MX-5 style circular tail lamp centres.
Naohito Saga, the car's Program Manager, says the CX-30 is meant to offer a feeling of "refined quality". So often such statements are just PR puff yet in this case, I'd say Mazda has nailed it. Open any door and a nicely understated look awaits. Pricing starts at GBP22,940 and compared to what many so-called premium brands charge, that's great value. Factor in Mazda's build quality, high resale values plus a deserved reputation for longevity and this model can be considered a bargain, even in pricier trim levels.
There is more than enough head room for anyone six feet tall in the back, and that's even including an electric sunroof which the test car came with. Rear occupants also have big door bins and the ones up front will take a 1.5 l bottle. All CX-30s are equipped with a colour head-up display, a massive cubby box below the padded armrest and a distinctive three-spoke steering wheel which has a retro 1970s style.
A slick manual gearbox is a welcome novelty, allied to a 2.0-litre engine red-lined at 6,900 rpm, making for a genuinely engaging drive – something you don't often find in a family-sized SUV.
I haven't tried Mazda's 2.0-litre SkyActiv-X petrol turbo but I hear very good things about it. Even though the mild hybrid unit in the press tester was 58 PS down on the more expensive Spark Controlled Compression Ignition (SPCCI) alternative, the CX-30 still returned 41.1 mpg – likely thanks to the cylinder shut-down and mild hybrid (ISG and 24 V electrics) function.
Overall, this vehicle is the best example yet of how Mazda keeps finding fresh ways to retain its loyal customers, and attract new ones. It's a tough time to be a medium sized OEM yet the CX-30 shows that sticking to what works, and expanding a model range cautiously and sensibly, is always the right recipe.