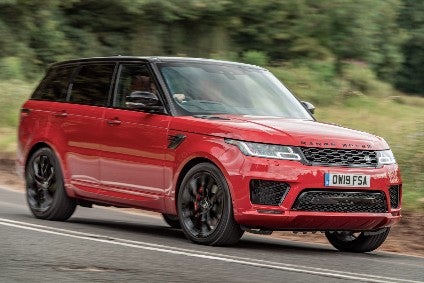 Land Rover's progress remains uneven. Worldwide, sales fell by 10.1 per cent last month yet in Britain the brand enjoyed a record June even with the local market falling by 4.9 per cent. New models such as the L551 Evoque are beginning to make an impact, while a state of the art straight-six petrol engine is now giving the L494 Range Rover Sport a fresh boost.
The RRS has been in production for six years and still it remains one of the strongest and most acclaimed models in the size class. Land Rover has earned itself a good reputation for keeping most vehicles updated throughout their life cycles. In the case of L494, there has been one facelift and a series of engine changes, the latest of which is the arrival of JLR's self-developed six-cylinder Ingenium (also available in the Range Rover). This replaces a less powerful supercharged V6 sourced from a Ford plant in south Wales.
New I6 – why not a V6?
For now, there are 265kW (360PS) and 294kW (400PS) versions of the new 3.0-litre unit but there will surely be more permutations to come, as well as a diesel alternative. All production is at what Jaguar Land Rover calls EMC (Engine Manufacturing Centre) near Wolverhampton in the English West Midlands. Build of four- and six-cylinder engines takes place on the same line. Two versions – mild hybrid and plug-in hybrid – of a 1.5-litre three-cylinder petrol will be next to join this modular family.
According to JLR's Liam Taylor, whose title is Senior Manager – Engine Programmes, planning for the straight six started in 2013, "running in parallel with the back end of the four-cylinder programme". Why such a long gestation period until the recent arrival of the six?
"We spent quite a long time in the concept phase working through…should it be a V6, should it be an I6….we developed concepts for both then looked at what would be the best concept for Jaguar and for Land Rover," he states.
"We made the decision to go for a straight six-cylinder for various reasons, one of which is the primary balance and the obvious refinement of an inline layout. We could also use the technologies that we developed in the four-cylinders [engines]. So for instance, all turbocharging and the hot stuff on the one side next to the after-treatments, valvetrain parked on top, whereas in a V-engine configuration that valvetrain leans over at forty five degrees so that means the cars have to be a lot wider. With the in-line six you have all the cooling on the other side [of the engine]".
Ingenium I6 diesel – the speculation
As JLR is yet to make any official statement about the existence of an Ingenium six diesel, Taylor wouldn't be drawn on any details of this engine. The internet is awash with rumours and specifications, even down to the supposed variant name in L663 (the next Defender) being D300. Outputs of 300PS (221kW) and 650Nm (479 lb-ft) are claimed from what will reportedly be a 3.0-litre unit. We probably won't have too much longer to wait for official information but for now, the position from the company is firm silence. How about potential other capacities for the petrol six? The same reply.
Supercharged V8 supply into 2020 but after that, what?
One thing we do know in regard to engine programmes is JLR's take on what happens to the supply of the petrol V8 produced at Ford's Bridgend plant. After news of that facility's closure broke, the company told the media it has "…a contractual agreement with Ford for the supply of engines until September 2020 and will work closely with the Ford team to ensure certainty of supply through to the end of the contract period".
It would be strange if JLR hasn't already got a strategy in hand to replace the supercharged 5.0-litre V8. That will surely mean larger cubic capacities and/or far more powerful versions of the new six. Liam Taylor chooses his words carefully when pressed on a reply to that. "I can't talk about future product strategy. What I can say is that there is a place in the market for a high performance engine. The V8 we currently have takes us up to 575 horsepower. As a company we need to make sure we look after customer demands while also meeting all emissions requirements".
The new mild hybrid 3.0-litre, meanwhile, meets EU6d Final and RDE mandates. As with the supercharged V8, there's not a lot to see when you lift the bonnet of the Range Rover Sport, the new six being mostly hidden under a large plastic engine cover. At idle, it's an especially quiet engine and that continues through the rev range, the redline being at 6,500rpm.
Land Rover has revived the HST name for a specific trim level which is matched exclusively to the new Ingenium 3.0-litre. The previous HST was powered by a 380PS version of the Ford supercharged V6 and its availability was limited to North America, China, Russia and the Middle East. The bonnet and front wing vents, grille and fog lamp bezels all featured a Gloss Black finish, echoed by the RANGE ROVER lettering on the leading edge of the bonnet and rear tailgate. The new version takes its inspiration from the earlier HST and comes with 21-inch, nine-spoke wheels in gloss black (22-inchers are a GBP1,605 option) with a matching finish on the door handles; red brake callipers; carbon fibre bonnet and side vents; and a black roof (body-colour is a no-cost option). All of this costs from GBP81,250.
Outputs for the new engine in this variant are 400PS and 550Nm, with WLTP economy stated as 24.9-27.4mpg and NEDC C02 emissions being an official 209g/km. Zero to 62mph takes a claimed 5.9 seconds and top speed is 225km/h (140mph). The Range Rover Sport P400 HST is on sale now.