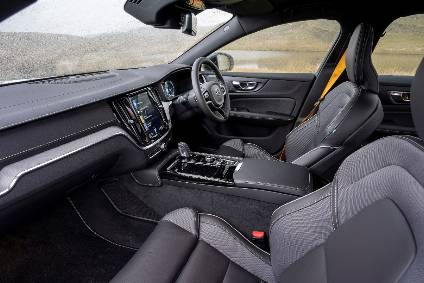 The Volvo S60 Polestar Engineered looks like any other workaday variant, yet the posh adjustable dampers set it apart, amongst other things. As the name suggests, its chassis has been engineered by Polestar, Volvo's performance arm. But what of its interior? Continuing just-auto/AIC's review of interior design and technology trends, we take a closer look inside this stunning piece of engineering.
Inside story
Polestar Engineered trim sits above R-Design Plus in the S60 and V60 range, and R-Design Pro in the XC60. Additional equipment includes a heated steering wheel, Harman Kardon premium audio system, aluminium front tread plates, and Polestar's 'signature gold' seatbelts.
The minimalist layout of the S60 is what we have come to expect from this Chinese-owned automaker over the years. Since this model appeared way back in 2000, the current compact exec version is positioned to compete with some attractive German models. Horizontal lines and body creases are emphasised at both the front and rear. Its coupe-like appearance is partly thanks to its highly-raked windscreen and rear window. Together with details such as a wide grille and daylight running lights, they give the S60 plenty of showroom appeal.
Yet once seated, you'll notice the S60 does not mimic the cockpits of BMWs and Mercedes. There are no head-up displays, touchy-feely touchpads or wide touchscreens. Positioned on a central satin chrome stack, all but the essential buttons and dials are within easy reach with nine-inch touchscreen taking centre stage. Although the carmaker's aim is to provide a less distracted driving experience, adjusting the HVAC still requires poking and prodding a screen.
The touchscreen is flanked by a pair of vertical chrome air vents. These have a silver central section – for directing the flow of air – that appears to 'float' in the middle of the vent. This is adjusted via a diamond-cut rotary control knob, which is also seen in Volvo's new 40 and 90 series cars.
We have often found that the steering wheel controls on Volvo models are particularly intuitive. The S60 is no exception. The left-hand spoke offers control of driving-function related systems such as speed limiter, adaptive cruise control and so on. The right-hand spoke accesses all the crisp infotainment features, including audio, phone and navigation. The twist-and-go no-fuss engine start mounted on the tunnel console is a joy to use.
The heated, figure-hugging charcoal Nappa leather front seats, panoramic roof and plush interior trim add to the car's sporty yet relaxed ambience. Premium features include driver's head-up display, rearview camera, front and rear parking sensors, heated silky-smooth steering wheel and a 14-speaker Bowers and Wilkins surround sound system providing crystal clear sound clarity. We also appreciated three 12v sockets (located in the front and rear tunnel consoles and boot) and two USB sockets. Front and rear seats can be heated to three levels too.
Storage-wise, the S60 has plenty of fuzzy felt-lined cubby holes with two cup holders in the front and rear. Above all, we also like the attention to detail. For example, the storage bins are fitted with soft close lids and the sides of the centre console are lined with carpet so you won't graze your knuckles as you buckle up your seat belt. The saloon boot can store 392 litres of luggage. Head room for front and back seat occupants is quite good although the sunroof adds some depth to the headliner.
Multicolour ambient interior lighting features are dotted around the cabin, including the front and rear door pockets, front cupholder, front and rear footwell, side steps, door panels, glovebox and inside the centre armrest storage area.
Connectivity
Incorporated across the Volvo range is its so-called Sensus Connect. This cloud-based service allows the driver to find and pay for parking from the car, find a restaurant, stream favourite music and a few more things besides. The driver can also have text messages read out loud without removing their hands from the wheel. Also falling under the auspices of Sensus Connect is Volvo On Call that allows drivers to communicate directly with their car via a smartphone application to lock, unlock, check fuel levels, locate and check mileage on the car. The Sensus Connect infotainment system is compatible with Apple CarPlay, Android Auto and 4G standard.
As part of Volvo's Sensus technology, In-car delivery is a new service that allows online orders to be delivered directly to the boot of any Volvo. Using the carmaker's On Call service, In-car delivery allows single-time access for depositing items such as groceries or dry-cleaning in the boot of a parked car. It essentially turns a car into a preferred delivery address. You can also send a destination directly to the car's sat-nav so it's all ready to go when you get into the car.
Last year, Volvo Car UK let it be known that it was boosting its in-car connectivity offering by fitting a data SIM card as standard to all its new models. The feature has since been introduced on all 2020 model year cars and can be retrofitted to any that have already been delivered to customers. The SIM card creates an on-board WiFi hotspot that can be used for up to eight devices.
Advanced driver assistance systems
As we would expect from safety-loving Volvo, the S60 comes loaded with semi-autonomous and connected car features most of which are shown on an intuitive and responsive portrait touchscreen. It shares the automaker's Scalable Product Architecture (SPA) platform, safety technology and infotainment system with the latest V60 as well as the 90 Series cars and XC60.
Available on the Polestar Engineered, the S60's so-called IntelliSafe Assist technologies include adaptive cruise control, distance alert and Pilot Assist, a functionality that provides gentle steering input in the event of lane drifting on motorways. The S60 Polestar Engineered also comes with blind spot detection, cross traffic alert and oncoming lane mitigation. The latter automatically provides steering assistance if you unwittingly drift out of your lane, guiding you back into your lane and out of the path of any oncoming vehicles.
On the road
Although our focus here is on the interior, we can't ignore the fact that this performance-oriented model comes fitted with some clever Öhlins adjustable shock absorbers. These use a dual-flow valve for accurate response to changes in the road surface and driving conditions. A strut bar between the front suspension towers also helps to improve steering response and handling.
Polestar Engineered cars are also fitted with a T8 Twin Engine plug-in hybrid powertrain. It represents the most potent powertrain on offer in the S60, but with Polestar's tuning, output from its 2.0-litre four-cylinder petrol engine is increased from 303hp to 318hp. With 87hp provided by the electric motor, the total system output is 405hp. All this means it is capable of sprinting from standstill to 62 mph in just over four seconds. That's nippy even by BMW M3 standards and more than quick enough for a family car.
Other distinguishing elements include lightweight forged alloy wheels and a retuned automatic transmission. Brembo supplies the brakes for the S60 (Akebono on the XC60) that features floating front discs and monobloc front calipers. The front discs are slotted for better heat management, while the front and rear calipers are painted gold complete with matching tyre valve dust caps. Despite some predictions, the caps didn't go AWOL under our watch. The 19-inch wheels are lightweight forged alloys with a sporty five-Y-spoke design with contrast polished and black surfacing.
We clocked up a few hundred miles last week in this slinky executive saloon, most of that enjoyed cruising along dual-carriage ways and country roads. Seated for long-ish and winding journeys felt quite comfortable surrounded by a commanding cockpit. Its minimalist cabin swathed with soft-touch trim and supportive leather seats make this a snug place to sit for a few hours. The only downside to this two-ton heavyweight is its fuel economy, averaging 34 mpg over such distances. But if your daily commute is about 30 miles return then this plug-in hybrid on a full charge will save money at the petrol pumps.
On balance, the Polestar-branded car remains a solid and safe choice, bristling with appealing spec. It's another heaven-sent slice of Scandinavian sensibility. While it may not be an obvious go-to sports saloon, this brisk, beautiful piece of engineering stacks up well to the likes of the BMW M340i and Mercedes-Benz C 300. Granted, it may not be the last word in sporting prowess but this thoroughbred looks every inch the part providing an intoxicating drive thanks to its damping party trick.