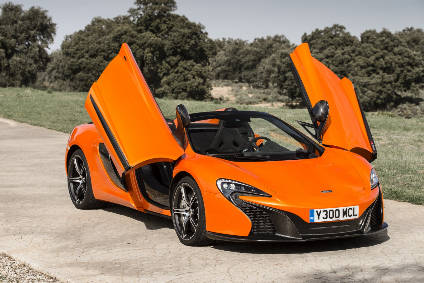 The 650S Spider isn't the fastest car that McLaren Automotive has made during its five years of existence; that title belongs to the limited build P1. Yet it is quicker than the ballistically rapid BMW V12-powered F1.
According to its maker, the 650S can reach 200km/h (124mph) in 8.4 seconds. The standing quarter mile (400m) takes 10.5 seconds, and top speed is 333km/h (207mph). This performance makes the car a full second quicker than the 1990s McLaren F1 to 200 km/h, and 0.6 sec faster over the standing quarter mile.
How does it feel to spend a few hours in the driving seat of a 650S? Fairly phenomenal would probably sum it up. You can't help but have the most enormous grin when emerging from any McLaren. The sense of occasion comes partly from how you get in and out. That's via a super-light scissor door, and while the car is very low, it's not that tricky to enter and exit with dignity intact.
The big rev counter reads to 9,000rpm and is redlined at 8,500. Speed is shown via LEDs and there are other digital readouts for various essential but secondary information. The HVAC controls are mounted on each of the doors. In practice this works a treat, plus it frees up the centre of a minimalist dashboard for the infotainment screen, which, it has to be said, is a touch on the small side. Below and behind it you'll find two cupholders – McLaren doesn't call this a 'floating centre console' as Volvo still does with its older cars, but it's not dissimilar.
The little steering wheel has a flat bottom and carbonfibre spokes, while there are no buttons on it, just the paddles behind. These are centrally hinged so that when you push or pull one, its opposite number tilts the other way. Quite why that looks and feels pleasing is hard to say, but perhaps it's just that it makes you think people took a lot of time to design this car in ways that make it different to the norm.
The key is used only to lock and unlock the car. There's a little pocket to tuck it in located on the front of the driver's seat – another thoughtful touch so that it's not rattling around. Press a button to start the engine, and then another, 'D' for forward progress or R for the other direction. There are multiple other buttons on your left, below the START / ENGINE / STOP one. You can for example, tell the rear wing to rise for air braking, or hit the one marked LAUNCH – guess what that does. Need to be more sensible? Another one, WINTER, will help you get off the mark without too much slipping and sliding.
Conditions were a little damp when I ventured out for my few precious hours. The roads did clear of traffic on a couple of occasions and that's when the big smiles and even laughter starts. It's beyond insane, the performance. Now I see why Tesla terms similar acceleration 'ludicrous' in the fastest versions of its Model S and Model X.
Floor the throttle from a standing start and the rev counter needle swings fast towards the big numbers before dropping back as the next pre-engaged ratio of the dual clutch gearbox bites. It's all incredibly smooth and on the dry-with-occasional-puddle roads of Wiltshire and Gloucestershire I could feel the back tyres slipping for a split second on each upwards change, even in fourth.
The carbon ceramic brake discs are enormous and will bring you to rest from 100km/h in only 30.7m. Even with wet leaves blowing hither and thither I couldn't fault the stopping performance.
As with the rate at which the 650S can be slowed, the surprisingly low fuel consumption also has the car's light weight to thank. Given the hypercar levels of speed, a Combined figure of 24.2mpg is pretty damn good. Let's not carried away, though, Urban is only 16.1mpg and in normal conditions it's going to realistically be in the high teens to low twenties. CO2 comes in at an official 275g/km. Dry weight is 1,370kg.
If you're wondering about size, at 4,512mm from end to end, it's a tad shorter than a VW Touran but you're sitting about half a metre closer to the ground. The width, which is 2,093mm, can be a bit of an issue on single track roads. There again, who's not going to give way to a car which looks like this one if you offer a cheery-cheeky advance wave? That's about the only time this McLaren makes you feel like you're driving a Defender.
A little bit more about that incredibly free-revving engine. The 650S Spider, which is one of several variants in what McLaren calls its Super Series range (they all start with a 6, whereas the Sports Series cars' model names are prefixed by a 5) is, like all the company's cars, powered by a 3,799cc biturbo V8. It's codenamed M838T and is mounted longitudinally.
The 650S and S Spider have a quoted power output of 650PS (478kW) @ 7,500rpm, with maximum torque of 678Nm attained at 6,000rpm. Drive is to the rear wheels, and this is via a seven-speed SSG (sequential shift gearbox).
The V8 is manufactured by Ricardo at its Shoreham base, while the dual clutch gearbox is supplied by Oerlikon Graziano. Other major components to be outsourced include the carbonfibre monocell which is supplied by Carbo Tech from a facility in Salzburg. The body panels are a mixture of aluminium and SMC (plastic). Build quality and the fit of everything on the press car was impossible to fault.
There are, or were, other variants in the Super Series. The 625C and Spider are for certain Asia-Pacific markets, while the arrival of the 675LT (675PS 'Longtail') at the Geneva motor show in March 2015 was when we first heard the collective name for the 625, 650 and 675.
The 675LT went on sale from July 2015 but all 500 examples were claimed to have been sold by then. There was another limited edition Super Series car in 2015, the 650S Le Mans. McLaren built 50 units of this model. In November 2015 came the announcement of the 675LT Spider in November 2015, with the first deliveries of what will be an eventual 500 units of this derivative having commenced this past July. The 675LT Spider's public debut was at the Geneva motor show in March.
McLaren Automotive sold 1,654 cars in 2015, and added a second shift at its Woking factory in February. The company's CEO Mike Flewitt sees a continued steep climb in production for the remainder of 2016, and then throughout next year, peak build at around the 4,500 units mark being scheduled to be attained in late 2018. The boss' slide shows production staying below 5,000 cars well into the 2020s.
Including ever more derivatives of the existing ranges, CEO Mike Flewitt says 15 cars are to be launched between 2016 and 2022. His 'Track 22' plan includes £1bn to be spent on R&D, 50% of new models to have hybrid powertrains and the addition of a fully electric car for the Ultimate Series. In other words, the successor to the P1. How about an SUV? No, that's not going to happen, the company maintains.
The Super Series cars sell well but the Sports Series is, relatively speaking, the most popular line. The best markets are the USA, the UK, Germany and perhaps surprisingly, then China. It might seem strange to speak of a McLaren as affordable but a company spokesman says many customers in Britain choose a PCP. Put down a £35,000 deposit, then £1,000 a month for three years and drive away in a 540C Coupé. That sounds so much easier than stumping up the list price of £126,000, doesn't it?
It's going to take some luck and much continued marketing effort for McLaren Automotive to hit the manufacturing numbers it has set for itself. The global dealership network is just about fully in place, so it's a case of creating multiple derivatives for the various current pricing gaps. Which means more cars such as the new 570GT with its novel side-opening glass hatch which allows an additional 220 litres of storage space. The company clearly knows what it's doing, cleverly employing the same philosophy of constant novelty which Porsche has had such success with over recent decades. Who knows, there might even be sub-£100,000 sports cars to come.