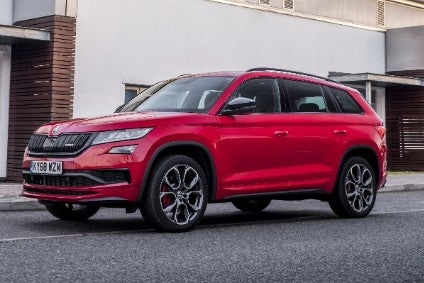 It's now easy to spend more than forty thousand pounds on a Škoda. Should anyone do that though? When the vehicle in question is the Kodiaq vRS, the answer is yes, but with qualifications.
Real room for seven?
Why the hesitation? Nothing to do with the brand, instead everything to do with standard specification and this SUV's rivals. I'm not too sure that anyone should consider the vRS to be a true seven seater (the UK importer doesn't bring in the five-seat layout available in other countries). Škoda needs to copy Land Rover and declare the three-row versions of the 4.7m Kodiaq to be what they are, namely, five seaters which have a very occasional extra two seats into which only the smallest of kids should be put. When it comes to adults, there simply isn't adequate room for legs and head. Also, the boot's capacity is reduced to only 230 litres when the last row is in place.
The issue over spec needs raising too, as for GBP42,895, buyers should be able to count on tech such as a proper reversing camera, not mere beeps and lines on a monitor. This is also a safety issue, not merely a convenience one, as it's always a good idea to be given a view of what's in the path of your car. Some of the top-spec Kodiaq's competitors have this feature and didn't Škoda used to be the go-to brand when it came to receiving way more for your money than you might expect?
Škoda's SUV pioneer
One of the issues which now arises with this company's cars is benchmarking. Where once it had been the challenger, now it's the establishment. The Octavia and Superb are segment leaders, the Karoq has been soaring up the sales charts all across Europe and the Fabia is a strong contender in the Polo class and no longer a cheap car either. It's almost hard to believe that until fairly recently, the Kodiaq, which is the make's largest such model, was also the first Škoda SUV.
The Volkswagen Tiguan, including the extended, seven-seats Allspace, is the best selling sport utility vehicle in not only the size class where the Kodiaq also competes but it beats all SUVs across Europe, according to JATO data. These two share much and so too do the SEAT Tarraco and Audi Q5. Namely, the A/B derivative of the Volkswagen Group's Modularer Querbaukasten or Modular Transverse Matrix architecture as well as engines and gearboxes. Not all models can be ordered with identical powertrains, however, and so it is that the Kodiaq RS, which wears vRS badges in the UK, has a somewhat special form of propulsion for what is meant to be a sports SUV.
Brand's most powerful diesel yet so why no TDI badge on the tailgate?
Is the Volkswagen Group trying to make diesel a mainstream fuel again? In fact there is even evidence that certain brands are also repositioning TDI engines as premium priced and the default choice for sports versions of some models. Bearing that thought in mind, this must be why the vRS version of the Kodiaq cannot be had with a petrol engine, and the same now applies to European markets version of the just-announced Audi S5 Coupé 3.0 TDI and S5 Sportback.
Škoda must keep its place in the pecking order of Volkswagen Group divisions, which is why the Czech brand does not offer V6 engines. Whereas the new S5 two- and five-door cars are powered by a 3.0-litre diesel V6 with outputs of 255kW (347hp) and 700Nm (516.3 lb-ft), courtesy of both an electric compressor and a mild hybrid system, the Kodiaq vRS has a four-cylinder engine with way less power and torque. Still, in an SUV weighing a hefty 1,880kg, the standard 176kW (240PS) and 500Nm produced by the 1,968cc bi-turbo engine are enough to push this SUV to a top speed of 136mph. Zero to 62mph is achieved in seven seconds exactly.
Realistic WLTP economy number
The CO2 average is 167g/km and the WLTP Combined consumption is 35mpg. That was slightly worse than what the vRS returned while I drove it, so it's good to finally see close to realistic fuel economy numbers. Drive this highly engaging vehicle in a style where you try to minimise trips to fuel stations and I could believe that the high thirties if not low forties might even be possible. Remember that this is the most powerful diesel ever to be fitted to a Škoda so keeping consumption as low as possible wasn't anywhere near being the number one priority either.
Dynamic Sound Boost for exhaust note
Aside from the superb mix of economy and performance, there's another enticing thing about the vRS and that's how it sounds. Even when you know there's artificial help via what's officially called Dynamic Sound Boost, still the thing makes a great noise. How to describe it? Not quite a petrol V8 but not too far away from one either, which is very clever indeed.
The seats look the part too. Covered in quilted fabric rather than slippery leather they are all the better for that. The steering wheel would be better with some alcantara around its rim and is it nit-picking to want heating? You can at least have that for the seats, the GBP205 additional cost seeming reasonable when compared to the GBP910 for Lane Keeping Assist and Blind Spot Detection. The press tester had another couple of extras, including an electrically retracting towbar (GBP865).
The handy umbrellas which can be found in certain other Škodas are present in this model (one in each front door), there is a pay and display ticket clip on the A-pillar, an ice-scraper inside the fuel flap and the third row seats are very easy to fold down or pull up. The boot can be opened via a button on the driver's door, another on the key fob and a third one inside the tailgate but it's a pity that closing it can't be done remotely. Another example of the brand being kept in its place below VW and Audi? I suspect so.
Conclusion
Overall, the vRS version of the Kodiaq makes a very convincing case for itself as a fast and economical family SUV if something like an XC90 is too big and too pricey. The handling is secure even if some buyers will want less lean into corners and steering which is a touch more communicative.
What's next for the Kodiaq?
The RS premiered at the Paris motor show last October alongside the Laurin & Klement, which is the brand's traditional top model grade. These will be followed by a Kodiaq plug-in hybrid and we can expect this same drivetrain to be fitted to the Superb within the next 12 months.
Unusually, given that the Kodiaq is still about a year away from its mid-cycle facelift, the Volkswagen Group has already spoken about a second generation model. That was part of a multi-brand announcement concerning where certain vehicles will be manufactured, so we known already that the Kodiaq 2 for European countries will be built in the Czech Republic at the Kvasiny plant. When will that be? Škoda hasn't said but 2024 seems a safe bet.