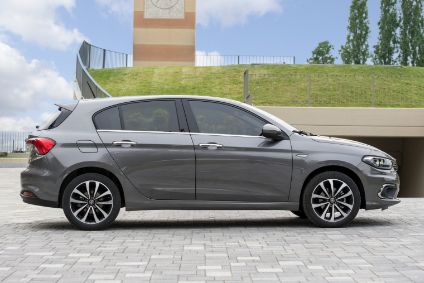 One year on from the start of production in Turkey, Fiat's low-cost replacement for the Bravo is selling well, especially in Italy and even in Mexico where it has Dodge Neon badges. Will this become a global model for China and Brazil too?
Three bodystyles, not four
FCA put off the decision on what became the Tipo and/or Egea in some countries, for many years. In some ways, that turned out to be the correct thing, as the car is more competitive against the best in class than it might have been. You wouldn't call it the segment leader in any area, though. Let's be clear, this is no Golf, Astra or Mazda3 yet Fiat isn't claiming that it is. That might sound harsh but the standard of driving dynamics and freshness of design makes these three the ones to beat.
Like most of its EMEA region rivals, FCA saw that three-door C segment models now have only limited appeal, so the Ægea – Aegea ('ee-ghia') project cars were engineered from the start to be a sedan, a five-door hatchback and an estate.
The four-door car isn't offered in the British market but it's a good seller in some other northern European countries as well as in Turkey. FCA's UK importer offers the hatchback and estate with the choice of two diesel and three petrol engines, and as well as the standard manual gearbox, certain versions may be ordered with either a dual clutch transmission or an automatic.
Undercutting the big two, and the Focus too
After limping along with the dated and uncompetitive Bravo in what is an especially crowded segment dominated by the Golf and Astra and until recently, the Focus too, means Fiat has a lot of catching up to do. To give it a jump start, the launch strategy in Britain has been to undercut the big two as well as the aged Ford, sales of which have been sliding in recent months. The same idea has been employed in other markets and applies to it taking on the Megane and 3008 in France, and the Leon in Spain. There are all manner of other challengers of course, including the Hyundai i30, Kia cee'd, Toyota Auris and Honda Civic.
One of the best things about this car is its roominess. That hasn't helped the Nissan Pulsar, though, a good car but, like the Subaru Impreza, a model which is rarely bought in the UK. No, to succeed in this segment, you need brand and model name continuity as well as a positive identity for the car itself. And then there's the A3, which has all three, plus high pricing.
It says a lot about the British market that people are in no way put off by the cost of the Audi and for that matter, the BMW 1 Series and Mercedes-Benz A- and B-Classes. So Fiat has it all to do. It will take some years to claw back credibility with family, fleet and other buyers. These people want to learn about a hopefully high resale value. Do they bother to read car reviews peppered with nonsensical words such as 'iconic', 'dynamic' or 'DNA' in reference to the exterior styling?
Does roominess sell?
At 2,636mm, the 4.37m long Tipo hatchback has a shorter wheelbase than many cars in the C class but it's what the engineers have done with the available space which is clever. It doesn't look to be an especially tall car – it's 1.5m from ground to roof – yet you do sit fairly high. I can see the Tipo gaining a following from people who are less agile than they once were and we live in a Europe which is getting older and older. Swinging in and out easily, rather than dropping down or pulling yourself up to exit is one of the reasons why the Qashqai, Kadjar, 2008, Captur and 500X plus many other C- and B-SUVs are so popular.
Something else which private buyers look for is boot space, and by the way, average weight people up to 192cm or six foot three can fit comfortably into the back of the Tipo too. As long as their luggage takes up less than 440 litres, it will fit or if it's the estate, add 110 litres to that volume. As the wagon is 4.57 long, it can take items which are up to 1.8m long. In both cars, there are flip-and-fold 60/40 split rear seats and these provide a flat load floor, which again, isn't available in several C segment hatchbacks/estates.
Lots of gear for not a lot of cash
There are three model grades. The mid-level version comes with Uconnect LIVE services. This combines with an app to offer music streaming with Deezer and TuneIn, news from Reuters, Facebook Check-in and Twitter. Owners can also monitor the car's economy and maintenance status with eco:Drive and my:Car.
SatNav is a GBP250 option, and a reversing camera is GBP300. Two Safety Packs are available, with Pack B offering a speed limiter and Automatic Emergency Braking (AEB) for GBP250. Pack A adds ACC (adaptive cruise control) in addition to the speed limiter and AEB for GBP500.
The top trim level costs an extra GBP1,000. It adds satellite navigation with TomTom LIVE services including HD Traffic, climate control, 17-inch alloy wheels, automatic lights and wipers, a rear camera, driver's side lumbar support and chrome-effect trim. Safety Packs B and A cost the same as they do for the lower trim grade. Another option is heated leather-faced seats for GBP750.
Five engines, three transmissions but no AWD
Turning to the engine choice, there is a 95hp & 127Nm 1.4-litre FIRE, a 120hp & 206Nm 1.4 T-Jet turbo or a 110hp & 152Nm 1.6-litre e-TorQ unit. The last of these three petrol choices is what you get if you want the six-speed torque converter automatic transmission. As for diesels, FPT's 1,248cc '1.3-litre' MultiJet II produces 95hp and 200Nm, while the 1.6-litre MultiJet II has outputs of output of 120hp and 320Nm.
The top diesel engine was fitted to the car I spent more than a week with and it had a six-speed manual gearbox. What Fiat sub-brands as a DDCT six-speed dual clutch automatic transmission is an option.
The MultiJet II diesel develops its modest 120 horsepower at a low 3,750rpm but maximum torque matters far more. The 320Nm peaks at 1,750rpm. There was noticeable lag mostly below 2,000rpm which was exacerbated by a long, steep driveway and some very cold mornings. Maybe I either got used to it or when the car warned up it disappeared but it wouldn't stop me buying a Tipo with this engine. There was also a strong surge in acceleration once the 2,000 mark was crossed.
Top speed, official combined cycle fuel consumption and CO2 emissions are the same whether you choose the hatchback or the estate. That's 124mph, 76.3mpg and 98g/km respectively for cars with manual transmission. Average economy in my hands was 52mpg.
The interior looks and feels like that of the 500X but with more attention to detail and despite the low pricing, good quality materials. You won't find the precision closing of a Golf's glovebox or a Nav screen the size of the ones in the Astra, nor is the roadholding up to the same standard but the latter is by no means sub-standard. It's just been set up for comfort more than precision. To a lot of people that's very appealing. Think of this as the best Italian car yet in the C segment and you wouldn't be wrong.
The dashboard design has a nice level of flair about it but it's not styled to the same love it or hate it extremes that you find in the Civic, Auris and 308
There are no glaring irritations inside the Tipo and in fact I much preferred the infotainment system to that in the Toyota Auris or Ford Focus. The standards in this segment are so high that just having what looks and feels like touchscreen tech from a few years back can kill a car's sales.
Designed in Italy, built in Turkey
The Tipo was designed in Italy by the Fiat Style Centre, with Tofas R&D doing most of the engineering and all build is also in Turkey.
The similarly sized Viaggio and Ottimo, which have been major disappointments, are the Tipo hatchback and sedan equivalents that are built in China. FCA might either replace these with the newer cars or else give the plant which makes them, Changsha in Hunan province, fully over to Jeep production.
In common with the Tipo, the four- and five-years old GAC-FCA sedan (Viaggio) and hatchback (Ottimo) use Fiat-Chrysler's CUSW architecture, as does the Zi You Guang, the localised Jeep Cherokee which is built on the same line as the Fiats.
Brazil – Fiat loses market leadership to GM
There will likely be Tipo production in Brazil too, and Fiat badly needs fresh models there having lost market leadership. That's due to having been selling old cars for too long, not, as some might claim, due to the deep recession in the country. The downturn, which has also hit the Volkswagen brand hard for the same reason as Fiat, has not been bad news for all. General Motors do Brasil, which offers cars with newer technology than most of the cheap VWs and Fiats, has seen its Chevrolet brand snatch number one status from the former long-time leader and its close rival.
Models such as the Bravo hatchback, Idea small minivan and Linea sedan only went out of production in 2016 but Fiat is still selling the Punto – that's also the case in Italy, where the model has been built for more than eleven years. In fact, without the A segment Mobi, which despite being new in 2016, uses the ancient 178 platform, Fiat would be in deep doo-doo. An MPV version of the first generation Doblò is also made locally. Yes, that's correct: a vehicle which is more than 13 years old.
Clearly, some fresh product in the C segment of the Brazilian market would be a great idea so let's see what 2017 brings if FCA wants to attempt a fightback in a country where it used to make a lot of money. As for local production, nothing is official yet and FCA do Brasil is doing well with the locally made Jeep Renegade, so it may hold off on adding build of the larger hatchback, sedan and station wagon at its Goiana plant in the state of Pernambuco until 2018.
The Brazilian market was down 20 per cent in 2016 and will take some time to recover but Fiat sales plunged by 31 per cent to 304,980 units. Chevrolet was down by only 11 per cent to 345,874, VW fell 36 per cent to 228,456 and Hyundai was down by just 3 per cent (197,850), with Toyota's deliveries rising by 3 per cent to 180,417 just ahead of Ford (-29%, 180,242) which was some 30,000 cars ahead of Renault.
Chevrolet having the best selling vehicle for the first time in 30 years (the B-hatchback Onix) should warn FCA that it must learn the lesson of its big decline in Europe dating from the time when it stopped facelifting and replacing so many models.
Things might now be improving for the Fiat brand in EU markets but are transaction prices? Old cars need a lot more incentives to keep them selling when rivals bring far fresher products to the market. Perhaps with FCA having had a strong 2016 worldwide and in Europe especially (ACEA: 992,712 passenger vehicles delivered, +14.1 per cent), we may soon a strategy change to one of shorter life cycles and more high-margin variants. Abarth, which has a cult following which could be nurtured into the mainstream Golf GTI-style, really needs FCA Italy's attentions. Honda has tried it with the Civic Type R but that car was too wild looking for most and the model itself was old when the high performance variant arrived. The new one looks even more dramatic so surely there is a niche waiting for Abarth between the subtle Golf and in-your-face Civic. Hyundai sees it too, with an N version of the i30 soon for launch.
Italy – Tipo outselling Golf
The Golf was the best seller in Italy's C segment for 2016 with 42,735 deliveries versus 31,569 for the Tipo. During the last months of the year, the Fiat was outselling the Volkswagen, even if in December, the Tipo managed that feat by the smallest of margins: 2,782 cars versus 2,781. In Germany, the comparison is sobering for FCA: even with Golf deliveries down by 13 per cent, they still numbered 235,935 compared to 6,330 Tipos.
It should be a very good 2017 for the Tipo/Egea as this will be the first full year for the car; the estate in particular only began reaching European dealerships four months ago. If FCA keeps prices as low as they are that should bring in a lot of new customers to the Fiat brand too. The trick will be keeping these people as buyers of FCA vehicles and moving them into higher margin models when trade-in time comes. If the shared franchise dealers are smart they will be offering Jeep and Alfa Romeo courtesy cars when Tipos come in for the service.
What's ahead?
Tofas has a plan for a total production run of 580,000 units of the sedan and a combined 700,000 of the hatchback and SW. Build at its Bursa plant will run from 2016 to 2023. These facts were announced by FCA's long-time Turkish manufacturing and distribution partner in a statement to the Istanbul stock exchange prior to the start of production.
The Abarth version of the hatchback should appear later this year, the Tipo and Egea's facelifts should take place in early 2020 and the successor cars will likely follow from 2023.