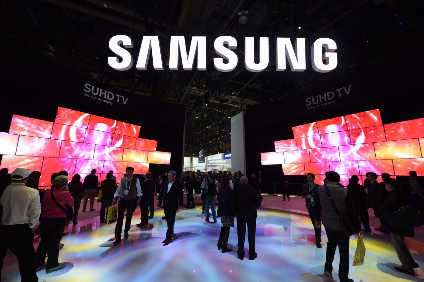 Samsung Electronics is currently embroiled in a crisis over a range of its cell-phones that can catch fire. However, it has also announced an audacious US$8bn planned purchase of Harman. What's driving the strategy?
In big business, the secret to success sometimes lies in not thinking so much about the concerns of the here and now, but also planning for the changed world of tomorrow. And so it is that Samsung Electronics has been drawn to Harman, a US automotive electronics specialist that is very well positioned to be a 'power supplier' in the burgeoning world of connected and autonomous vehicles. Whatever the sorry state of the current crisis of its Galaxy Note 7 phones with their occasionally overheating batteries, it's a crisis that will eventually pass. Damage will have been done, additional costs incurred, but Samsung (Samsung Electronics accounts for 70% of Samsung's business) will live on. The Harman acquisition is about getting a position in a future growth area.
Harman makes touch screens that control vehicle functions and infotainment systems, and it's also dominant in automotive sound systems with brands such as Harman Kardon, Infinity and Mark Levinson. The company has also used acquisitions to move into over-the-air software updates and cyber security. In June this year, it announced that it has agreed to acquire cloud-computing company Joyent, which will allow it to grow its cloud-based services for its smartphones and Internet-connected devices.
Why the interest in Harman now?
It is perhaps instructive to consider Samsung's history in consumer electronics to get a sense of the drivers behind the Harman move. Samsung has tended not to be a primary innovator, but rather has been an effective and efficient 'added value duplicator'. Whether we are talking about household electronics or cell phones, the company has been able to reap profits from well designed and conceived second generation technologies while avoiding the higher costs that frequently come from being an early innovator or pioneer. In a notable legal case that it lost in the US in 2012, Samsung was ordered to pay Apple over a billion dollars for smartphone patent infringements.
Underpinning its business strategy has been the Korean culture of business conglomeration and scale, conflated by the close-knit family structure of the chaebol. As Korea developed into a middle-income economy, the vast Korean enterprises were able to thrive on higher domestic demand, while also working as major contractors to Japanese giants (Sony in the case of Samsung). They steadily grew their international operations. Expertise in volume manufacturing semiconductors and LCD screens has been a foundation for Samsung's success in consumer electronics. The problem in recent years has been that this traditional business set-up has looked less suitable for delivering reliable, long-term sustainable growth and profits. Product cycles in consumer electronics can be frighteningly compressed by volatile consumer demand and aggressive competitor actions. In short, the world has changed and it has become more volatile in Samsung's core product segments. Low-cost companies in China and Taiwan have proved very adept at occupying the 'added value duplicator' space. The growing challenge facing Samsung Electronics has perhaps been crystalised by the crisis of the overheating cell phones (an ultra-competitive business segment where pressures to cut cost have been growing in recent years). It needs to show the agility to move out of its traditional product space to secure future growth.
Harman leg-up
The Harman acquisition gives Samsung a big leg-up to position itself as a more powerful software and hardware supplier to the automotive sector. Samsung plans to keep Harman as an independent subsidiary and retain its management team. That allows it to enter the auto business with a different and well-established brand, avoiding any adverse image problems caused by the recent Samsung cell phone issues.
Harman already supplies a raft of OEMs with multiple systems that enable ADAS and connectivity in vehicles and has attractive looking revenues of some $7bn a year. There are also potentially strong synergies with Samsung's existing automotive activity and aspirations. Samsung's work in electronic displays and computer processors dovetails nicely. It has also set up a subsidiary to focus on batteries for electric vehicles – Samsung SDI.
Samsung is betting on positioning itself as a key supplier of next generation systems that will power autonomous vehicles and betting that it will be a sector generating above average profit streams. It's a strong case, but not one that comes entirely risk-free. The technology path ahead for automotive is subject to considerable uncertainty over business models and exactly how the future will look. The competition in the supplier sector will be stiff. Samsung, at least, is striving to be an important part of the futuristic picture. Right now, that looks like a more compelling and upbeat business narrative than its position with more traditional products. The heat is on.