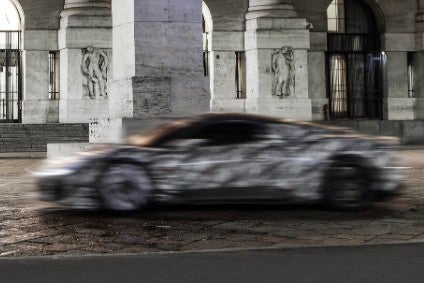 Our continually updated Future Models series has always been a smash hit with just-auto readers so, unsurprisingly, even in the midst of coronavirus fact, rumour, misinformation and lemming-like panic (got enough toilet paper, hand sanitiser, pasta and rice for a siege in yet?), our latest look at What Lies Ahead for a couple of brands from FCA, soon to merge with PSA, drew the most eyeballs this week.
Inevitably, that pesky virus got a mention: "This was to be the year of Maserati's (latest) revival but COVID-19 might see those plans torn up. Will the MC20 launch go ahead as planned in May? The marque has a couple of facelifted models due out soon too, not to mention its first hybrid plus an electric sports car. And with FCA's neglect forcing sales to ever lower depths, what will become of Alfa Romeo?" As always, it's a good read. Forgeddabout coronavirus for a little bit, pull up a coffee and dive in, as both Maserati and Alfa appear in our resident new product guru's crystal ball. In case you missed it, we covered Fiat and Lancia last week. Right now, Fiat is pitching its outgoing 500 Hybrid on select UK TV channels. Still a great looking little 'retro' styled car and, as we note, the latest generation 500 ('New 500'), now to be EV only, and which grows by 6cm in length and width, was revealed last week. It goes on sale in the summer, initially in high priced launch edition form only. For now, only the cabrio has been shown, the hatchback is set for kick-off at a second special event on 4 July.
Come the new EVs, come the new factories to make the EV components. Case in point: electric motor maker Nidec, which began construction of a new manufacturing plant in China, as it looks to increase its exposure to the expanding local electric vehicle (EV) market. The new JPY100bn (US$973m) factory is being built in the Jinpu New Area of Dalian city in Liaoning province. It is scheduled to start operating in 2021 with capacity for 3.6m (!) EV drive motors a year. The company announced last month it planned to double its investment in the plant following the global outbreak of the COVID19 coronavirus, from the JPY50bn investment initially announced in 2019. Nidec is the leading investor at the newly-built Jinpu industrial part, which has a planned area of 28 sq km, and brings with it 34 supporting companies. As they say, 'build it and they will come'. Just look at the supplier parks that spring up around new car factories these days with just-in-time, just-in-sequence delivery of things like seat sets maybe only a short truck or even covered conveyor ride away. Similar with major component suppliers.
That darn bug again: As Italy went into coronavirus lockdown this week, with people encouraged not to go out unless the trip was essential, FCA (them again) said it was temporarily halting operations at some plants and would reduce production rates. It said in a statement it had boosted measures across its facilities, including intensive sanitisation of all work and rest areas, to support the government's directives to curb the spread of the infectious disease. "As a result of taking these actions the company will, where necessary, make temporary closures of its plants across Italy," it said. A said affected plants were Pomigliano, Melfi, Atessa and Cassino, each halted for two or three days between last Wednesday (11 March) and tomorrow, Saturday (14 March). FCA also said, to allow greater spacing of employees at their workstations, "daily production rates will be lowered to accommodate the adapted manufacturing processes". FCA reportedly did not expect an impact on overall production rates, however.
It's never been uncommon for automakers to vary specification by market – emissions control and safety equipment not being fitted for markets where not compulsory [I remember a right old row in New Zealand in the early '90s when a consumer group discovered locally assembled, Mazda 626-based Ford Telstars lacked the side door protection beams mandatory across the pond under the neighbour's strict Australian Design Rules (ADRs); Ford NZ soon added them]- but now Tesla is under fire in China for using lower specification computer chips than in other markets. According to a report this week, the Chinese industry ministry said it had urged Tesla to keep its China-made vehicles consistent after some local buyers complained the automaker put less advanced computer chips in their cars. The report said Tesla began delivering Chinese made Model 3 EVs from its new US$2bn Shanghai factory last December but some buyers said on Chinese social media control units in their cars run on HW2.5 chips which are less advanced than the HW3.0 chips listed on the specification sheets. Tesla blamed a chip shortage and promised to substitute the better chip when supply returned, both at the factory and in customer cars. HW3.0 chips are necessary for the full self driving mode in the cars' factory option driver assistance system.
Volkswagen is claiming an 80% reduction in NOX levels for the Passat's latest 2.0-litre diesel engine compared to the previous 2.0 TDI. The key is what it calls 'twin dosing', the double injection of AdBlue into the exhaust system. The group switched all of its diesel engines to SCR (selective catalytic reduction) exhaust gas treatment systems in 2018. Then in 2019, it began to phase in twin dosing, a system whereby the Adblue is injected selectively upstream of two SCR catalytic converters which are arranged in series. The Passat 2.0 TDI Evo was the first to gain the new engine, in 110kW (150PS) and 500Nm (368 lb ft) form. And while most other Passat engines meet the norms of Euro 6d Temp, this one is already compliant with Euro 6d emission standard.
Spin, the micromobility unit of Ford Motor, is expanding its footprint from 70 markets in the US to cities in Europe. The company will launch its first international fleet of dockless electric scooters in Cologne, Germany this spring. It is also applying for the upcoming Paris e-scooter share permit and exploring opportunities in the UK. To learn more about Spin's rollout plans for Europe, we talked with its co-founder and president Euwyn Poon.
I mentioned earlier the coming PSA/FCA merger (I for some reason am reminded of the old 2000s gag: "How do you pronounce DaimlerChrysler? The 'Chrysler' is silent," a US dig at the German domination of the long since dissolved merger). Louis Gallois has now agreed, with board members, to remain chairman of the Peugeot SA supervisory board until PSA and FCA are merged. The combination [merger] agreement between PSA and FCA groups was signed on 17 December, 2019. PSA said Gallois had agreed to remain in post "in order to ensure continuity until the closing of the merger between the two companies". When re-elected at the annual shareholders' meeting on 24 April, 2018, Gallois had indicated that, due to his age, he would serve as chairman of the Peugeot supervisory board for no more than two more years (four were planned) or until the end of the 2020 shareholders' meeting.
Finally, that ******* virus again. The New York International Auto Show had been due to take place next month but is now being delayed until August. The show's public days will now be 28 August to 6 September. We are, as we do with all major shows, keeping tabs on planned new model launches as best we can: there will be updates in due course.
Wash those hands often and have a nice weekend.
Graeme Roberts, Deputy Editor, just-auto.com