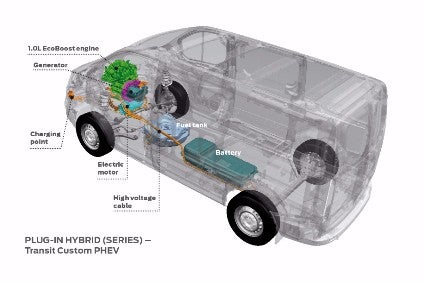 We had an impressively upbeat interview with Ford Europe's British born boss this week, grilled by our automotive editor, Dave Leggett, on the sidelines of a first look (and ride, no driving) at the upcoming Mexican built Mustang Mach-E. Who'd be the head of the European arm of a Detroit based automaker? Stuart Rowley would. He's well on with a painful restructuring – bang goes the Bridgend engine plant in Wales, 12,500 jobs across Europe – but the huge losses are abating, even if the word 'profit' isn't yet in use, Brexit and EU CO2 quotas are well in hand and even the coronavirus doesn't appear to be fazing him unduly.
I particularly liked this comment on the effects of the epidemic on parts supplies (they're ok for the "near term"): "We know where parts shortages are and, of course, we get on to that and finding any alternative sources and you can manage your production flows and combinations, see what derivatives are impacted and so on. Ford is at its best in these situations. I remember the 2011 earthquake in Japan. The Ford team just gears up." Brexit: Tariff-free trade, of course. "In terms of the import processes and ports, we have logistics people and we import parts from China, the US and all over the world every day. We need to be organised and ready, but I believe we can manage that side of things. Tariffs, though, would put a tax on consumers and that's not good for anyone."
He's also delighted with Ford's strength in light commercial vehicles, progress with electrification and the cooperation with VW which will see the rival's MEB EV platform under Ford load toters with, I suspect, many buyers and drivers blissfully unaware. Collaboration is all but a given in the tough European LCV sector.
Ford revealed the Mustang Mach-E to the European public for the first time as it also launched a new 'Go Electric experience' it said would help consumers across Europe make an informed transition to an electrified future. The Mustang Mach-E spearheads a rapidly expanding electrified vehicle range. The brand's customers in Europe will be able to choose from 18 electrified vehicles by the end of 2021, up from 14 by the end of this year.
A record sales year in Europe wasn't quite enough to push Skoda Auto towards another new worldwide record in 2019. Still, considering how the Chinese market crumbled, global deliveries of 1.24m vehicles was by no means a poor result. With 2020 being the first full year for a new generation of the Octavia plus the arrival of various PHEVs and EVs, the brand is well placed heading into the next decade. That's the preamble to our latest crystal ball reading for the VW group's Czech brand, also well worth a read. Our resident futurist also turned out a first part of a look at the future models of Honda Motor with an overview of the Honda brand's global line up by segment. This will be followed soon by what's coming for Acura.
Future models, CO2 quotas and electrification were all on the table when just-auto, represented by yours truly, met the 'Spanish trio' (we were doing the inquisition when we could get a word in, so enthusiastic about company and brand were these three gents) playing key roles at Kia Motors Europe. They talked at length about EU fines that could put a smaller car company out of business, why one of their smallest variants you'd think was 'environment friendly' got the chop, their sales and EV aspirations, batteries, electrified vehicle range and more.
Automaker restructuring was in the news this week with Honda Motor saying it would change its automobile business from a collaborative structure where each area of S-E-D-B (Sales, Engineering/production, Development and Buying/purchasing) maintains autonomy and works in collaboration to a unified structure which integrates S-E-D-B areas. All S-E-D-B areas, currently separated by their respective functions, will be integrated into Automobile Operations and reorganised into organisations based on the new process of operations. Daimler, too, used the decision of a CFO to depart as a chance to slim down some management layers and tighten up financial controls. The new order kicks in on 1 April.
Coronavirus: Automakers across China restarted production this week, after three weeks of shutdowns to help prevent the spread of the COVID19 virus, although most are operating in conditions far from normal. Having followed the guidelines of provincial governments to extend the Lunar New Year shutdowns, vehicle manufacturers in most areas of China have been allowed to resume production at their factories in an effort to kick start an economy that virtually ground to a halt late in January. Local officials have been given orders by the ruling Communist Party to get businesses functioning again while putting in place measures to help contain the spread of the virus such as taking daily temperature readings of workers, making face masks compulsory and ensuring workers maintain a minimum distance from each other.
New vehicle sales in China plunged by more than 18% to 1.94m units in January, 2020 from an already weak 2.3m units in the same month of last year, according to wholesale data released by the China Association of Automobile Manufacturers (CAAM). Vehicle output was also down by 27.6% at 1.78m units. Separate retail data released by China Passenger Car Association (CPCA) suggests passenger vehicle sales in the country fell by 22% to 1.71m units last month, with the association expecting the data to get much worse in February.
It wasn't wrong. Just today we had an update: New passenger vehicle sales in China plunged by 92% in the first two weeks of February, according to the China Passenger Car Association (CPCA). With a number of major cities under lockdown in response to the recent outbreak of the COVID19 coronavirus, business activity in much of the country ground to a virtual halt in early February. Travel within China and flights in and out of the country have been severely curtailed, while streets in major cities such as Beijing and Shanghai remain deserted and consumers are simply not spending on anything other than the bare necessities. Car dealers across the country have complained of a dearth of business activity including very little in the way of showroom visits.
Finally, a not unexpected bit of restructuring news from General Motors: It announced last weekend plans to withdraw from a number of markets in the Asia-Pacific and Oceania regions to focus on its most profitable global territories. GM confirmed it planned to "wind down" sales, engineering and design operations in Australia and the sales and distribution operation in New Zealand which, combined, employ 830 people, and "retire" the long serving Holden brand by 2021. The company also said it had agreed to sell its Rayong plant in Thailand, which employs 1,500 people, to China's Great Wall Motors and withdraw the Chevrolet brand from that market by the end of 2020. We subsequently learned GM would begin firing around 1,500 employees in Thailand in June, following the sale of its factories there to Great Wall. Not a great start to their year.
Have a nice weekend.
Graeme Roberts, Deputy Editor, just-auto.com