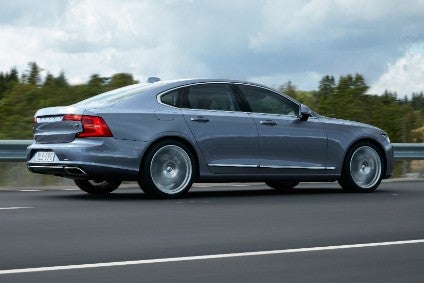 The Chinese are coming – certainly more of the Volvo models they make over there.
This week's most-read new story was about Geely-owned Volvo Cars – the Swedish Safety Car Company – expecting to begin exports from its newly-built Daqing car assembly plant in China's Heilongjiang province in May. A spokesman said the company is currently arranging for dealers in Europe, the US and across Asia-Pacific to visit the plant to kick start the export drive. Current capacity is 80,000 vehicles per year. It began production of the S90 passenger car range last November and it is already on sale in China.
The automaker currently has two plants in China, in Daqing and in the southern Chinese city of Chendu. A third plant is under construction in Zhejiang province. It'll be interesting to see what export deals are agreed and how well the cars go down with western customers – will build quality and locally sourced componentry be up to the mark? Chinese-made cars, including Volvos, are already exported, of course, some in kit form for overseas assembly, many of those KD packs to South America. SAIC 's LDV (remember the UK LCV brand?) vans are shipped to many markets, Geely builds London taxis for some markets, Chinese Volvos already go to the US and VW , with big local JVs with FAW and SAIC , has previously built RHD Polo sedans for export to Australia.
It's 'AGM' time for the German automakers (I'm at BMW 's annual accounts presser next week) which follows a set routine – press conference for the media about now ahead of the shareholders' AGMs in a month or so. At VW 's media event this week, the top brass was bullish. Cue CEO Matthias Müller: "We are back on track". What VW likes to call "the diesel issue" cost it EUR6.4bn in 2016, mainly due to expenses for legal risks, and a load of legal (and criminal court) action is still pending, but sales revenue exceeded expectations at EUR 217.3bn and operating profit of EUR 14.6bn, 'before special items', beat the previous year's result due to reduced product costs and model mix improvements. Though sales revenue at the core Volkswagen Passenger Cars brand declined 0.6% year on year to EUR 105.7bn and operating profit before special items fell to EUR1.9 from EUR2.1bn, Müller is putting that in the past and promised a "faster, more focused, and more customer driven" automaker targeting an operating return on sales of 7%-8% and a return on auto sector investment to "over 15%".
Meanwhile, at Audi 's event, media questions about that day's 7.30am prosecutor raids on various facilities in Germany were shrugged off as executives reported growth in car deliveries and revenue for 2016 – revenue up to EUR59.3bn in 2016 and operating return on sales 'before special items' of 8.2%. This after booking EUR1.8bn "for the resolution of the V6 3.0 TDI diesel issue" and Takata airbag recalls. Even then, operating profit was EUR3.1bn and operating return on sales 5.1%. "2016 was a very challenging year for our company," chairman Rupert Stadler told the meeting, "but we completed it with robust earnings from our core business and set our course for the future".
Stadler also updated us on the aforementioned 'diesel issue' – considerable progress has been made, especially where only software updates have been required, but there is a batch of models with the earlier three-litre TDi V6 which is more problematic – US customers have been offered buyback or good lease-end deals; for those wanting to keep their cars approval, by US authorities, of Audi 's suggested modifications is still awaited.
There was plenty of supplier news to report this week, too – Samsung completed its Harman takeover, Intel bought Mobileye (lots of eyes on that), Rheinmetall secured a new US customer, Magna developed composite subframes for Ford and there were new deal announcements from Magneti Marelli and GKN.
Have a nice weekend.
Graeme Roberts, Deputy Editor, just-auto.com