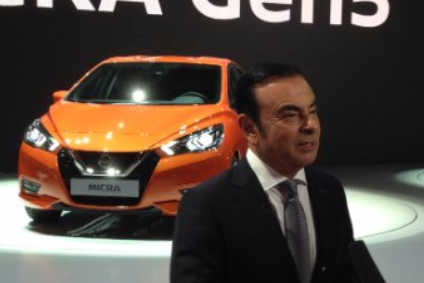 I'm sure many others – in or observing the autobiz – were as saddened as I was to hear of Renault-Nissan-Mitsubishi Alliance kingpin and Nissan Motor supremo Carlos Ghosn's downfall this week. At the time of writing he is still in a Japanese jail, having been question initially on suspicion (it is important to stress he has yet to be charged) of under-reporting his corporate salary by several hundreds of millions of yen.
In quick succession, came reports from Japan he had subsequently been arrested on Monday for alleged financial misconduct and would be fired from the board. Later that day, the Renault board met in France to discuss the situation and France's finance minister weighed in, suggesting Ghosn should not remain at the helm of Renault, in which the state has a 15% stake. Next day, came the suggestion authorities might investigate Renault-Nissan finances, and then Renault itself announced COO Thierry Bollore would effectively take control of the French automaker with Ghosn out of the frame for now.
A slightly surprising development was Mitsubishi Motors CEO Osamu Masuko coming out in support of Ghosn, telling Japanese reporters the three-way alliance may be harder to manage without the unifying force of the long standing chairman. He apparently made no comment regarding the reasons Ghosn had been arrested.
At that point in the saga, our director of automotive and in-house analyst Dave Leggett thought it was time to scrutinise the whole issue, asking "Is there politics behind the Nissan Ghosn charges?"
Ghosn himself hardly lacked support at that mid-week stage with Renault saying he was "temporarily incapacitated" and that it was retaining him as CEO though having asked alliance partner Nissan for "all information in their possession". Things got a little more complicated when Japanese media reported the government was ready to work for the stability of the global alliance though a Nissan executive said the automaker was seeking ways to weaken the influence of its French partner. Hmm. Maybe politics are at work here.
Lastly on Wednesday, France's finance minister and his Japanese counterpart said they would meet in Paris on Thursday and, later that day, Nissan's board unceremoniously axed both Ghosn as chairman and fellow expat Greg Kelly as representative director, following its investigation into what it described as "misconduct". Again, the French side was far more conciliatory, with the deputy finance minister saying the government was not able to make any decision surrounding Ghosn as he was currently being detained by the Japanese authorities. "[There is a] presumption of innocence," he said.
Our latest article to date cited interim Renault CEO, Thierry Bollore, as saying Renault would make working with its suppliers a priority while it attempted to make sense of what was happening to Ghosn in Japan. Bollore is now in charge of the continuity of the executive committee of the Renault group, following Ghosn's arrest.
We'll just have to wait and see now. You can see all our coverage, bundled into a handy Hot Topic take-home pack, here.
Away from Mr Ghosn, it was business as usual on just-auto and, also as usual, analysis articles topped the readership bill as we took a look at Skoda's latest, now diesel-less Fabia and Mazda's future product plans which include that intriguing upcoming compression ignition petrol engine, on which our analysis touches. And stand by for a revived rotary engine, this time as part of a new hybrid powertrain. I vaguely recall Mazda doing a short-lived hybrid model in the US – the Tribute – which was its rebadged version of Ford's Escape (and also built for North America by Ford) – known this side of the pond as the Maverick. I had a chance to catch up with some of the latest UK market Mazdas at a drive day recently, sufficient to remind me how much fun the MX-5 remains, four generations on, and how good its I4 engines are, still in comparatively large capacities and devoid of currently trendy downsizing, turbochargers, intercoolers and the necessary complex control electronics.
Popular news stories this week included a reshuffle of VW Group plant assignments which will see Skoda building the Passat, Mazda (them again) and Toyota breaking ground in Huntsville, Alabama, for their long heralded, jointly owned and operated production plant that will have capacity for 300,000 vehicles a year from 2021, Global NCAP's demand for a ban on Nissan NP300 sales in Africa and news Iberdrola and IKEA have inked a deal with the energy operator installing more than 50 e-vehicle charging stations and supplying 100% renewable energy to the stores, logistics centres and corporate buildings of the company in Spain next year.
Have a nice weekend.
Graeme Roberts, Deputy Editor, just-auto.com