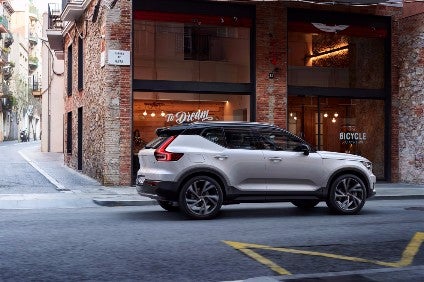 It's not unusual for things to go a bit quiet the week after the week of a major motor show's press days – Frankfurt's were the 12th and 13th and the public days continue. You knew that. Cue Geely's Volvo Cars, one of several notable absentees from the Messe, announcing its much-awaited XC40 SUV, first Volvo product on the new CMA architecture which will be shared with the new Lynk and Co brand and the Chinese parent's Geely, with little risk (that a showtime launch runs) of getting lost amongst all the buzz emanating from Germany last week. Not the first time the Swedes' PR has been a little bit clever, enjoying, as we used to say in the print days, "a lot of ink".
Having, coincidentally, just handed back the day before (almost at gunpoint) an XC60 T8 Twin Engine R-Design Pro press demonstrator, about the most loaded version we can buy (GBP65,500 optioned) in England, I was intrigued to read the 'official' specifications of the new car (a video and images were 'leaked' by Volvo Hungary last week). Clearly a mini-me XC60 (as that car is of the XC90), with due scaling down of size and price, the XC40 takes Volvo into new territory, giving them what looks to be a fine product to take aim at the likes of our homegrown (and now quite old) Range Rover Evoque, Europe's Audi Q3 and BMW X3 plus, if you shop entry level Volvo with top spec alternatives, some of the top o' th' range Japanese and Korean models from Nissan, Mazda, Toyota, Hyundai and KIA plus top PSA Citroen, Peugeot and Opel/Vauxhall, and Ford, models as well.
Clearly, the flood of new SUVs from automakers shows no side of abating this side of the pond (same in North America and Asia-Pacific as we saw in this Canada story this week and recent Down Under sales reports) and buyers love 'em too. As with XC60 and XC90 (and the rivals), Volvo will offer a wide range of models, factory options and option packs to suit every pocket and you'll note an innovative new total-vehicle-cost finance package the brand also is introducing to reel 'em in with (relatively) affordable monthly payments. It'd be interesting to check in with Volvo in a year's time to see which brands their new model has 'conquested' and to see what the opposition does to return fire – Tata Motors' Land Rover has constantly updated the rival Evoque (without drastic changes to render older ones 'oboslete') and continues to roll out new English-built engines and new technology for its well established entry level Range Rover. This segment is one to watch. Especially as Volvo still has its CMA platform variant of the XC60/90 T8 Twin engine PHEV technology and a (so far) segment-unique pure EV drivetrain waiting in the wings.
Less good news from across the Atlantic where Ford is planning temporary shutdowns at five plants this year as it looks to reduce inventories and adjust output plans according to market demand. The company said output scheduling plans reflect changes in consumer demand for cars and trucks and plans to idle five North American vehicle assembly plants for 10 weeks to reduce inventories. This happens routinely and makes sense in a 'push' market where most buyers choose a new car or light commercial from stock and some dealers are the size of a small UK town with inventory, sometimes in the thousands, to match. No point in piling more onto the heap if sales have slowed. Over 'ere, though there is always some forecourt stock, many buyers order a car to be built to their specification, happy to wait a while for delivery, and even our biggest outlets are small by US standards.
I wonder, though, if this will change – there was news this week Volvo Cars is making its newly redesigned, Swedish built V90 (a rare entry in the premium European estate segment in the US most brands ignore) a pre-order car only with corresponding wait time. Is this the start of a new trend?
The next notable show is Tokyo, now somewhat diminished since its glory days but still Worth A Look, and we already have our debut list under way. And, with Los Angeles to come the following month, resident product guru Glen Brooks has made a start on that, too. He's also, in the latest in a series, put Mazda architectures and future product plans under scrutiny.
Back to Frankfurt for a moment – Matthew Beecham was there catching up with suppliers and talked to Adient about future interiors and Samsung which, with its Harman unit, is launching an autonomous/ADAS strategic business unit and announced a US$300m Samsung Automotive Innovation Fund to accelerate their presence in the autonomous sector.
Have a nice weekend.
Graeme Roberts, Deputy Editor, just-auto.com