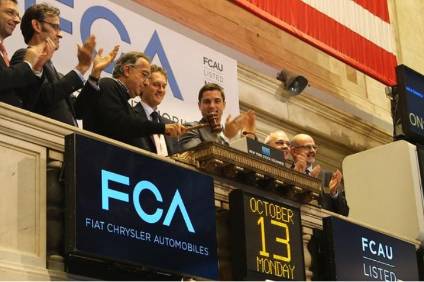 In late May Fiat-Chrysler proposed a merger with Renault suggesting a 50/50 split ownership package between Renault and Fiat-Chrysler shareholders.
Fiat-Chrysler (FCA) is proposing a deal that will be one of equals. At present FCA is a larger company than Renault and is intending to sell a robotics business and pay a unique dividend in order to allow a 50/50 partnership. If the two firms decide to merge this would create the world's third largest automotive group reaching in excess of USD160bn in annual revenues and 8.7m vehicle sales per annum.
The proposal is to split shareholder ownership between the two companies equally and allow the French and potentially Italian governments to retain a stake in the new group of around 7.5% each.
Stock markets and the French government have reacted positively to this announcement and it seems the consensus among analysts is that this could be a prudent merger between two parties that both have a lot to gain.
Merger could be of huge benefit to both parties
Renault has not been present in the US as a brand since the late 1980s when it fully withdrew from the market due to sluggish sales and poor strategic choices.
A merger with FCA, through the Jeep, Dodge, Chrysler and Ram Trucks brands would provide an excellent opportunity for the group to gain access to the US market and ultimately profit from any growth there.
This merger would allow FCA access to Renault's electrified technology, which is shared with Nissan and Mitsubishi.
These three companies have managed to get a head-start on the rest of the automotive industry in the field of electrified vehicles through the Renault Zoe, Nissan Leaf and Mitsubishi Outlander PHEV all of which are market leaders in their respective segments.
If the merger could be delicately constructed so as to keep the Renault-Nissan-Mitsubishi alliance alive, this merger would create the world's single largest automotive group and for FCA this must be the ultimate prize in proposing this merger with Renault.
Long line of deals in the automotive industry over the last decade
The landscape in the automotive industry is now much different than 20 years ago. Seemingly disparate and separate companies are now heavily linked through deals, strategic partnerships, buyouts and stakes in each other.
All these moves are attempts to reduce risk through cost sharing and diversifying into new areas of strength. It is increasingly common for manufacturers to hold significant stakes in their rivals, for reasons of diversification and joint ventures, but most commonly in order to secure access to technology.
For instance, the partnership between Ford and Volkswagen agreed in 2018 was designed to share the expertise of Ford in commercial vehicles and with the autonomous technology developed by Volkswagen.
This trend is expected to continue for the immediate future and further rumours in the industry have been circulating in 2019 as those groups that are looking to acquire new technology and expand seek out targets.
GlobalData