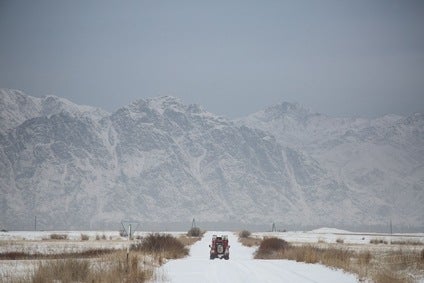 After weeks of what has seemed a phoney war of words between both sides, the stakes are starting to ramp up considerably between Russia and its newly-minted adversaries in the West.
As I write this there are reports circulating of 20,000 battle-ready troops massing on Russia's Western border with Ukraine – and although that equally happened a while back – the current situation seems laden with more menace this time around.
Rumours are also being floated that some are urging Russia to specifically target the auto sector in tat for tat sanctions, although whether this is the product of fevered speculation, is not yet clear.
It doesn't seem that long ago Moscow was being feted around Europe and the globe as a key G8 member and economic superpower, with World Trade Organisation membership providing the financial gravitas necessary to oil the wheels of international statesmanship.
And now it's all radically, dramatically changed in a bewilderingly short space of time.
Simmering tensions in Ukraine finally boiled over into the streets leading to bloodshed and revolt in Kiev, while at same time triggering a de facto civil war in the East of the country over which Malaysian Airlines flight MH17 recently crashed.
Outraged Western capitals from Paris to Washington have united in criticism of Russia and its stubborn President Vladimir Putin – while attempting to engineer a series of sanctions designed to force Moscow to stop – in their view – supporting rebels in Eastern Ukraine.
But harmony is by no means universal. As always sanctions are easy to say and harder to implement – particularly with London's huge financial interests – not to say burgeoning Russian millionaire population – Paris' warship sales and Berlin's colossal reliance on gas from the east.
In that maelstrom swirls the automaking industry – among others – which must look on in bafflement as its attempts to conduct business are in the teeth of political uncertainty toppling into economic fragility.
Russia's Central Bank – thought to possess hundreds of billions of dollars – is propping up the rouble against a backdrop of rising interest rates – while capital flight is now thought to have reached US$100bn since the latest round of jitters struck the country.
The plentiful reserves seem currently to be able to withstand such intense pressure, but the import bank rate is now eight points in contrast to the US or Europe where it is six points above.
And the effect of that concerted pressure is filtering down to auto sales as twitchy potential customers look at credit interest rates at somewhere between 18% and 20%, with any pull through effect of the enduring crisis presumably not destined to last that much longer.
There's even talk of the government stepping in through some sort of interest rate subvention or running a form of scrappage scheme, such is the nervousness surrounding the manufacturing sector in Russia.
The Association of European Businesses (AEB) represents 600 companies in the country and has delivered a withering set of data these past few months, which have thrown a huge bucket of cold water on any BRIC-style surge the country enjoyed up to around 2012 with a near-3m car unit volume.
The AEB says July sales of new cars and light commercial vehicles dropped by 22.9%, noting the overall trend is "worrisome," while Ernst & Young CIS automotive sector leader, William King, tells me from Moscow: "Net was a 23% decline YOY for July, so the pace of decline is picking up from the 17% decline in June YOY.
"Not a great surprise and it would not shock me if the overall year ended up closer to 20- 25% decline to under 2m vehicles."
King added the risk profile for outside investors had "dramatically taken a step change," while possible new supplier entrants to Russia were starting to have second thoughts about moving into such a volatile market.
This is providing a catalyst to more localisation – music to the Kremlin 's ears as it trumpets its famous Decree 166 mandating a percentage of Russian-sourced manufacturing – and as automakers look to hedge against currency fluctuation.
But worse may come before better with AvtoVAZ CEO Bo Andersson previously noting it may be two years before the market starts to exhibit signs of growth – notwithstanding any more seismic political upheavals.
"Regarding market outlook I am positive – Russia is a huge country and we will bounce back – it will take two years," he said.
"At first what you see is economic weakness and [then] you see regular growth. I am not looking to talk of the political situation."
The AEB data confirms months of Russian automotive contraction as massive political uncertainty triggered by the continuing crisis in Eastern Ukraine and the imposition of sanctions by both the West and Moscow on each other ratchets up.
July's sharp fall equates to 53,598 fewer sold units and amounted to only 180,767 cars, with just 1.4m vehicles sold this year.
"Unfortunately, the contraction of the automotive market continues, picking up speed in July," said AEB AMC chairman, Joerg Schreiber. "The overall trend is worrisome and unlikely to improve fundamentally any time soon.
"Of course, the Moscow Motor Show set to open at the end of August should have a stimulating effect on car purchases, especially in the usually stronger autumn season. In any case, this is how it normally works.
"But what has been normal this year so far?"
Now there are mutterings emanating from Russia – nothing concrete yet – but a warning shot across Western bows maybe – that direct Western imports of cars may be targeted in retaliatory sanctions.
This wouldn't affect Western automakers already producing in Russia or, crucially, their component suppliers, but the very fact the car sector is being mentioned at all, will make manufacturers start to look very hard at what was once touted as Europe's potential star performing market, indeed tipped to become the Continent's largest.
And yet and yet. One reliable source in Russia tells me Putin's approval ratings are rocketing at 83%. "You compare that to other leaders – it is ridiculous" he says.
Putin's confidence is running high, that's certain as he made clear at a meeting of Russia's Security Council in the Kremlin last month.
"Sovereignty and territorial integrity are fundamental values, as I have already said," the President commented. "We are referring to the maintenance of the independence and unity of our state, to the reliable protection of our territory, our constitutional system and to the timely neutralisation of internal and external threats, of which there are quite a few in the world today.
"I should make it clear from the start that, obviously, there is no direct military threat to the sovereignty and territorial integrity of this country. Primarily, the strategic balance of forces in the world guarantees this."
So the two sides continue to square up to each other in a situation that so far has seen sanctions limited to banning certain Western foodstuffs from entering Russia, while Brussels and Washington are reportedly targeting travel restrictions on some of Putin's inner circle.
But just take this recent financial snapshot issued by electrical distribution systems company, PKC Group, whose second quarter revenue fell 12%
"The crisis in the Ukraine has had a negative impact on our customers' business activities in Russia, due to which the planned production ramp-ups at PKC 's Russian factory for new customer programmes were not realised," said PKC president and CEO, Matti Hyytiainen.
If others start to issue the same prognosis, the situation could look bleak indeed for automakers and their suppliers.