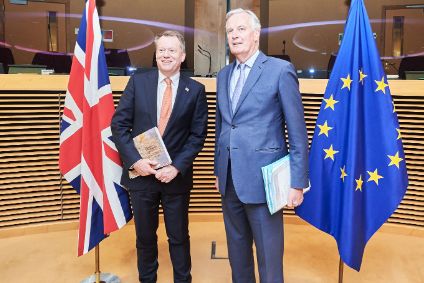 UK plants still potentially exposed by rules of origin application if a UK-EU FTA struck
Reports in the UK media say the EU has refused UK Government requests to treat imported automotive parts for UK new car manufacturing from Japan and Turkey as 'British' under a proposed new free trade deal. It sounds like an arcane piece of detail, but it is detail that could have serious implications and it's also the latest sign that UK-EU post-Brexit trade negotiations are proving stubbornly difficult, with the interests and health of the UK's auto industry – highly bound up with the EU's – at risk.
If the latest reports are true, this could be a serious blow for manufacturers in Britain such as Nissan and Toyota who import significant volumes of sub-assembles and parts from so-called 'third countries'.
It is also a sign that major uncertainties over permanent UK-EU trade arrangements still persist at this late stage in the negotiations between the two parties that are meant to set permanent arrangements over trade and security when the UK's Brexit withdrawal agreement 'transition period' comes to an end (31 December, this year – the UK formally left the EU earlier this year, but little has actually changed yet). Indeed, the troubled UK-EU negotiations appear bogged down in arcane arguments over fisheries (access to UK waters for EU fishing fleets; access to the European market for UK caught fish) and future state aid (the so-called 'equal playing field', extending also to governance and dispute resolution).
For the UK's automotive sector, these are worrying times. Besides the devastating impact of the COVID-19 crisis, there are real fears that 'no-deal' with the EU and tariffs (as well as more border checks) would significantly add to costs. It would comprise a double whammy and threaten competitiveness in an industry that is vital to the economy as a provider of large scale economic activity and jobs.
The automotive industry is a vital part of the UK economy accounting for an estimated £82 billion turnover and £18.6 billion value added. With some 168,000 people employed directly in manufacturing and 823,000 across the wider automotive industry, it accounts for 14.4% of total UK export of goods and invests £3.75 billion each year in automotive R&D.
The UK's auto industry is also highly integrated with that of the EU, in terms of both manufacturing supply chains and a high proportion of car exports being bound for the EU. Over half of the 1 million cars exported from Britain last year went to EU27 markets.
If those EU-bound vehicles face a 10% import tariff levied by the EU under WTO trading rules, that potentially makes UK manufacturing much less attractive to car companies that have alternative options to produce at plants inside the EU's tariff free customs union.
Additional border checks would also be a concern for an industry heavily reliant on just-in-time logistics and with razor-slim margins.
In the UK, a reciprocal 10% import tariff on EU-sourced vehicles would also create problems for manufacturers and retailers either in absorbing higher import prices or passing them on to consumers.
Rules of origin – the latest twist
However, the latest twist in the negotiations is a sign that even with an FTA deal, the UK's auto industry potentially faces serious difficulties related to future trading arrangements.
Even in the event of a UK-EU free trade deal being struck (still far from signed off), the problem lies in the determination of what is or is not eligible for free circulation between the UK and EU, qualifying as British (or local) content.
Under the usual principles of bilateral free trade deals, mutual recognition and rules of origin mean that cars made in Britain need to meet around 55% 'British' content to count as British and avoid tariffs, but crucially, EU-sourced parts would be included in that 'local content' calculation. The shipments to the EU of finished new cars meeting that 55% threshold would therefore not attract tariffs under a free trade agreement (FTA).
Many cars made in the UK and exported to the EU should be able to meet that threshold – but some may not, because of the application of rules of origin by the EU and this is where Nissan and Toyota could be especially vulnerable.
From a UK auto industry perspective, it would be advantageous to count imported parts from Japan and Turkey, in particular, in the local content 'cumulation' number because of the importance to UK manufacturing of imported parts from these two countries.
If that is not the case, Nissan could be exposed by the value of imports of parts from Japan for its Sunderland-made electric Leaf and a consequential lower level of local content. Similarly, Toyota's UK plant works closely with Turkish suppliers. These two manufacturers could find some of their exports fall below the 55% local content threshold and therefore become liable to EU tariffs, even if a UK-EU trade deal is struck.
Exports to Europe are vital for these two plants and attracting new tariffs of 10% on shipments to the EU would seriously hamper their competitive position.
A further potential difficulty lies in the striking of future trade deals around the world – the UK auto industry ships to countries all over the globe. Free trade deals have yet to be struck with major markets such as the US and China. Currently, the UK is rolled into EU agreements, but having to form its own independent bilateral trade arrangements with other nations raises the prospect of further tariffs on trade applying to UK vehicle exports if UK content is below the 55% level widely viewed as constituting country of origin (with no boost from EU content in these deals, of course). The difficulty for the UK auto industry with the EU on rules of origin could well be experienced elsewhere.
For the moment, the auto industry in Britain is focused on lobbying for a good trade deal with the EU and will be hoping that politicians' and negotiators' attention will be swinging towards ensuring the health of an industry that is so vital to future UK economic prospects. The UK's auto industry wants to be at the heart of industrial growth and emerging advanced technologies.
Time is short to get a trade deal with the EU that doesn't create unhelpful headwinds at the worst possible time. And for some manufacturers with considerable investment in UK manufacturing facilities, even a done deal between the UK and its largest trading partner is far from the end of the story. The devil could yet be in the detail when it comes to the sourcing of parts, rules of origin and measuring/auditing these things.
At this late stage, the pressure is on the UK-EU negotiators to find a workable compromise that minimises (some may well be inevitable) additional checks and tariffs, or firms in the auto industry in the UK and also the EU27 will face more unhelpful disruption ahead.
See also:  UK car industry faces EU rules of origin blow – report