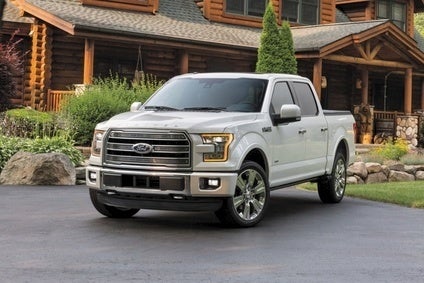 Low gasoline prices and a relatively strong US economy are no doubt the main drivers of a huge boost in production of Ford's F-Series pick-up range: the firm built an astonishing 94,401 units of the big pick-up family in August. That compares to 78,327 in August 2014.
The above numbers are listed by Ford Motor Company in its monthly Production By Plant data. Other noteworthy facts:
36,030 units of the F-150 built in August at Dearborn Truck: a record month for the model in 2015
30,765 built at Kansas City Truck, also a record month for 2015 (this plant has been ramping up since March)
27,606 Super Duty F-Series units made at Kentucky Truck: Louisville's capacity has just been lifted too
For the year to date, F-150 production now stands at 379,976, with Super Duty (i.e. F-250-F-550) truck build having reached 205,239 units in the same eight-month period.
Ford has recently announced its 2016 model year versions of the F-150 and F-Series Super Duty range, including higher priced and therefore even higher margin variants.
The next generation 2017 model year F-Series Super Duty trucks will switch to the T3 platform of the F-150. Production is expected to commence in early 2016. Rather than steel, aluminium is used for the body-in-white, pickup bed and most exterior panels of the F-150, though the frame is steel. The bed is aluminum for all F-150s but will be steel for the next range of Super Duty trucks. Alcoa is said to have contracts to supply Ford for major components for the F-Series programme. In 2012, it spent US$300 million expanding an aluminium sheet and plate plant in Davenport, Indiana.