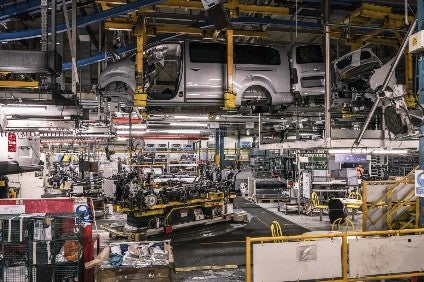 The chip crisis continues. Volkswagen chief Herbert Diess has said the carmaker was in "crisis mode" over an ongoing lack of badly needed automotive chips, adding the impact of the shortage would intensify and hit profits in the second quarter. Speaking after bumper results for the first three months of the year, during which operating profits increased more than five fold, Diess said the bottleneck would "substantially burden earnings" in the quarter to June, Reuters reported. "We will do everything to offset a significant amount of the lost cars in the second half of the year," Diess told Reuters . "But the incidents in the US (storm disruption) and in Japan (Renesas fire) will hurt us definitely." Diess said while the problem had cut production by around 100,000 cars in the first quarter, there was more to come.
Ford said it would halt production at its German plants in Cologne and Saarlouis for several weeks due to a lack of semiconductors. The two plants make about 2,000 vehicles a day combined during a normal production run. "We will make up for the lost production as best as we can… We are working to improve the situation as soon as possible," the automaker said in a statement.
Solid Power, a producer of solid-state batteries for electric vehicles, has announced a $130m Series B investment round led by the BMW Group, Ford Motor Company and Volta Energy Technologies . Ford and the BMW Group have also expanded existing joint development agreements with Solid Power to secure all solid-state batteries for future electric vehicles. In a joint release, the companies said the investment positions Solid Power to produce full-scale automotive batteries, increase associated material output and expand in-house production capabilities for future vehicle integration. The BMW Group and Ford aim to utilize Solid Power's low-cost, high-energy all solid-state battery technology in forthcoming electric vehicles.
After extending its offer of Sport Activity Vehicles as BMW calls crossovers and SUVs, the line-up now stretches from X1 to X7 with no missing numbers. There may be an X8 coming too, probably aimed at the Audi Q8 rather than being even lengthier than the already XL-sized X7. Our report looked at existing and future ICE-powered models; EVs will follow.
Games technology has been credited with "turning the automotive industry upside down". To find out how such a big claim can be justified, Matthew Beecham talked to Epic Games director of industry management, Heiko Wenczel.
COVID (home delivery) has given vans a boost. Stellantis announced to its employees and union today the restarting of the third, night production shift in its Luton plant in June 2021 in order to satisfy increased demand for the Vauxhall and Opel Vivaro, Citroën Jumpy/Dispatch and Peugeot Expert light commercial vehicles. For this shift, a training period is necessary so the first people recruited will arrive on the site in May. The news came as The Society of Motor Manufacturers and Traders (SMMT) said the UK light commercial vehicle market recorded its busiest ever April as 30,440 new vans were registered.
And they're going electric. The first European customer trials of the new E-Transit – the EV version of the world's best-selling cargo van – will soon be under way, the automaker announced as its US unit launched a new information website ahead of opening order books this summer. Prototype vehicles will be joining customer fleets to operate in real world conditions with major businesses in the supermarket, home delivery, postal services and utilities sectors across Germany, Norway and the UK. European customer trials form part of an extensive development programme for E-Transit ahead of its launch in spring 2022. Beginning late summer this year, they have been designed to confirm that the EV can comfortably meet the demands of a wide range of operating scenarios.
Some good Q1 results have continued to roll in. GM said first-quarter earnings were driven by strong price and mix performance in North America, strong credit and residual value performance at GM Financial, and the industry recovery in China. Revenue was flat but profits surged. "The company is highly confident in its full-year 2021 guidance outlined earlier this year as it works to manage through the semiconductor shortage, which is impacting automakers globally. Based on information available today, the company expects to be at the higher-end of the EBIT-adjusted range," it said in a statement. First quarter revenue was US$32.5bn, net income $3.0bn and EBIT-adjusted $4.4bn. Q1 2020 revenue was $32.7bn, net income $0.3bn and EBIT adjusted $1.2bn.
In its first set of quarterly results, Stellantis has posted first quarter net revenues of EUR34.3bn, or EUR37.0bn on a proforma basis, up 14% – and above analyst expectations. "In our first quarter since the merger, Stellantis posted strong Q1 2021 revenues with the diverse brand portfolio driving increased volumes, positive pricing and improved product mix, despite the headwinds from the global semiconductor crisis," said Richard Palmer, Stellantis CFO. Stellantis also said that consolidated shipments were up 11% on a proforma basis to 1,567,000 units, 'reflecting strong consumer demand and retail mix, as well as the impact of COVID-related temporary production suspensions in Q1 2020'. However, it also warned that the Q1 gain was partially offset by production losses due to semiconductor shortages, representing a loss of around 11% of planned production, or 190,000 units. The company warned of 'limited visibility' of full year semiconductor shortage impact, 'but expected that Q2 2021 will be worse than Q1 2021, with some improvement in H2 2021'.
Chinese electric vehicle (EV) startup Nio has announced it plans to begin selling cars overseas in September with Norway chosen as its first export market due to its high percentage of EV sales. Last year 76,789 EVs were sold in the country, equivalent to 54% of total vehicle sales. The company also confirmed it plans to be in five European markets by the end of 2022. Nio, which is listed on the New York Stock Exchange (NYSE), said it will build its own sales network in Norway starting with an outlet in the historic centre of the capital city Oslo. Four additional outlets will be opened in 2022, in Bergen, Stavanger, Trondheim and Kristansand. The automaker said its first export model would be its flagship ES8 SUV, followed by the ET7 sedan in 2022.
UK statistics reveal more than half-a-million ultra-low emission vehicles are now being driven on roads across Britain. The news comes as figures from The Society of Motor Manufacturers and Traders (SMMT) show 13.6% of new cars sold in the past four months had a plug, with ultra-low emission cars accounting for more than one in 10 sales in 2020, up from one in 30 the year before. The UK government is committing to end the sale of new petrol and diesel cars by 2030 and to ensure all new cars and vans will be zero emissions at the tailpipe by 2035.
Have a nice weekend.
Graeme Roberts, Deputy Editor, just-auto.com