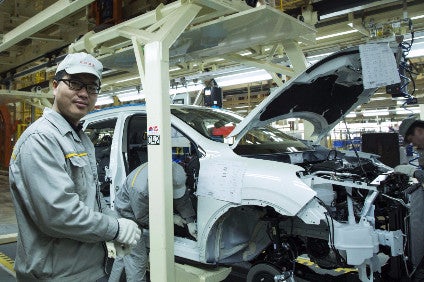 Automotive eyes turn to the Beijing Auto Show this week. Our list of debuts at the show is pretty long. Well, it is the world's largest vehicle market. Are things going swimmingly well there? Not exactly, though things could be worse. There are a number of concerns for auto companies to be aware of as they eye higher sales this year.
One concern is the underlying health of the economy. In recent years it has fluctuated from quarter to quarter, but with an underlying downturn to GDP growth clearly evident as trend. The government has taken measures to boost growth – including the purchase tax cut that is keeping the car market in growth territory this year – but it's becoming more difficult to maintain economic growth and signs of slowdown have also worried China's volatile and nervous stock markets. And there are also emerging concerns about high levels of debt in China and the speed with which that debt is being ramped up as the government turns various liquidity taps on to support the economy. A major financial crisis could be brewing. An investment banker I spoke to the other day said he sees definite similarities with 2008, China the epicentre this time rather than Western financial institutions. The fact that people are alert to the dangers is probably a good sign. Whatever the broader dangers, the outlook for domestic demand in China certainly carries significant risks right now and they are higher than they were a few years ago.
As far as the car market goes – and putting the macro concerns to one side – a purchase tax cut of 10% on small engine vehicles and New Energy Vehicles (EVs and plug-in hybrids) this year threatens to exhaust market demand further and bring the market down more heavily in 2017 when the incentive ends. Much will depend on the extent to which underlying confidence can recover, the general mood in the country, but a crunch for vehicle manufacturers could come in 2017 if supply outruns demand. As we have seen before, under-pressure margins can quickly come under attack if inventory climbs and dealers start to complain (and ask for financial support).
Something else to be aware of is that some analysts say that while grants and subsidies have boosted the NEV market, they have also led to market corruption – effectively, fraud – as some local automakers have focused their efforts on cheating the system rather than on genuine technological improvements. It's been something of a scandal and the government has said it will investigate. That's a reminder of the political backdrop in China and the way that concerns can rapidly build up and attract attention from the government. In recent years we have seen the general campaign against corruption and a reaction to the appalling state of air quality in China's cities. Where these things take policy and its practical application can be very difficult to predict. That's China.
The car market in China has also been boosted in recent years by the shift of demand to so-called 'lower tier' and inland cities, and away from car saturated hotspots like Shanghai. How much more of that new seam of market demand growth remains and how does the changing composition of China's economic growth impact that over the next few years? Can China manage the transition from being mainly a low-cost manufacturer of goods for the global economy to being a major consumer in its own right, a middle-income economy – albeit the world's largest – with a sustainable and stable economic and political system? There's a sense that China is potentially at a vital inflection point in its long-term economic development.
The government in Beijing has actually managed the Chinese economy pretty well over the past fifteen years. Infrastructure investment and FDI attracted has been phenomenal. It has brought increased living standards and unimaginable wealth for many of its citizens. But there are certainly some serious challenges ahead to keep it going.
Beijing premieres list – Peugeot 3008 world debut