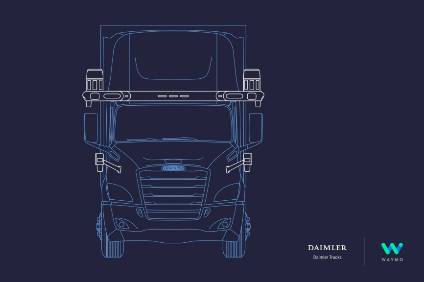 Google's (Alphabet) subsidiary Waymo and Daimler are to work together to deploy autonomous drive technology on freight trucks.
Their initial effort will combine Waymo's automated driver technology with a unique version of Daimler's Freightliner Cascadia, to enable autonomous driving. The autonomous Freightliner Cascadia truck, equipped with the Waymo Driver, will be available to customers in the US in the coming years, Daimler said. Waymo and Daimler Trucks will also investigate expansion to other markets and brands in the near future.
The Freightliner chassis will enable the integration of the Waymo Driver technology with its proprietary hardware. Somewhat helpfully, Daimler also has its own self-driving subsidiary – Torc Robotics – that is working on integrating its technology into the Freightliner Cascadia truck line. Torc is evaluating systems aimed specifically at long-distance interstate hub-to-hub applications.
Daimler and Waymo, with their complementary strengths, are well-placed to work together.
The collaborative move between these two companies also points to a big opportunity ahead to automate the driving of heavy freight trucks.
This particular opportunity may now be a higher priority for autonomous vehicle (AV) technology specialists eyeing uncertain prospects for driverless ride-hail applications in the wake of the COVID-19 pandemic which has seen a big slump in ride-hail user numbers.
Uber, for example, painted a bleak picture with its second quarter 2020 earnings, reporting a 35% year-on-year reduction in the number of bookings on its platform. This pivot to a sudden, dramatic decline reflects the sheer speed with which COVID-19 has upended the ride-hailing industries.
In the longer term, demand for ride-hailing and car sharing is unlikely to reach its pre-COVID targets due to structural changes in working patterns and a big switch to remote and home working – some of which will be permanent.
Freight trucks offer another significant outlet and application for automated drive technologies.
Freight trucks offer another significant outlet and application for automated drive technologies.
The potential benefits for transport and haulier providers in the form of business efficiency benefits are considerable. Daimler and Waymo are not alone in exploring heavy-duty freight applications for this tech. Self-driving truck technology developer TuSimple is working with Traton and Navistar on Level 4 autonomous trucks for Europe and North America, hoping to get a semi-trailer product ready for market by 2024.
Furthermore, there are societal benefits in the shape of reduced accidents – driver fatigue being a major cause of long-distance haulage accidents – and lower harmful tailpipe emissions from the more efficient operation of large truck fleets.
For both Daimler and Waymo, there are considerable potential benefits in this cooperation, not least for Waymo in exploring Waymo Driver applications beyond passenger cars. Both parties should also gain considerable learnings as the autonomous drive ecosystem develops further over the next five years.