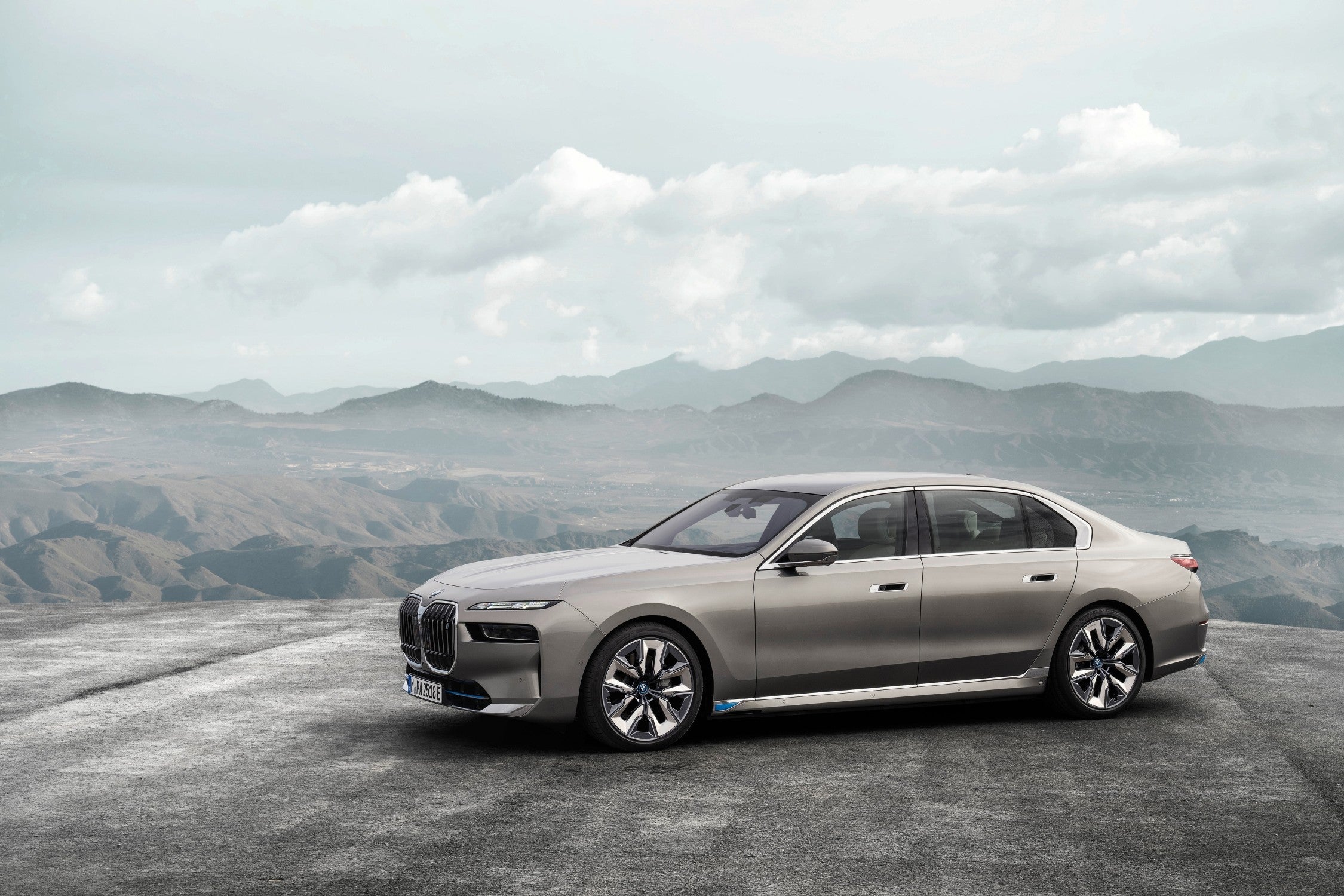 The BMW i7 follows the naming convention established by BMW's iX and i4 EVs that preceded it and is expected to arrive towards the end of 2022, launching before combustion-engined 7 Series variants.
The BMW i7 is entering an already a competitive segment. OEMs face significant costs when assembling an EV's battery pack so most have opted to launch luxury and high-specification EVs first, rather than mass-market models. These more expensive and more profitable vehicles are better able to recoup the cost of a battery pack, and demand less cell supply to build than potentially hundreds of thousands of more affordable vehicles.
When it arrives, the i7 will find itself cross shopped against several key rivals including the Tesla Model S, Lucid Air, Porsche Taycan and Audi e-tron GT – along with full-size electric SUVs. However, perhaps its most compelling competition will come in the form of the Mercedes EQS electric luxury sedan that went on sale at the end of 2021. BMW and Mercedes have, historically, been fierce competitors and both offer premium models across many of the same segments.
Considering how closely BMW and Mercedes benchmark each other, however, there are some noticeable differences between the i7 and EQS that see them take divergent paths to appeal to luxury EV buyers. Below, we compare the two models to understand BMW and Mercedes' design process, and assess their chances of competing with Tesla and Lucid.
Price
BMW will launch the i7 solely in high-spec xDrive60 guise towards the end of 2022. As a result, it is appropriate to compare this version to the range-topping EQS 580 4Matic, although Mercedes does offer more affordable EQS models with smaller motors and battery packs. In this regard, there is little to split the two – both cost slightly in excess of EUR135,000. This price means both check in at slightly more than the Tesla Model S and Audi e-tron GT, and are on par with the Porsche Taycan.
Range
A driving range comparison is less favorable to the BMW, despite it costing the same as the Mercedes. The i7 is expecting to achieve 388 miles on a total charge – 14.3% less than the Mercedes' WLTP-rated 453-mile range. The difference can partially be explained by the Mercedes's larger battery pack, which measures 120kWh compared to the BMW's 105.7kWh, based on advertised max capacity. However, the Mercedes range performance means it achieves 3.78 miles per kWh compared to the BMW's 3.67 miles per kWh – meaning it travels 2.8% farther for each kWh consumed.
There are a few important caveats here. The BMW's range performance has yet to be tested on the WLTP cycle, so is currently only an estimate and could be revised. We also don't know exactly how much of each car's advertised battery capacity is actually made available to customers, because all EV manufacturers leave a small portion on the table as a safety buffer and to prolong cycle life – BMW may have opted to purse a slightly more cautionary battery management cycle.
Performance
While outright performance has never been the 'point' of a luxury sedan, owners expect a strong powertrain to give the vehicle a relaxed driving experience. In this department, both i7 and EQS owners are unlikely to be disappointed. The i7 wins the horsepower battle with its 536hp slightly ahead of the EQS's 523hp. However, the Mercedes strikes back with more torque – 855Nm compared with 745Nm – and faster acceleration, hitting 62mph from rest in 4.3 seconds – 0.4 seconds faster than the BMW's claimed 0-62mph sprint time.
Conclusions
On paper, the BMW i7 mostly matches the Mercedes EQS, but is that enough to make a mark in the fast-moving EV sector? By the time the BMW launches, the Mercedes will have been on sale for almost a year and can already go farther on a charge. Plus, both face the constant threat of Tesla, which offers more performance for less money, and Lucid, which also offers an extremely compelling package of range, performance and luxury appointments. In isolation, the i7 looks to be a great EV, but may be slightly too little, too late for a brand that's already been accused of moving too slowly on EVs.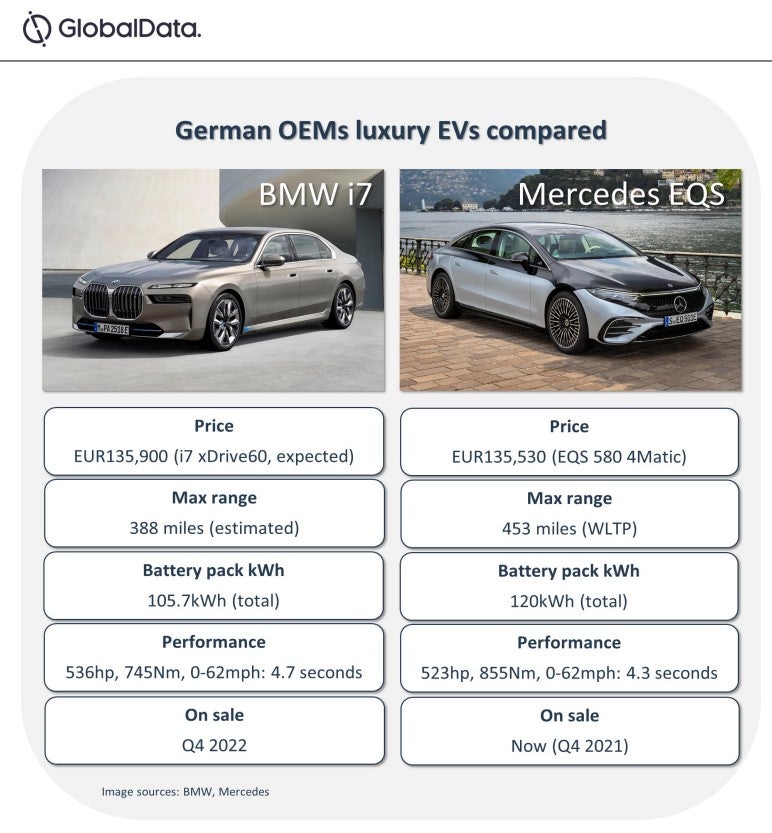 This article was first published on GlobalData's dedicated research platform, the Automotive Intelligence Center