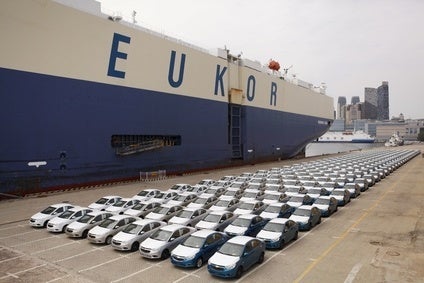 China is fast becoming one of the world's major vehicle exporting countries, with overseas shipments continuing to surge in the first two months of 2022 – by 75% to 410,000 units according to data compiled by the China Automotive Manufacturers Association (CAAM).
This followed an exceptional year in 2021, when exports more than doubled to just over two million units, making China the third-largest vehicle exporting nation behind only Japan with 3.82 million units and Germany with 2.3 million units. It overtook South Korea, which exported just 1.52 million vehicles last year.
Admittedly, this data does not take into account the vast overseas production capacity that underpins the global presence of leading automakers such as Toyota, Volkswagen and Hyundai-Kia, but it is indicative of the growing global ambitions of leading Chinese vehicle manufacturers.
After three years of declining domestic sales, between 2018 and 2020, Chinese vehicle manufacturers have focused increasingly on growth opportunities overseas. Prior to this, they were struggling to keep up with uninterrupted domestic demand growth for the best part of two decades, since China joined the WTO at the end of 2001, with domestic sales peaking at just under 29 million units in 2017.
China's main export thrust so far has been in emerging markets, particularly neighbouring Asia-Pacific countries, Middle-East and Africa and Latin America, in line with the Government's belt-and-road policy and where cost often took precedence over quality. In the last several years leading automakers such as SAIC Motor, Chery, Great Wall Motors and Geely have been busy establishing production networks to help underpin their expansion into these markets.
In the last decade leading Chinese vehicle manufacturers and their suppliers have also invested heavily in product quality and in-house technologies, allowing them to move up the automotive "food-chain" significantly. More recently, their increased focus on developing leading edge features such as connected and autonomous technologies and electric and hybrid powertrains is beginning to open up new opportunities in developed markets globally.
Last year exports of new energy vehicles, comprising mainly electric and hybrid vehicles, from China surged fourfold to 310,000 units as automakers began to target more developed markets, including Europe. Admittedly around half of these were produced at Tesla's Shanghai Gigafactory, but domestic startups such as Nio, Li Auto and Xpeng and the more established automakers including SAIC Motor, Geely, Chery and Great Wall are also beginning to take on leading global brands in their own domestic markets.
Major Chinese Exporters
SAIC Motor is China's largest vehicle producer and also its largest exporter. Last year its overseas sale increased by 79% to 697,000 vehicles, including 598,000 exports and a further 99,000 vehicles produced at its overseas production plants. In Europe it sold 73,000 MG and Maxus branded vehicles, including 40% NEVs, with the UK, France, Germany and Sweden its main markets. The company is targeting 120,000 sales in Europe in 2022.
Chery Automobile is one of China's largest exporters, with shipments to overseas markets surging by over 136% to 269,154 units last year – to markets in Europe, Asia-Pacific, Africa and South America. Its global sales rose by 32% to 961,926 units.
Great Wall Motors sold a total of 1,280,993 vehicles globally in 2021, of which 142,793 were delivered to overseas clients – mainly in markets in the Asia-Pacific, Africa and South America. Most of these were exports from China, although the company began local production in Thailand the fourth quarter of 2021.
Geely exported a total of 115,000 vehicles last year, mainly to developed markets such as Europe where it sells electric and plug-in hybrid electrics. This does not include overseas sales of subsidiaries and joint ventures such as Volvo Cars and Proton. Including domestic sales, Geely sold a total of 1.33 million units last year.