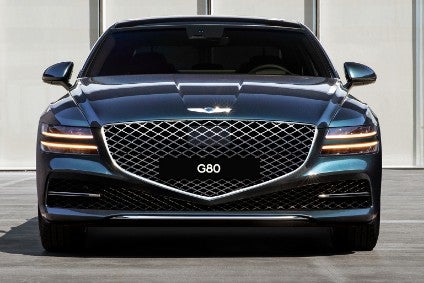 Having been busy for a number of years with preparations for an arsenal of high-end Genesis models, Hyundai now finds itself in a bind. Should the company pull forward the launch of this premium division in China, or continue with the slowly-slowly approach that has seen Genesis restricted mainly to the USA, Canada and South Korea?
The major downturn in America has started just as key new models are going on sale or are soon due to be with dealers. US registrations for March dropped by 33 per cent and into three figures, to 969 cars.
Year to date, the decline is for the moment only 5.9 per cent, due to how well the G70 has been received. Additionally, even the big G90 sedan is up this year, dealers delivering 40 per cent more cars, for a total of 684 in Q1.
"The first quarter of 2020 has been both a thrill and a challenge for a number of reasons," said Mark Del Rosso, Genesis Motor North America's president and CEO on 1 April. "If you were to ask me a month ago, my words would be full of broad vision, moving toward our promising future. However, today, as our entire industry suffers, from factory workers to those who run the dealerships and our service departments, we re-focus on comfort, humanity and leadership."
There has been far better (and much needed) news in South Korea, where Hyundai claims it took more than 20,000 orders for the new Genesis G80 on 30 March, the first day of the market launch. The GV80 has been available there since January and with Korea's industry mostly back up and running after a limited shut-down, last month's overall car registrations for Hyundai Motor Group were up year-on-year.
Data for March were yet to be released at the time of writing, but in 2019, Hyundai sold 56,801 Genesis models in the domestic market, down 7.4 per cent from 61,345 a year earlier. As at the end of February, deliveries numbered 3,191 cars, a reflection of the market falling by 20 per cent that month after a 15 per cent reversal in January.
The big question is now whether Hyundai Motor will stick with its soft roll-out strategy for Genesis or change tack and instead accelerate into what could in theory become the largest market, China. There is a big if though: if locals accept it as a genuine alternative to Mercedes, Audi and BMW. And that's not even taking into account Tesla's imported models plus premium brands which also have some success in this market. That includes Lexus, Hongqi, Cadillac and to a lesser extent Lincoln, Acura, Infiniti and Jaguar.
Hyundai knows it has one shot at getting Genesis perfectly pitched into China and it is likely waiting until a range of models is ready. With US sales plunging but the new G80 and GV80 ready for export from Korea to a lucrative new destination, that time could be soon.
HMG clearly wants to make Genesis a global brand as it has already said that Europe is in its sights. No senior executive would say when that might happen even before the COVID-19 pandemic. Hyundai is a major player in the Australian market so launching the upscale make there in 2019 had been expected. That also means right-hand drive availability for all future models. As of now, in addition to those countries already noted, Genesis has a presence in Canada, Russia and certain Middle Eastern nations. All in all it looks as though the brand's worldwide presence will remain patchy, with perhaps South Korea about to become the surprise number one market. Come 2021, the US and potentially China should be rebalancing the global picture.
Cars
It's only been in production since August 2017 but such is the youthfulness of the Genesis line-up that only one other model, the G90, is now older than the G70. This, the brand's smallest vehicle, is 4.7 m long and closely related to the far less successful Kia Stinger though it does not share that model's hatchback body style.
This model offers the choice of up to three turbocharged engines: 254 hp 2.0-litre four-cylinder turbo petrol, 202 hp 2.2-litre four-cylinder diesel and 365 hp 3.3-litre biturbo V6 petrol. In the USA, where the G70 was introduced for the 2019 model year, rear-wheel drive is standard with all-wheel drive optional. Unusually for the segment, the importer offers a manual gearbox. This is for the four-cylinder engine only. Hyundai-Kia-Genesis' own eight-speed automatic gearbox is optional, and standard for the turbo V6.
There have been suggestions that a Shooting Brake could join the line-up when the G70 is facelifted and gains fresh engines in 2021. While that might seem far-fetched, buyer preferences are shifting and wagons are becoming more popular in some countries, including the US and China.
The life cycle is due to end in 2024 and at the moment, there is no confirmed replacement planned. Hyundai may instead move away from this segment, depending on how buyer preferences for D segment cars evolve over the next few years.
A 'GE70' sedan is rumoured to be coming in the second half of next year. What should by then be the brand's second EV and potentially an eventual successor for the G70, will share components with Hyundai and Kia EVs around the same size. The Kia will come to market first, company insiders say. To be pitched at high end versions of the Tesla Model 3 and also a competitor for the BMW i4 and Polestar 2, the GE70 will use HMG's E-GMP architecture.
The second generation of the G80 was to be on sale in South Korea, its first market, in September last year but Hyundai delayed the launch for reasons which were never made public. This 4,995 mm long sedan, announced to the media at the end of March, is available with HMG's Theta 3 and updated Lambda 3 engine families. Production had been due to commence on 28 February but the Ulsan plant was suddenly closed that day after a worker tested positive for COVID-19. Build got underway on 27 March.
Theta 3 in the G80 is a 2,497 cc four-cylinder unit producing 224 kW (304 PS) and 421 Nm (311 lb-ft), while a new generation of the Lambda V6 has a capacity of 3,470 cc and outputs of 280 kW (380 PS) and 530 Nm (391 lb-ft). Each of these petrol engines has two turbochargers. A 420 PS version of the 3.5-litre biturbo is coming soon for the yet to be announced G80 Sport. Theta 3 and Lambda 3 will gradually replace the normally aspirated 3.8-litre V6 and biturbo 3.3-litre V6 in relevant Hyundai, Genesis and Kia models.
The third engine for the Korean market won't be part of the line-up in Canada and the USA. The 2,151 cc four-cylinder diesel produces 154 kW (210 PS) and 441 Nm (325 lb-ft). HMG's forthcoming SmartStream 3.0-litre straight-six will likely also be added at a later date, as should a PHEV although some are saying there could instead or also be an EV. The car itself should be facelifted in 2023 and replaced in 2026.
The next G90 should go on sale worldwide during 2023 although it's possible that the launch might take place in 2022. Today's V8 probably won't be offered, the line-up likely instead consisting of four- and six-cylinder engines, with PHEV options also available and potentially, an EV.
SUVs
Genesis' first EV is expected to be based on a bespoke electric architecture. Production of the 'GEV70', a battery-electric crossover to take on the Jaguar I-Pace, Audi Q4 e-tron, Tesla Model Y and others in the premium-priced D-SUV segment will commence in June 2021. That would be just ahead of the GE70 electric sedan. The annual build rate and model code are both in PLDB (see link below). A facelift would be due in early 2025 and a second generation in 2028. Please also see PLDB for details of the GV70, a 4.7m long SUV of a similar size but which will use a different architecture.
Genesis gained the first of several crossovers or SUVs in January, production having begun during the prior month. South Korea was the first market, sales commencing there shortly after details and images were released to the media. The head of Genesis USA told the media in July last year that the GV80 would be on sale there in May or June 2020, to be followed by a G70-based crossover 11 months later.
In the home market, a 3.0-litre diesel is standard and in combination with rear-wheel drive. There are also two petrol engines and these, rather than the diesel, are what buyers in North America will be able to choose from: HMG's new 2.5-litre four-cylinder (Theta 3) and 3.5-litre V6 (Lambda 3) units. Each has two turbochargers and 48V electrics. The official names are Smartstream G2.5 T-GDi and Smartstream G3.5 T-GDi.
Power outputs are 304 PS for the 2.5-litre petrol, 380 PS for the 3.5-litre petrol and 278 PS for Smartstream D3.0, the 3.0-litre diesel. Each sends drive via an HMG-developed eight-speed dual-clutch transmission.
In November 2019, HMG told the media about a noise-cancelling system called RANC and illustrated the press release with the outline of the then unseen GV80. The system did indeed premiere on this big SUV. Another innovation is a centre-mounted airbag between the front occupants. There are nine other airbags.
There have been claims a GV90 could be appear in 2022 but this has not been confirmed. Such a model would be going after those who might otherwise buy a BMW X7 or Mercedes GLS.
Earlier intelligence had noted that a successor for the Genesis Coupe would be launched in the early 2020s but Hyundai is said to have cancelled such plans as it sees better chances of market success with EVs and SUVs.
Reports for many other manufacturers' future models are grouped in the OEM product strategy summaries section of just-auto.com.
Future product program intelligence
More detail on past, current and forthcoming models can be found in PLDB, the future vehicles database. That includes past, present and future models which were not in the above report.
This, the first in the Hyundai Motor Group series of future models reports, will be followed by a look at Hyundai's current and forthcoming passenger vehicles and then, in the third instalment, what's ahead for Kia Motors.