Blog:

Witnessed in Hong Kong: a butt-grab drive by

Glenn Brooks | 19 March 2012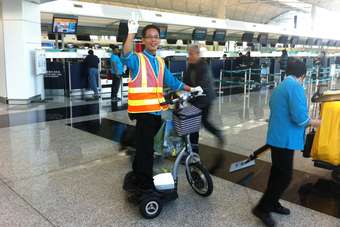 THIS is how we roll
There is always something new to see. I have just thrilled to witnessing a cleaner dismount an electric trike and use barbeque tongs to pick up a cigarette butt from the spotlessly polished marble floor here at Hong Kong's Chek Lap Kok airport.
As I'm on my way down to Sydney I was minded to tell him about the existence of the extra-long ones that everyone has there (and which I brought back to England a few trips ago for my own backyard BBQs). With a pair of these he wouldn't need to stop and climb off to collect the stubs: he could just slow his machine slightly, lean down and snap up the offending fag ends quick smart. Maybe I'll get some and present them to him on my way back as a thank you for posing?
---
Most popular news
---
Most popular insights
---