Blog:

Why the Chevy Captiva matters

Glenn Brooks | 26 May 2011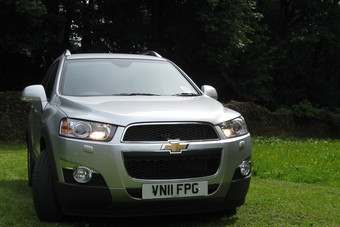 You calling ME a former also-ran?
I've been doing a little bit of driving this week in a Chevrolet Captiva. I had only a short go in the pre-facelift model at last year's SMMT test day. Wasn't too upset to hand the keys to that one back. The Saturn Vue, from which the Captiva is derived, was launched way back in 2002. But GM and the now former GM Daewoo's engineers have been working hard in the intervening years.
My impression of the Captiva is now of a highly competitive vehicle. My favourite model in this segment is still the Kia Sorento but the Captiva ain't too shabby. I've asked Ford for a Kuga but so far, no reply.
Chevrolet Europe gave the re-engineered version of this seven-seater SUV its world premiere at the Paris motor show last September and at the time, I didn't pay the thing too much attention. But now I've realised that the Captiva is General Motors' most important 4x4, globally. Stay with me, I haven't lost my marbles.
The Captiva is built by GM Korea for Europe and Asia (plus, the Kiwis' and Aussies' Holden-badged version also rolls out of Bupyeong), while both GM and Asia-Auto assemble the same model for lots of CIS nations at the Shushary plant in Russia and Ust-Kamenogorsk in the eastern part of Kazakhstan. China? Japan? Imports (from GM Korea) start in June and July respectively. India? Not yet. But Captiva assembly at Ramos Arizpe 2 has been underway for a couple of years now - vehicles sold in Brazil also come from there. And finally...the USA's 2012 Chevrolet Captiva Sport, which is about to be launched, also comes from that Mexican plant.
My inner geek thought he knew about the Captiva (and its twin, the Opel/Vauxhall Antara). Yet when I started considering the car anew, and wondered why the interior, handling and powertrains of the one I'm driving were so obviously improved over the original, I realised that GM needs this car to last.
The four-five year lifecycles which GM Daewoo inherited from Daewoo Motor keep getting stretched by GM. The Captiva might even have an eighth birthday (in 2014), rather than being replaced in 2012 as I once presumed it would be. Proper money has clearly been spent on the latest update. Chrysler also seems to have learned the value of this strategy, as witnessed by so many of its recent efforts - just look at how sales of the rebodied 200 are surging.
If someone from General Motors is reading this and has time to share any recent global Captiva production numbers, I'll gladly update the blog with them. Not to mention how interested I would be to learn when and why the decision was taken to transform this model from a regional also-ran into a serious player and a potential big seller in multiple markets.
---
Most popular news
---
Most popular insights
---