Blog:

VW lengthens runway to avoid China trip fuel stops

Graeme Roberts | 14 July 2010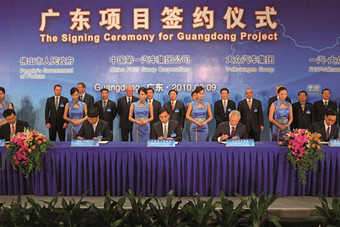 Longer runway = no fuel stop on the way to an event like this
How to improve access to your long-established Chinese unit from Germany? If you're Volkswagen, spend EUR 4.5m lengthening the runway at your private airport in Braunschweig so the corporate Airbus A319 can load enough fuel to avoid the mid-trip refuelling stop until recently required.
Fuel = weight, y'see, and the takeoff weight determines how much runway you need before getting airborne.
China is the most important market for Volkswagen with 1.4m sold cars in 2009 and 75% more growth seen by 2018.
There's a parallel between many VW cars and Airbus' A320, on which the shorter A319 is based - both are completed at plants in Germany and China.
The carmaker owns 35.6% of airport company Braunschweig-Wolfsburg, according to local media reports.
---
Most popular news
---
Most popular insights
---