Blog:

Thoughts on Peugeots

Dave Leggett | 7 July 2010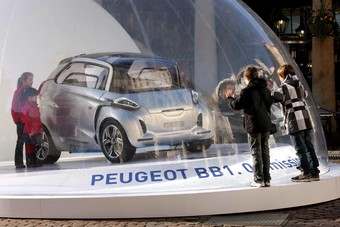 Peugeot's BB1 concept visited London's Covent Garden for public display last year
The Peugeot RCZ 'Audi TT lookalike' does look very good in the flesh. It was pretty prominent at the Peugeot dealership I visited in London earlier this week (to hear about the 'Mu' mobility initiative). As part of the presentations we heard all about the new design direction (typified by the SR1 concept and '5 by Peugeot'), the new Lion emblem and the diesel-electric hybrids that are coming. It's all pretty stirring stuff if you're an enthusiast for a brand that maybe slightly lost its way after the drivers' cars of yesteryear. The RCZ coupe certainly seems to be off to a strong start in the UK market – Peugeot says orders for the first five weeks are already exceeding over half the 2010 production allocation.
One model that I find particularly intriguing is the electric city BB1. The car is billed as reinventing the automobile for urban use – from the ground up. It certainly looks striking. The final production version will be interesting to see in terms of how it might have been toned down. It could turn out to be an inspired innovation, something that the market will lap up; right product, right time. Or it could be a flop. I get the feeling there won't be much middle ground.
FEATURE: Peugeot's 'Mu' urban mobility solution
---
Most popular news
---
Most popular insights
---