Blog:

The country where they spit-roast Saabs

Glenn Brooks | 9 July 2012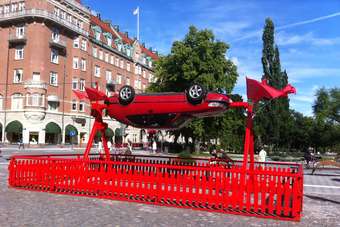 One use for an old Saab
I saw this curious sight in the southern Swedish town of Örebro a few days back: an old Saab on a giant rotisserie.
It was clearly some sort of installation but apart from the name, Wasaabi, there was sadly no English language information about why the artist had decided to skewer the car and have it revolve.
Sweden is a brilliant place to take a summer road trip, if you've never been there at that time. The main E20 road from Stockholm to Gothenburg can be one lane each way in places but such is the courtesy of the truck and car drivers who keep right at all times, overtaking is easy. Plus, it wasn't dark until midnight.
Even though many Swedes seem to keep their cars for a long time (loads of old Saabs and Volvos about), it's a sad thought that the huge number of 9-3s and 9-5s that I saw will start to fade away in the coming years. And in a week, this car spotter saw a mere two new-shape 9-5s so that one could well be a future classic.
---
Most popular news
---
Most popular insights
---