Blog:

Pure maths

Simon Warburton | 3 August 2010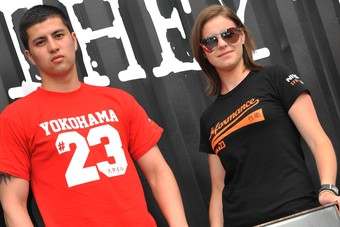 2,3. Discuss
From the esteemed halls of Nissan comes a new range of clothing to, well, "celebrate the power, heritage and style" of its sports car collection.
The official blurb says the T-shirts "echo the performance and passion of Nissan's muscle-bound 370Z and flagship GT-R models plus its historic motorsport pedigree."
Well, up to a point Lord Copper. I'm not sure how much the lady in the picture would appreciate being associated with "muscle-bound" but I suppose she is sporting the "Performance" logo. And the "We are traitors" barrel logo is interesting.
And it turns out Nissan - unlike so many clothing manufacturers - hasn't just needlessly sprayed a load of numbers on its T-shirts for any old reason.
Indeed not. The number 23 is apparently the Japanese pronunciation for two and three - 'Ni' and 'San' which the company also has on the sides of its motorsport cars.
But are there deeper forces at work? The number 23 was the number worn by David Beckham - replete with yet another ludicrous hairstyle - during his time with Real Madrid - as well as being Michael Jordan's Chicago Bulls number.
And it turns out squadrons of mathematicians - a breed I studiously avoid normally given my almost complete ineptitude at the subject - have been avidly poring over the number 23 and why Beckham, Jordan and indeed Nissan have plumped for it.
Well, 2 and 3 are prime numbers, which even given my amoeba-like grasp of maths, means they can only be divided by one or themselves.
One hall of maths buffs in India - the mind boggles - recently pondered the 23 phenomenon and noted the aforementioned Real Madrid also had 7, 11 and 13 as shirt prime numbers - but didn't appear to come to any conclusion.
A maths Professors present - who had the good grace to acknowledge most people shied away in horror when told his profession - could only guess Real Madrid had a fascination with prime numbers - who knew footballers were so cerebral?
So Professor, why did Nissan or '2, 3,' start off being called that at all?
---
Most popular news
---
Most popular insights
---