Blog:

Opel/Vauxhall's new Meriva

Graeme Roberts | 7 May 2010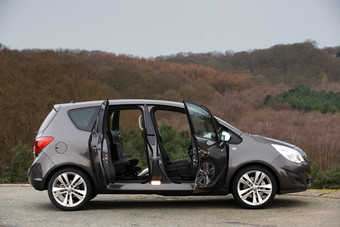 90-degree opening rear-hinged back doors are a Meriva segment exclusive for now
On holiday in London last week (instead of much further away thanks to a certain Icelandic volcano), famille de Roberts visited the superb new Westfield shopping centre at Shepherds Bush (close to the famous BBC Television Centre) and found what has gotta be a strong candidate for our next family car: Vauxhall's new Meriva.
The first generation Meriva, a small 'MPV' or 'multi-purpose vehicle' (Europe-speak for what the Americans call a 'minivan') was spun off the previous-generation Corsa platform. Ford did a similar thing with the prev-gen Fiesta to create the European Fusion. Other rivals include Fiat's Panda-based Idea, the Alliance's Nissan Micra architecture-based Note, and Renault Clio-derived Modus/Grand Modus, plus Citroen's C3-based Picasso.
In all cases, the recipe is much the same: adapt B-segment hatchback architecture and powertrains to longer and taller body, raise ride height and seating hip points for easier access and better view, add as many standard/optional storage nooks and crannies and family-friendly gadgets as you have in the parts bin and serve hot, primarily to a family and, er, older, audience.
Where I live in the 'urbs of a town popular with retirees, I can count four newish Fusions and three (old model) Merivas in three blocks, all owned by older 'empty nesters'. One, sadly recently departed this mortal orb, bought her Meriva in her '80s after having both hips replaced; it was easier to get in and out of than her much loved Citroen C3 hatchback.
With the new Meriva, Vauxhall is clearly targeting the young family market. The Westfield display had several well-briefed promotional staff, a fully-loaded, top-line display car and all the balloons, windmills and play area you need to keep small children occupied while mum and dad get the sales pitch.
I was impressed with the looks, design detailing, component and build quality of this new Spanish-made car while the new, rear-hinged back side doors seem really practical, opening a full 90-degrees (if not, perhaps, in our local supermarkets' car parks away from the 'parent and toddler' or 'disabled' spaces). Clearly thinking it right through, design chief Mark Adams and his team have kinked the rear window line downwards (see Dave Leggett's 29 April blog and video) so little people can see out and maybe will be less prone to car sickness. Add in individual rear seats, each able to move fore-aft independently (that can place baby safe in the middle closer to mum and put a barrier between sparring older siblings) and a wide range of engine and gearbox options, plus everything from a glass roof to satnav available to order, and I think Vauxhall, aka Opel in Europe, could be onto a winner.
Convincing buyers to downsize a segment or two to save the planet and their hard-earned will be easier if more and more good designs like this continue to emerge.
FIRST LOOK: Vauxhall launches all-new Meriva
---
Most popular news
---
Most popular insights
---