Blog:

No, Cynthia, all Jettas will be the same length...

Graeme Roberts | 20 July 2010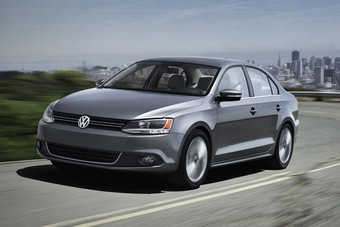 Same length worldwide - VW's redesigned Jetta
It looks a bit like Volkswagen's redesigned, US focused, Mexican built Jetta, recently launched in some style in the Big Apple, is getting confused in some media minds with the upcoming, larger car - designed specifically for, and to be sold only in North America - that the automaker will soon start building in its brand new Chattanooga (choo-choo!), Tennessee plant.
Yesterday, Bloomberg News reported that the US version of the Jetta would be longer than the versions sold in Europe and elsewhere; today VW's German press operation set the record straight in a press release covering the US media launch event: "The new model is 182.7 inches long in the US version and 4.64 metres long in the European version, 57.1 inches (1.45 metres) tall and 70.1 inches (1.78 metres) wide. This makes the Volkswagen 3.54 inches (9 centimetres) longer than the previous model." Do the math (multiply inches by 2.54 to get centimetres) and 182.7 inches is 464cm or 4.64m. Sorted. Same length all markets.
Last month a VW Germany spokesman let slip a few details of the planned medium sized car to be made in Tennessee: "The new sedan will be larger than the Jetta, which is 465cm [long] with the mid-size [new car] at 490cm - that is really a class gap. It is vehicle built for the North American region."
---
Most popular news
---
Most popular insights
---