Blog:

Mazda's holiday snaps celebrate 90 years

Mark Bursa | 17 June 2010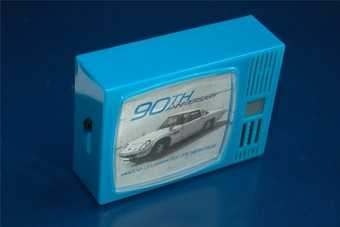 Mazda's celebratory 'viewfinder'
Quite a few car companies are celebrating notable anniversaries this year. Jaguar is 75, and Peugeot is 200 years old – though it was approaching a century of making milling and grinding equipment before it attempted to build a car.
Surprisingly, Mazda Corporation is 90 years old in 2010. Like Peugeot, it did other stuff for a while before making cars, though it did begin making light trucks as long ago as 1931. To celebrate the anniversary, Mazda recently gave journalists this fun 'viewmaster' gadget, which should bring back memories of holiday souvenirs for readers of a certain age.
A slideshow inside the little TV-shaped box contains images of landmark Mazdas through the ages, from the first proper car (the cute 360R of 1960) through the first-generation 323 and 626 models, and some genuine landmarks – the rotary-engined Cosmo and RX-7, plus the MX-5, now in its 21st year of production.
And of course, Mazda's finest motorsport hour is in there too – the Le Mans-winning 787B of 1991, the only rotary-engined car ever to win the event, and a feat likely to be repeated given the development of high-performance diesel endurance racing engines by the likes of Audi and Peugeot.
The 787B now sits in Mazda's Hiroshima 787B – the room it's kept in is seen as a kind of shrine by Mazda execs – who are often found just staring at the car, trying to gain inspiration from its near-mystical feat, and wondering how a relatively small company pulled off such an achievement.
In fact the victory was through luck as much as judgement – rivals, including fancied runners from Jaguar and Mercedes, fell by the wayside, leaving the Mazda in the lead when the chequered flag fell, making it the first Japanese car to win the 24-hour race. Mazda really didn't expect to win - the UK press officer hadn't even bothered to travel to France.
The most surprising slide in the viewfinder is the 'bowler hat' 121 of 1992. An oddball four-door non-hatchback that has slipped from the public consciousness – though according to Mazda execs it's apparently still "big in Benelux", where there are thriving owners' clubs.
The 121 deserves to be there – but not that version. The original 121 was a world-class hatchback when launched in 1984. But my guess is Mazda has omitted it because it went on to a much longer life outside Mazda – as the Kia Pride.
It was transferred to Kia around 1986 when Mazda owned a stake in the fledgling Korean automaker. But Kia kept on developing the car, and production continued in Korea into the 21st century. In fact, it's still going strong in Iran, where the same basic design created by Mazda in Hiroshima more than 25 years ago is still being built by local automaker SAIPA. Not even the MX-5 can match that longevity – and in any case, there's nothing much of the original 'Miata' in the current model.
Finally, did you know that the Mazda name is a simplified version of the founder's name, Jujiro Matsuda? The Mazda name has always been used on the company's vehicles, but only became the official company name in 1984, replacing the Toyo Kogyo Co name that had been above the door since 1927.
Now no longer under Ford's control, it'll be interesting to see what shape Mazda will be in by 2020, when it celebrates its centenary.
---
Most popular news
---
Most popular insights
---