Blog:

Hyundai's brand stretch

Dave Leggett | 7 June 2010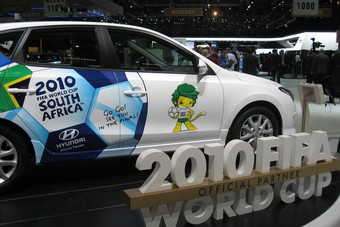 Hyundai's ix35 is to get new smaller engines this year
You have to hand it to Hyundai – the firm is really going for it with marketing initiatives. With the football World Cup about to start, you'll probably be seeing that Hyundai brand name a few times over the next month. That gets the brand name in front of the masses across the world.
But the new ix35 crossover is also being pitched – in premium variant - at the sort of people who visit the luxury London department store Harrods. There will be – for a week this month – a Hyundai ix35 in the Harrods shop window display. The release says that staff members from Hyundai Motor UK will be on hand to answer any product questions about the new model. They're going to be in for an interesting week. I hope they find time to peruse the delicacies of the food hall and the miniature Land Rovers in the toy department. Harrods' footfall in plush Knightsbridge is probably a bit different to that where Hyundai normally shows off its small cars here (typically outside suburban supermarkets).
But Hyundai the brand is clearly changing, as Hyundai Motor Europe VP Allan Rushforth told me in Geneva. The ix35 pic in World Cup livery was on the Geneva stand.
Incidentally, if you are going to follow the World Cup, this Spanish website has by far the best interactive guide I have seen.
http://www.marca.com/deporte/futbol/mundial/sudafrica-2010/calendario-english.html
GENEVA SHOW INTERVIEW: Allan Rushforth, Hyundai Motor Europe
---
Most popular news
---
Most popular insights
---