Blog:

Home on the Range

Mark Bursa | 3 June 2010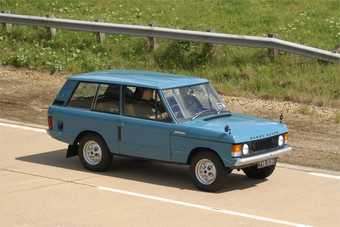 It's undeniably a classic
It's not often you get a chance to drive a genuine landmark car. While our Graeme Roberts was sampling the latest technology at last week's SMMT test day, I went in search of something a little older. And the highlight of my day was undoubtedly a thrash round the high-speed bowl with a rather familiar 40-something...
The original Range Rover still looks modern – but the H-suffix registration number YVB153H is revealing – it was registered in January 1970, months before the Range-Rover went on sale. In fact it's chassis number 3 – though it was the first car completed, as the Land Rover marketing department thought its blue finish would look nicer in the brochures than the dark green chassis number 1, YVB 151H – which also still survives, by the way.
There were luxury off-road 'station wagons' before the Range-Rover – the Jeep Grand Wagoneer, with its wood-effect formica panels, comes to mind. But the Range-Rover represented something different – a totally competent off-roader, but with the up-market cachet of a bespoke British limousine.
It seemed totally modern at the time, with clean, simple lines. Make no mistake: the SUV started here, exactly four decades ago. Soon there would be imitators (Jeep Cherokee, Mitsubishi Shogun/Pajero) though it would take 20 years for the likes of BMW and Mercedes to realise that their brands too could extend into Range Rover territory.
Clean was the operative word in many ways. YVB153H is conceptually a long way from today's Range Rover. Up close today, the car's interior finish is more than a little basic. No leather or walnut in the finish – not even a carpet. In fact, the interior has vinyl seats and rubber floors, designed to be hosed clean of mud.
The Range Rover was not conceived as a Chelsea Tractor – it's actually closer to, well, a tractor. The target buyer was the gentleman farmer – the sort of chap who wanted a vehicle that could do anything a standard Land Rover could do, but without the industrial styling and finish.
Tick the box for styling – it's timeless, and has actually aged better than the series 2 Range-Rover that replaced the original after 25 years in production. And while it's hard to imagine the car is 40 years old, when you hit the road, it does show its age.
It may have a 3.5-litre V8 under the bonnet, but it's been detuned to just 131bhp. Low-speed torque is to the fore, at the expense of top speed. It'll do about 100kmh flat out – I backed off at that point on Millbrook's test circuit!. And cabin noise is dominated by transmission whine from the four-speed box, complete with big, spindly gear lever. Shifting gear takes care.
As the Range Rover developed, luxury was gradually added – and the price went up. And still the car sold – despite the oil crises of 1973 and '79. Many poke fun at British Leyland's 1970s output of Marinas, Allegros and Maxis, but the company produced some drop-dead classics too.
YVB153H is cared for by the Heritage Motor Museum at Gaydon – next to Jaguar Land Rover HQ. It's not a pampered museum piece, though – in fact it was one of the most in-demand cars for test drives as the assembled motoring hacks paid homage to this UNESCO world heritage site on wheels.
Incidentally, the second Range-Rover, YVB 152H, also still survives. And it's still a working vehicle. It was converted into a six-wheeler fire engine, and serves to this day at Cambridge Airport.
---
Most popular news
---
Most popular insights
---