Blog:

Giant inflatable castle on Lake Garda?

Dave Leggett | 17 May 2010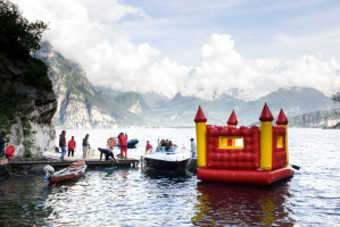 They made it across...Nelson would be proud
Things that make you go 'eh?' No, I'm not talking about The General being back in the black. I was on Honda's media site this evening and I came across some bizarre looking pics and a video. A trio of young men from London were paddling an inflatable castle – the kind of thing that five-year-olds bounce around on – across Lake Garda. The young trio undertook the challenge as part of their participation in the Live Every Litre project by Honda (www.liveeverylitre.com).
The giant red and yellow castle set off at 9am across the lake, making 'good progress with a combination of paddles and the wind'. They still managed to gate-crash an international sailing regatta. After successfully navigating their way through the melee of Lazer class sailing dinghies, the group came ashore in Riva Del Garda, where 'astonished tourists formed an unofficial welcoming committee'.
Self-appointed group leader and mentor, Chris, was delighted to have made history, commenting: "Great Britain has such a great tradition as a sea fairing nation and we really feel we have played no role at all in adding to this. That said it was possibly the most fun we have ever had and we really never believed this most frivolous of dreams would ever be realised."
Well, fair enough. They had some fun. I could just ask this: er, what was the point? I don't want to sound curmudgeonly, but could they have put their energy into something more sort of, well, socially useful? Maybe I'm getting old...
Have a look at the website liveeverylitre and see if you can work out what on earth is going on and also ponder what Honda is up to...clearly the kids will all want a Jazz or a Civic.
---
Most popular news
---
Most popular insights
---