Blog:

Geneva reflections (updated with a pic of Volvo's pedestrian airbag)

Glenn Brooks | 9 March 2012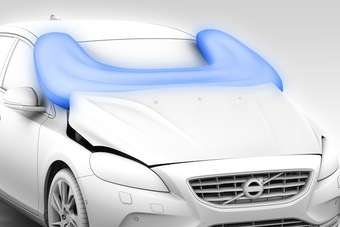 The V40 doesn't just protect its own occupants
The show's most important new car; a sighting of Victor Muller; and a question: if a new Mercedes-Benz has its bonnet held up by a stick, while a new Tata's hood is elevated by gas struts, which is the premium product?
To tackle the first question, for me the next Audi A3 had to be the star of Geneva. The current car first reached European dealers in June 2004 so leaving this model on sale for almost eight years has been a brave but ultimately good decision: it still sells very well indeed. The new one is the standard in its segment and let's not forget just how much money VW Group must surely make from the vast numbers of A3 hatchbacks, Sportbacks and cabrios that it sells (and will continue to sell - the new A3 looks just right, inside and out).
The vehicle class that has long been defined by the A3 saw some new rivals appear at Geneva: the Volvo V40 I applaud for its pop-out pedestrian airbag and I also like the styling, while the Mercedes-Benz A-Class is a step up from the old model but ultimately left me a bit cold. And here's another observation from my walk around the show stands at Geneva (occasionally lifting bonnets to peer at what's new in engine bays): the owner of this premium priced hatchback must fiddle with a dirty metal pole after popping the catch to top up the washer fluid. Am I being too harsh? Not when the Tata Aria, another car I saw for the first time at Geneva, has two gas struts that raise and retain its hood aloft.
Geneva was the sadder for the absence of Saab - this time last year we saw a concept car and there was brave talk of a new 9-3 and even a Mini-based small car to come. This year, Victor Muller was at the show minus his former car company - it's hard to miss such a tall man, and I saw him on the Volvo stand. Not that I'm suggesting anything. Nor will I say anything about who I suspect the Japanese gents were who I witnessed leaving a meeting with GM's Stephen Girsky on the Opel stand as I waited nearby for an appointment to interview Karl Stracke. They each wore a three-diamond badge on their lapels.
Industry execs talk to one another all the time of course. Still, it's always interesting to see just WHO is talking to WHOM. But about what? Maybe we'll find out in due course.
---
Most popular news
---
Most popular insights
---