Blog:

Detroit Day One

Graeme Roberts | 9 January 2012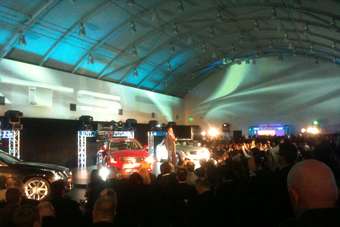 Cadillac's ATS meets the press. That's GM North American chief Mark Reuss giving the speech
5.30am local. Memo to self. Do not drink industrial strength American coffee while writing car launch reports just before bed. Memo to Marriott and other fine international hotel chains, any chance of an optional UK-style room tea-making set in lieu of the standard coffee machine?
Last night's Cadillac ATS launch at the College for Creative Studies - the only time we needed to leave the Renaissance Center area this trip - was great fun. It's in a low high-rise once part of GM's real estate and was home to a styling studio run by the legendary (Mr Tail Fins) GM design chief Harley Earl. GM donated the building a few years ago and CEO Dan Akerson told us GM has hired 176 graduates from the college so the GM connection remains.
The Americans know how to stage an event so the building and neighbourhood were lit with Cadillac logos and video and the vehicle reveal itself was slick. Nice food, too, including all-American staples such as sliders (small burgers) and mini hot dogs.
I got lost in the labryinth finding the homeward shuttle - after just two beers before you start - and again in the rabbit warren known locally as RenCen where GM and we are based for the duration. It wasn't just the foreign klutz on his first visit, several natives of this city got lost with me. A few maps and more signs would help.
Today is press day #1 and the doors open at 6.30am. I'll be off soon in search of the media credentials not yet ready yesterday - bet I get lost again - and the blue plastic bangle I gather will be attached to me, some of the group had theirs already last night after an early reconnoitre.
As well as a myriad of launch events and 'pressers' - US speak for press conferences - I'm looking forward to meeting Fernando Calmon, our Brazilian reporter for at least seven years now.
"I'll be in a black suit," he said. "Actually we (a large media contingent hosted by Anfavea) are all in black suits." I might be the easier spot, then. The rotund gent with the beard in the grey suit with lurid tie...
---
Most popular news
---
Most popular insights
---