Blog:

Delhi show - the rest of the epic journey

Chris Wright | 5 January 2012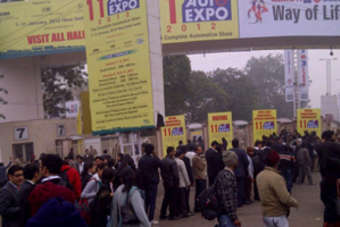 Form an orderly queue and wait
Chris Wright has been blogging regularly since landing in India for Delhi Auto Expo 2012. Here's the latest from his smartphone. All times local.
Thursday 5 January 18.45
They are very, very security conscious in India. Everywhere you go there are airport-style security checks. (Yet another) army of guards is stationed outside hotels and the show poking mirrors underneath the cars and opening vehicle bonnets and boots. You then have to go through one security scanner while your bag goes through another. Even more unnerving, I just stepped outside the hotel and there's a bunch of guys with Kalashnikovs. Hope they're on our side!
16.00
My day is complete - stray dog wandering around outside hall 14. Actually, I'm just on the way out of the show to head back to the hotel to write some copy. Waiting for the driver I discovered that aloos really are potatoes. They are on sale on the pavement among the vendors of maps of India and toy helicopters.
It's all a bit of rush as there's only a short time before it's cocktails and dinner - again with Mr Tata, he seems to have taken a shine to us. Then bed? Oh no, a 1am car to the airport and a 3.30 am flight back to dear old Blighty, I will only actually have been here for about 36 hours but it seems a lot, lot longer than that.
13.00
There appears to be street markets going on within the showground and around 99% of the people here are not media. I have just been told the show organisers have clamped down this year so I dread to think what it was like before, you can hardly move on the stands. Amongst it all, a Top Gear magazine stand. How about that, a little piece of home - no sign of Clarkson, May or Hammond though.
12:00
Well, I found the press room - or what passes for it - after a particularly long hike through dark corners and dusty alleyways and guess what? Nobody manning the accreditation desks, nor even any information about what to do. All the room needed was tumbleweed, it was deserted. The only useful thing I found was a sheet telling me what time the press conferences were on, an improvement on an earlier email which told me they were on but not when. It also gave me some idea as to where each manufacturer was in terms of the halls - some 14 of them at my last count. So it's back to reliance on the old 'special invitee' pass and some more arm waving.
I have just passed three kids scrabbling about on a pile of rubbish, all it needs now is some stray dogs wandering around.
11.00
OMG. I am never going to complain about Frankfurt again. The Auto Expo venue in Delhi is more like a building site. The halls are just as spaced out as the German show but the whole place is, what shall I say? Grubby. In sharp contrast to the gleaming new models on display inside the halls, the outside is littered with rubbish, it's hot and its dusty. But I guess it has a certain charm when set against the antiseptic levels of Europe, North America or Japan.
In fact, talking to one analyst who has been coming here since 1998, it's actually getting worse, not better. There appears to have been no attempt to tidy the place up.
Next problem, without the press pass, the army of guards on every stand are rather reluctant to let me into the back rooms to seek out interviews which calls for a lot more arm waving, I'm getting used to this. Once on the stand you can't then walk off the same way. Oh no, you have to go out a different way otherwise said guards just block your path. Think I'll have to go find the press room and my badge.
10.00
Another short but chaotic drive to the show after breakfast with Mr Tata. I saw monkeys by the side of the road, parrots in the sky and listened to Bangra music blaring on the radio.
The show is right opposite the law courts so my driver had to dodge gowned barristers crossing the four lane road as well as other traffic.
Fortunately the nightmare of trying to get my press pass was averted thanks to a special invitee pass given to me by JLR. Unfortunately there were still mile long queues to get in - even for those with press passes. Until, that is, I bumped into an old mate, Hormadz Sorabjee, editor of Autocar India. Now here's a man with connections, we were in within seconds and so I made my first interview by the skin of my teeth.
07:00
Up early ready for breakfast with Ratan Tata at my hotel before heading to the show. Some heart-warming news in the Economic Times delivered to my door - the organisers of the Auto Expo have not got fire clearance from the Delhi Fire Service which says that there are shortcomings in the safety preparedness of the venue. Organisers have so far not got back to the fire department and so technically there is no clearance. Oh, what the hell, let's go ahead with it anyway.
Wednesday 4 January 22:00
I've just been out to the flicks and had a ruby afterwards, it's just like being at home. Jaguar Land Rover's bash was held in a very swish cinema in a posh shopping mall and dinner - curry of course - was served in its equally swish restaurant. The Indians like their cinema, Hollywood ain't got nothing on Bollywood, you know, and so a good turn out was a given. I soon discovered that I had seen the films before though as JLR used footage old and new to explain the heritage story.
Thought I wasn't going to get there, though. My driver deposited me at the Maruti Suzuki headquarters and it took some waving of arms and pointing at Land Rover badges to explain where I really should be. I had a vision of now being at completely the wrong end of the city and taking several hours to get back on track. Fortunately the JLR 'do' was only a few yards down the road. Once there I caught up with the only other two British journos attending the show (as far as I know), Steve Cropley and Gavin Green. Having already collected his show credentials as he came in on an earlier flight, Gavin has warned me of my impending nightmare tomorrow when I go to collect mine. I am soooooo looking forward to that.
Something that always strikes me when I visit India is how amazing opulence and appalling squalor seem to co-exist. Right next door to the very, very posh shopping mall is a huge roundabout upon which a whole shanty suburb has grown. A couple of other things, given the chaos on the roads and the blaring horns, road rage appears non-existent and, when I put my suit on, I was amazed by how much my clothes had shrunk over Christmas...
---
Most popular news
---
Most popular insights
---