Blog:

Claiming auto firsts a tricky business

Graeme Roberts | 26 November 2010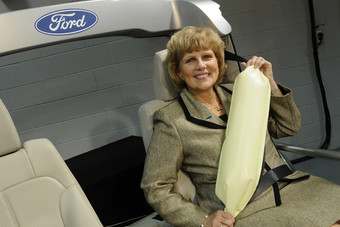 Ford's safety chief Sue Cischke shows off the combination seatbelt/airbag in November 2009
I've lost count of the times Pedant here has sighted a news report or press release claiming some auto first and said: "Oh no it ain't". We go there again today.
This time its Japanese autoparts maker Takata's claim over its launch of a seat belt with a built-in air bag which inflates in a collision, "becoming the first company in the world to introduce such a product".
No, it ain't. Takata is the first to do this trick with a front seat belt which is its genuine 'first' claim. But combining a seatbelt with an airbag was, I understand, first done by Recaro which makes the 'herringbone' layout suites first seen in Virgin Atlantic's Upper Class business/first section, subsequently borrowed, with permission, by Air New Zealand.
The seats are mounted facing 45-degrees towards the aisle and the bag-in-belt feature allows passengers to remain reclined for take-off and landing while the peasantry in back have to sit bolt upright.
Automotive wise, Ford announced back in 2009 it would fit combined airbag/seatbelts in the rear of the redesigned 2011 Ford Explorer which is now in production.
Sure, it comes down to semantics in the end, but, if you're claiming a first, do your research. In the auto biz, it's highly likely what you think is pioneering in 2010 may well have been tried the first time in 1916....
---
Most popular news
---
Most popular insights
---