Blog:

Bristol Cars

Dave Leggett | 21 March 2011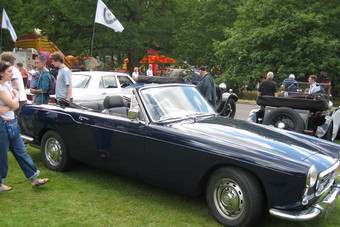 Bristol Type 407 - Viotti Drophead - one-off design exercise; photographed in Hartley Wintney (Hampshire) in June 2009 at a classic car show. Peter Sellers had owned it. Cool car? You betcha
Bristol Cars. The Blenheim model, aah. "A dignified express travel for four six-feet persons and their luggage" was how it was once described in the company literature. It harks to a bygone era maybe, but Tina Turner, Sir Richard Branson and Liam Gallagher are among the firm's past customers. You can kind of imagine Liam telling his mates how cool a Blenheim is to drive. 'It's like see-un-shine-ee on ee-effing whee-als'. Certainly not a cliched car; distinctive for sure.
But let's face it, the company kind of lost a reason to exist, however misty-eyed we may get about a heritage that goes back to a west country firm that made aircraft in the 1940s. Privately owned Bristol Cars has always been a bit of a mystery, bashing out a handful of models every year and somehow surviving. But Bristol is currently in administration.
That said, there's a brand there. And some expertise, surely. Would a big boy come in for it? I doubt it. But I'd love to believe some enthusiasts with a bit of passion, appropriate business expertise and funds could somehow make it work. Keith Adams is a guy who I have plenty of respect for...
Why AROnline needs to buy Bristol Cars
---
Most popular news
---
Most popular insights
---