Blog:

Another play in the toy shop

Graeme Roberts | 28 May 2010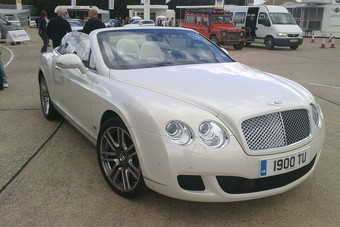 Not available to take away: Bentley's Continental GTC
Another year flashes by. The anticipation builds. The day arrives. The toys are laid out and it's take your pick. And, all too quickly, it's all over and you have to wait another whole year. I'm not referring to Christmas, though, I'm talking about the Society of Motor Manufacturers and Traders (SMMT) annual test day.
As far as I'm aware, this is pretty much unique to the UK. It's not unusual for a manufacturer to hold a regional test day, or even for a few to take a couple of cars each to an event but, for virtually the entire industry to schelp a half dozen cars each - plus hospitality stand - to a proving ground with built-in drive routes, supported by their umbrella trade group's organisation and hospitality, that's pretty unusual. No wonder invitations are prized and almost everyone shows up.
Some spend the day networking with industry PRs; it's rare to get so many captive in one venue. Others, like me, spend the day in a variety of driving seats, getting in as much 'product familiarity' as possible.
'Minders' are rare. Even Bentley hands over the keys to such lottery winner and footballer specials as the gorgeous Continental GTC cabrio with little formality, at least to hacks they know. New XJ Jaguar? Help yourself. Bring it back this time next year? Er, no, sir.
Porsche and Rolls-Royce providing guidance makes sense. Apart from the high value of Panamera and Ghost, and the likelihood of some wayward excursions off designated paths in the wrong hands, the sheer complexity of today's top end cars merits a guided tour with an expert. In the 15 minutes or so of speed dating-like exposure to each model on Millbrook's superb, twisty hill route; 25 if you add in a 100mph sprint around the two-mile bowl, you don't have much time to explore the frilly bits. I doubt I'd have discovered the Panamera's available different response settings in the myriad of centre console switches, let alone learned that suspension and throttle parameters can be set separately. It's also much safer if someone else fiddles with the buttons while you just drive and note the differences. And the Ghost, it just demands you sample it from both front and back seats, driver and passenger, even if it is the one aimed at self-drive owners.
Other favourites from a blurred day included the Peugeot RCZ and VW Scirocco coupes, the Jags as always, a highly entertaining 30 minutes exploring muddly gloop and near-vertical paths from the leather-lined luxury of the latest Land Rover Discovery, great new convertibles from Renault (Megane) and Mercedes (E-class), as well as that Bentley, the Audi A8, the hoon's delight that is the Abarth-fettled Fiat 500, diesel Alfa Romeo Mito, sundry Ford and Peugeot MPVs (minivans), Vauxhall's clever new Meriva and lunch, which the SMMT caterers always do a great job of.
New tech wasn't overlooked, either. The production Nissan Leaf will have to wait till next year (ran out of time to try the boxy Cube) but I sampled Volvo's C30 EV and the Mini - both very easy to learn and drive and also Volvo's still-rough prototype diesel-electric hybrid C70 wagon, a promising work in progress. And finally got around to trying the latest Prius hybrid, once I worked out where the park brake was. In an age of electric units, I overlooked the obvious US-style foot pedal. D'oh!
---
Most popular news
---
Most popular insights
---