Blog:

A need for speed

Simon Warburton | 16 November 2010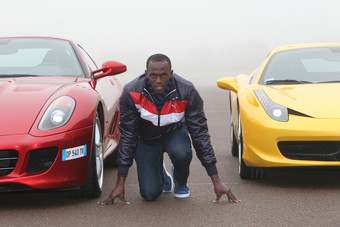 Usain Bolt versus Ferrari on the Fiorano track
Described by the PR blurb as a "Jamaican sprint superhero," the undoubtedly quick Olympic gold medallist Usain Bolt visited the Ferrari headquarters in Maranello, Italy today (16 November).
The world's fastest man - who was also at the San Siro in Milan yesterday to see the Inter-Milan football squad - tested some of Ferrari's swift motors at the Fiorano track.
As with most sportspeople these days, Bolt wasn't missing any commercial trick and was also is in Italy to promote his new Puma apparel and footwear collection, but took time out from generating ever-larger amounts of money to visit the Ferrari headquarters in Maranello.
Following a tour of the factory, he got behind the wheel of a 458 Italia and 599 GTB Fiorano.
"Being at Ferrari headquarters is a memorable experience; there's so much history here. I'm looking forward to getting one of these cars to give me my fix for speed," opined the sprinter.
It's not clear if Ferrari's largesse extends to actually providing Mr Bolt with one of its models gratis, but fair play to him for trying anyway.
---
Most popular news
---
Most popular insights
---