Venezuela: Latest automotive news & analysis
---
Latest news
---
Ford's Venezuela unit offers buyouts as output dwindles - report
6 Dec 2018 | Graeme Roberts
Ford is offering buy-outs to staff at its moribund plant in Venezuela to reduce its payroll, two union leaders told a news agency, as the automaker seeks to streamline its money-losing South America operations.
---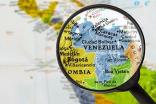 Pirelli quits Venezuela as economic crisis grows
11 Sep 2018 | Simon Warburton
Pirelli says it has 'disposed' of its car tyre factory in Guacara, Venezuela and has ceased all activities in the country after 28 years.
---
Pirelli suspends production in Venezuela
8 Jun 2017 | Dave Leggett
Pirelli says it is indefinitely suspending the production of tyres in crisis-hit Venezuela due to problems securing supplies of raw materials.
---
20 Apr 2017 | Graeme Roberts
General Motors reportedly said Venezuelan authorities had illegally seized its factory in the industrial hub of Valencia and vowed to "take all legal actions" to defend its rights.
---
Ford to halt Venezuela production until April
21 Dec 2016 | Dave Leggett
Ford has suspended its assembly operations in Venezuela and said it is not planning to resume production until April of next year.
---
Bridgestone to divest Venezuela arm to Corimon
26 May 2016 | Simon Warburton
Bridgestone Americas says it is to divest its business in Venezuela, Bridgestone Firestone Venezolana (BFVZ),to the Corimon Group.
---
Toyota Venezuela exports parts to offset economic crisis
1 Dec 2015 | Graeme Roberts
Toyota's Venezuela unit has started exporting locally made car parts to generate hard currency income and help it withstand the OPEC country's economic crisis, a media report said.
---
VENEZUELA: Ford to sell cars for US dollars
11 May 2015 | Dave Leggett
Ford has reportedly said that it will sell some of its cars in Venezuela for dollars in order to import parts and resume production at its Venezuelan facility.
---
VENEZUELA: Ford and GM roll back operations as economic crisis deepens
29 Apr 2015 | Dave Leggett
General Motors has laid off 13% of its workforce at its Venezuela plant, while Ford has ceased operations at its plant there, as the country's currency control system has led to a shortage of currency.
---
US: Venezuela woes cost Ford $800m pretax in Q4 2014
23 Jan 2015 | Graeme Roberts
Ford is to take an US$800m pre-tax hit in results for the fourth quarter of 2014 due to the currency woes in Venezuela.
Most popular news
---
Most popular insights
---