Latest automotive news & analysis in South America
---
Latest insights
---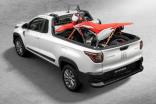 Brazil turnaround shows FCA what to do with Fiat
8 Apr 2020 | Glenn Brooks
With Brazil having become Fiat's number one market even before COVID-19, the launch of a new Strada is even more newsworthy than it might ot...
---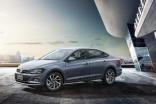 Volkswagen Brazil's virtuous new compact saloon
2 Feb 2018 | Fernando Calmon
New vehicles are becoming ever more sophisticated and stylish in Brazil....
---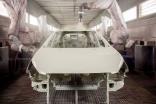 How long will global automakers prop up loss-making Brazil subsidiaries?
27 Feb 2017 | Fernando Calmon
There was once euphoria in the Brazilian automotive market. Following the 2008/2009 financial crisis, the Lehman Brothers bank bankruptcy an...
---
JLR's internationalisation strategy continues – Analysis
14 Jun 2016 | Ian Henry
As Tata-owned Jaguar Land Rover's factory in Brazil officially opens, Ian Henry takes a closer look at the company's latest manufacturing se...
Latest interviews
---
COLOMBIA: Volvo receives large bus order
22 May 2007 | just-auto.com editorial team
Volvo Buses has received an order for 187 buses to the first phase of the Bus Rapid Transit (BRT) system in Santiago de Cali, Colombia. The buses will be delivered in autumn 2007.
Latest news
---
Sales, production and exports on the rise in Brazil
13 Apr 2021 | Fernando Calmon
Despite car dealers still being locked down in many Brazilian cities, last month ended with registrations of light and heavy vehicles up 15.7% on March 2020 when the coronavirus pandemic hit the country. Dealers sold 189,389 units.
---
VW Brazil suspends production due to Covid
22 Mar 2021 | Dave Leggett
Volkswagen in Brazil is suspending vehicle production for 12 days from March 24 due to the worsening COVID-19 public health crisis in the country.
---
Michelin to start tyre recycling plant in Chile
9 Feb 2021 | Simon Warburton
Michelin is to start construction of its first tyre recycling plant in collaboration with Enviro, a Swedish company which has developed technology to recover carbon black, oil, steel and gas from end-of- life tyres.
---
SK Innovation invests in Chinese battery swap company
21 Jan 2021 | just-auto.com editorial team
South Korean energy company SK Innovation said it had acquired a minority stake in a Chinese EV battery swap service, according to local reports, as it looks to strengthen its foothold in the world's largest electric vehicle (EV) market.
---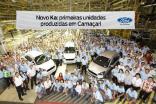 2020 Brazil sales drop 26.2% but "strong" recovery likely
18 Jan 2021 | Fernando Calmon
During a truly dramatic 2020, Brazilian sales, production and exports plummeted strongly, yet not as drastically as initially forecast in the early days and months of the COVID-19 pandemic. Predictions suggested a drop of over 40% but that ended up at 26.2%.
---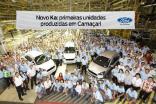 12 Jan 2021 | Dave Leggett
Ford is to shutter three manufacturing plants in Brazil this year in a major restructuring move.
---
BYD wins order for 406 electric buses in Colombia
4 Jan 2021 | Dave Leggett
BYD has won an order to deliver another 406 pure electric buses to the Colombian capital of Bogota, coming shortly after a previous announcement on December 17 of the delivery of the 470 pure electric buses to the city.
---
Big BYD EV bus fleet for Bogota
18 Dec 2020 | Graeme Roberts
BYD announced the delivery of 470 pure electric buses to Bogota, the capital of Colombia. This is the country's largest pure electric bus fleet, and also the largest bus fleet BYD has delivered in the Americas.
---
FNM to develop electric trucks for Brazil
5 Nov 2020 | Simon Warburton
Fabrica Nacional de Motores is returning to the market to produce battery-electric trucks for Brazil, after shutting operations in 1988, following a new partnership with Octillion Power Systems.
---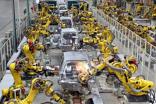 Brazil recovery better than expected
12 Oct 2020 | Fernando Calmon
Though uncertainties about the Brazilian economy in 2020 remain, downturn in the auto industry will be less than expected.
Most popular news
---
Most popular insights
---