Kenya: Latest automotive news & analysis
---
Latest insights
---
MARKET SNAPSHOT: Mixed prospects in Kenya's vehicle market
17 Aug 2012 | Business Monitor International
New vehicle dealers in Kenya sold 1,525 units in January-February 2012, compared with 1,775 vehicles sold during the same period of 2011, according to data released by the Kenya Motor Industry Association (KMI), reports Business Monitor International (BMI).
Latest news
---
Isuzu acquires GM's East Africa subsidiary
1 Mar 2017 | Dave Leggett
Isuzu Motors is to acquire GM's stake in 'General Motors East Africa' (GMEA) as part of a strategy to expand in the region.
---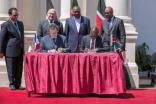 Peugeot to restart Kenya vehicle assembly operations
6 Feb 2017 | Dave Leggett
The PSA Group and local distributor URYSIA have signed a contract to assemble Peugeot brand vehicles in Kenya. It is planned that assembly will start from June of this year with the Peugeot 508, followed by the new Peugeot 3008 SUV.
---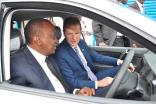 VW opens new production facility in Kenya
22 Dec 2016 | Dave Leggett
Volkswagen says it is forging ahead with the rationalisation of its worldwide automobile business and has inaugurated a vehicle production facility in Kenya.
---
Volkswagen to produce Polo Vivo in Kenya
8 Sep 2016 | just-auto plus Extended News
Volkswagen plans to start CKD production of the Polo Vivo in Kenya at the end of 2016.
---
KENYA: Japanese truckmakers target African growth
4 Jun 2013 | Chris Wright
Hino Motors and Mitsubishi Fuso Truck and Bus are increasing their efforts to boost operations in eastern and central Africa to meet increased demand increase stemming from economic growth in the region.
---
KENYA: Hino starts assembly at new factory
21 Feb 2013 | QUBE
Toyota has commenced the production of Hino commercial vehicles in Kenya.
---
KENYA: Mahindra & Mahindra launches
9 Jul 2012 | Tony Lewis
India's largest utility vehicle maker, Mahindra & Mahindra, has launched a number of its utility vehicles and pick-up trucks in Kenya which it describes as a "strategic market within the African continent".
---
KENYA: Toyota expects market share to grow to 27% in 2012
29 Nov 2011 | Dave Leggett
Toyota Motor's Kenyan unit announced that it expects to see its market share to grow to 27% in 2012, from 26% in 2011.
---
KENYA: Toyota buying half of planned Hino plant
5 Jul 2011 | just-auto.com editorial team
Toyota Motor Corporation is planning to acquire a 50% share in a local truck and bus assembly plant in Kenya.
---
UGANDA: Geely to assemble cars in Uganda – report
26 Nov 2007 | just-auto.com editorial team
Uganda will start assembling vehicles and motorcycles in January 2008 in a joint venture that will see the Chinese government and Chinese automobile manufacturer, Geely International play a crucial role according to a Nairobi newspaper report.
Most popular news
---
Most popular insights
---