US: Toyota absolves throttle electronics, announces new quality moves
Broadens scope of SMART evaluation process
Sudden acceleration complaints drop 80%
All 2011 vehicles have Smart Stop, better event data recorders
New North American Center For Quality Excellence trains staff in customer-first practices
More supplier quality controls, including more frequent reliability testing of key parts
Recall repairs well on track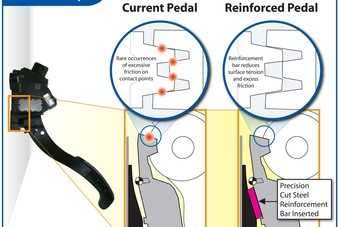 'Sticky' accelerator pedal recall/repairs also extended to Europe
Toyota Motor Engineering and Manufacturing North America (TEMA) said it had had not found a single case in which the vehicle's electronic throttle control system would lead to unintended acceleration but had nonetheless broadened the scope of its on-site Swift Market Analysis Response Teams (SMART) evaluation process following an 80% drop in complaints of unexpected acceleration since April 2010.
Other new measures will include fitting all new vehicles with 'Smart Stop' technology (where braking overrides acceleration) and improved event data recorders (EDR); new staff training methods; and improved supplier collaboration and quality controls.
The automaker also said it expected soon to complete over 5m repairs on vehicles involved in three key recalls "thanks to the extraordinary efforts of Toyota and Lexus dealers and the exceptional response from our customers".
Toyota's chief quality officer for North America, Steve St Angelo, said at a news briefing with former US secretary of transportation Rodney Slater, now chairman of the automaker's independent North American quality advisory panel: "Toyota has made significant progress in recent months to help ensure that our customers can have complete confidence in the quality, safety and reliability of their vehicles, and our latest initiatives build on those accomplishments.
"Our goal is to set new, even higher standards for quality assurance and customer responsiveness in both the factory and the market."
Changes to the SMART programme were intended to strengthen the company's field information gathering and evaluation capabilities as well as its ability to respond quickly to customer needs.
The rapid-response teams, drawn about 200 engineers and field technicians, seek to contact customers within 24 hours of a report and, as necessary, arrange for a comprehensive on-site vehicle evaluation.
Since its launch, the process has evaluated approximately 4,200 vehicles, giving Toyota a better understanding of what customers are actually experiencing.
The automaker said it had not found a single case in which the vehicle's electronic throttle control system would lead to unintended acceleration.
All new Toyota vehicles sold in North America now have a brake override system that automatically reduces engine power when brake and accelerator pedals are applied simultaneously.
So-called Smart Stop is already in 84% of the Toyota, Lexus and Scion models on sale in the US and an equivalent has been standard for all of Toyota and Lexus hybrids since launch.
The newly enhanced event data recorders (EDR) provide both pre- and post-collision data and are designed to provide data to help understand how a vehicle's various systems functioned in a collision.
Toyota opened its North American Center for Quality Excellence in Ann Arbor, Michigan, on 29 July. The centre, the automaker said, offers North American employees and suppliers training to reinforce the 'Toyota Way' and its customer-first commitment to quality.
Workers learn through a curriculum of safety, design and quality control training to reinforce work methods and develop new work standards through benchmarking and 'continuous improvement' (kaizen) processes.
Toyota is also working with suppliers to review manufacturing processes, quality assurance policies and testing procedures for key parts to strengthen existing systems and implement best practices across the supply chain.
The company is increasing the frequency of reliability testing of key parts, including, for example, more frequent evaluation of parts to confirm functionality and identify any damage sustained during shipment. Toyota is also working more closely with suppliers at the beginning of the development and design process so that the automaker's expectations and quality criteria for key parts are clearly communicated.
Toyota is revising its supplier quality assurance manual to capture supplier best practices, benchmarks of global competitors, and other feedback from its supplier review. The new quality centre will soon include training for suppliers in Toyota quality and design activities, best practice sharing and new quality assurance requirements.
Toyota said dealers had done over 5m repairs for the three key recalls the company announced in late 2009 and early 2010: about 1.8m for sticking accelerator pedals, 3.1mfor unsecured or incompatible floor mats that could trap an accelerator pedal, and 128,000 software updates for the anti-lock brake systems (ABS) in some 2010 Prius and Lexus models.
So far, about 80% of the sticking pedal modifications have been completed on the 2.3m vehicles recalled and over 86% of the ABS program updates on the 148,000 Prius and Lexus models affected. Nearly 58% of the floor mat entrapment modifications have been completed on the 5.4m vehicles that were recalled for this issue, including almost 80% of the Avalon, Camry and ES350 vehicles involved.
"The Center for Quality Excellence appears to be a formalised return to prominence of the basic customer-centric quality principles that got Toyota on the map in the first place, the ones that may have lost their lustre as Toyota's gaze drifted to becoming number one in recent years," said vehicle buyers guide website Edmunds.com's director of vehicle testing, Dan Edmunds.
"We conducted panic stop tests on a 2010 Toyota Camry with a simulated stuck throttle to compare stopping performance with and without the presence of a brake override system, and the benefits were clear. Such systems are designed to intervene if someone with a wide shoe happened to press both pedals at once while attempting to stop, as well.
"But BOS systems are not mind readers - they can't intervene if a driver incorrectly steps on the gas pedal alone when he meant to go for the brake. This happens quite often, and that's why we don't expect so-called unintended acceleration complaints to fully disappear anytime soon.
"And that's where the enhanced event data recorders come into play. These should allow the state of the pedals and the output of the engine to be determined if an incident still occurs," he added.
Company analysis
Most popular news
---
Most popular insights
---
Oops! This article is copy protected.
Why can't I copy the text on this page?
The ability to copy articles is specially reserved for people who are part of a group membership.
How do I become a group member?
To find out how you and your team can copy and share articles and save money as part of a group membership call Shivani Hayer on
+44 (0)1527 573 732 or complete this form..