SPAIN: Ford reveals Europe-bound Mustang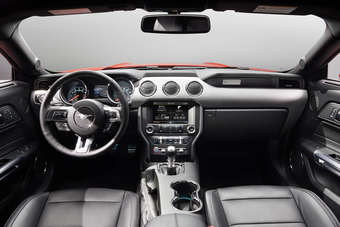 Interior quality and materials will need to be high to lure Europeans out of the likes of Audi, BMW and Mercedes
It's only taken almost 50 years, but Ford has finally decided to sell its iconic Mustang sportscar in Europe.
Of six global cities in which the model was launched simultaneously today (5 December, 2013), executive chose the European event in Barcelona, Spain to attend.
The redesigned version will be sold with five litre V8 and 2.3-litre I4 turbocharged EcoBoost engine and was announced the same day General Motors said it would reduce the scope of its Chevrolet Europe range to niche models like the Mustang rival Camaro.
Ford said the new 2015 fastback and convertible models "promise world-class levels of performance and refinement while embracing the Mustang's half-century of heritage and status as a global icon".
More than 9 million Mustangs have been sold since the line - championed by a certain Mr Iacocca, also of Chrysler fame - was spun off the US Falcon compact and first launched in 1964. Subsequent iterations saw variations on body style, downsizing, use of 2.3-litre turbocharged engines and a retro-look restyle a few years ago that added a base V6 engine choice.
The Mustang is one of 25 new vehicles that Ford will launch in Europe in the next five years.
Right hand drive for the UK and a small number of other markets has been expected but Ford announcements today did not specifically refer to RHD. However, the symmetrical dashboard design suggests it is possible and planned.
For more product details, click on Press Release below - there are two
Show the press release
FORD REVEALS NEW MUSTANG FOR EUROPE; DELIVERS SLEEK DESIGN, ADVANCED TECHNOLOGY AND WORLD-CLASS PERFORMANCE
Ford Motor Company Executive Chairman Bill Ford introduces new Mustang for Europe, the first Mustang to go on sale in the region after almost 50 years of production
New Ford Mustang fastback and convertible models promise world-class levels of performance and refinement; sleek design retaining classic Mustang key design elements
New Mustang will deliver power of choice in Europe, from 5.0-litre V8 engine to the all-new fuel-efficient 2.3-litre EcoBoost engine. State-of-the-art suspension is optimised to deliver world-class handling, precise steering control and ride comfort; innovative technology for enhanced control and connectivity
Images and video available from media.ford.com and gofurther.fordmedia.eu
BARCELONA, Spain, 5 December, 2013 – Ford Motor Company today unveiled the new Ford Mustang – the first Mustang ever to go on sale in Europe in almost 50 years of production.
Executive Chairman Bill Ford introduced the new Mustang at Ford's special "Go Further" event to an audience of around 2,500 journalists, dealers and employees, in Barcelona, Spain – one of six cities across four continents where the new Mustang was simultaneously revealed.
The new Ford Mustang fastback and convertible models promise world-class levels of performance and refinement while embracing the Mustang's half-century of heritage and status as a global icon.
"Ford Mustang inspires passion like no other car," said Raj Nair, Ford group vice president, Global Product Development. "The visceral look, sound and performance of Mustang resonate with people, even if they've never driven one. Mustang is definitely more than just a car – it is the heart and soul of Ford."
More than 9 million Mustangs have been sold since it was first launched in 1964. The world's most-liked vehicle on Facebook, Mustang has made thousands of appearances in film, television, music and video games, and is one of 25 new vehicles that Ford will launch in Europe in the next five years.
"The Mustang's formidable reputation for performance and its iconic status as a symbol of freedom and optimism precedes it even in those parts of the world where the car has never been sold," said Stephen Odell, Ford executive vice president, Europe, Middle East and Africa. "The new Mustang epitomises Ford's aggressive product acceleration; technologically advanced and forward-looking, but without forgetting the heritage that has inspired Ford customers for generations."
The new Mustang has been developed with world-class performance, driving dynamics and usability in mind – and includes a significant amount of advanced driver convenience and driver aid technologies.
"The new Mustang is one of the most hotly anticipated cars ever, we are very excited to now give drivers in Europe the opportunity to experience the real thing," said Roelant de Waard, vice president, Marketing, Sales and Service, Ford of Europe.
Unmistakably Mustang
The clean-sheet design of both Ford Mustang fastback and convertible evokes the essential character of the vehicle, retaining key design elements of the classic Mustangs recognisable to car fans across Europe, including the long sculpted hood and short rear deck, with a contemporary execution.
"You only get one chance to make a first impression and when you see this car, you immediately see a Mustang strong and true," said Moray Callum, Ford executive director, design, The Americas.
Several key design features define the new Ford Mustang, including:
A low roof height and wide stance
Sleek profile enabled by steeply sloped windshield and rear glass
Three-dimensional, tri-bar taillamps
Contemporary execution of the iconic car's signature shark-bite front fascia
Ford Mustang convertible drivers will appreciate the standard multilayer insulated cloth top that gives the car an upscale appearance and a quiet cabin. The top has a sleek profile when folded for open-air motoring.
Large, clear instrumentation puts vehicle information right in front of the driver in the roomy cabin with an aviation-inspired cockpit, while ergonomic and tactile switches and knobs provide control. The vehicle's width and new rear suspension contribute to improved shoulder and hip room for passengers and a usefully shaped bootspace that can accommodate two golf bags.
The Mustang experience
The way Ford Mustang looks, drives and sounds is key to the visceral experience. The Ford Mustang offers outstanding power options and chassis configurations refined to meet the driving dynamics expectations of European drivers.
Ford's acclaimed 5.0-litre V8 engine – yielding more than 426 PS and 529 Nm of torque – is joined by an all-new 2.3-litre EcoBoost engine that brings state-of-the-art technology to Mustang; delivering turbocharged performance with the fuel efficiency and CO2 emissions demanded by Europe's car consumers.
"This EcoBoost engine delivers where a Mustang driver expects it to with a broad, flat torque curve that pours out when you stand on it for easy passing or hustling down a twisty road," said Dave Pericak, Mustang chief engineer.
The Mustang's 2.3-litre EcoBoost engine uses direct injection, variable cam timing and turbocharging to deliver usable performance. A unique intake manifold and turbocharger housing enable it to deliver the performance Mustang drivers expect, with output projected at more than 309 PS and 407 Nm of torque. An automatic transmission option features steering wheel-mounted shift paddles for drivers who want the choice between convenience and control.
A Mustang for the true driving enthusiast
The new Ford Mustang features all-new front and rear suspension systems. At the front, a new perimeter subframe helps to stiffen the front structure while reducing mass, providing a strong foundation for more predictable wheel control that benefits handling, steering and ride.
The new double ball-joint front MacPherson strut system also enables the use of large, powerful brakes. Both 2.3-litre EcoBoost and V8-powered GT Mustang models will feature performance brake packages behind standard 19-inch wheels in Europe.
At the rear is an all-new integral-link independent rear suspension. The geometry, springs, dampers and bushings all have been specifically modified and tuned for this high-performance application, and are well-suited to European roads and high speed driving culture. New aluminium rear knuckles help reduce unsprung mass for improved ride and handling.
Smart technology
The new Mustang features a significant number of innovative technologies providing drivers with enhanced information, control, and connectivity when they want it.
On a twisty back road or a weekend track day, the driver can tap the toggle switches on the console to quickly adjust steering effort, engine response, and transmission and electronic stability control settings using the available Selectable Drive Modes to create the perfect Mustang at any time.
The advanced, Ford-developed stability control is tuned to maximise the new Mustang's dynamic capabilities with features like torque vectoring that directs engine power to individual wheels to keep the car on course. When the time comes to turn up the wick at the track, manual transmission variants of the Mustang GT include standard launch control that enables drivers to achieve smooth, consistent starts every time.
Advanced driver-assist features include standard Ford SYNC with Voice Control and Touchscreen, that lets drivers control their entertainment. Also available for Mustang drivers in Europe will be a navigation system utilising the 8-inch central colour screen in conjunction with a premium 12-speaker sound system.
50 years of Mustang
April 17, 2014, marks the 50th anniversary of the introduction of the original Ford Mustang. Mustang will continue to be built in America at the Flat Rock Assembly Plant.
"From day one, we knew if we were going to build a new Mustang, we had to do it right," Pericak said. "We built a new Mustang from the ground up that is fast, great-looking, refined and efficient, without losing any of the raw appeal that people around the world have associated with Mustang for decades."
POWER, FUEL EFFICIENCY AND ADVANCED TRANSMISSION OPTIONS; NEW FORD MUSTANG IS TAILORED TO DRIVER PREFERENCE
New 2.3-litre EcoBoost brings turbocharging to the new Mustang with exceptional power, torque and fuel efficiency
5.0-litre V8 engine delivers power and torque fans expect from the iconic brand
Manual transmissions provide smooth shifting, automatic transmissions feature steering-wheel-mounted paddle shifters
Images and video available from media.ford.com and gofurther.fordmedia.eu
BARCELONA, Spain, 5 December, 2013 – The all-new Ford Mustang offers a choice of advanced engines and manual or automatic transmissions, delivering power and performance worthy of the Mustang badge in any specification.
The all-new 2.3-litre EcoBoost engine brings turbocharging to the Mustang powertrain line-up. Designed to meet the needs of drivers looking for outstanding performance and fuel efficiency, this EcoBoost engine has been developed specifically for Mustang. The intake manifold and turbocharger housing are optimised to provide better breathing and higher output in Mustang.
With a projected output of more than 309 PS and 407 Nm of torque, this EcoBoost engine fits the bill for a true Mustang powerplant.
"This EcoBoost engine delivers the healthy output that Mustang drivers expect regardless of the speed with a broad, flat torque curve and great driveability under any conditions," said Scott Makowksi, Ford EcoBoost powertrain engineering manager.
The newest member of Ford's global family of EcoBoost engines, the 2.3-litre engine leverages state-of-the-art technologies including direct fuel injection, twin independent variable camshaft timing and turbocharging to produce big-engine power and torque with improved fuel efficiency.
This is the first Ford engine to utilise a low-inertia twin-scroll turbocharger that provides quicker boost response while enabling lower emissions and improved efficiency. The cylinder head features an integrated exhaust manifold that separates the inner and outer pairs of cylinders into each inlet passage to the turbo.
Keeping the exhaust pulses separated from the next cylinder in the firing order eliminates mixing losses and maximises pulse energy to the turbine wheel. The result is quicker torque delivery when the driver needs it for passing manoeuvres and similar performance to a twin-turbocharger configuration.
The separated exhaust ports also enable the exhaust valves to stay open longer for reduced pumping losses that improve specific fuel consumption by about 1 per cent.
With such high power output, ensuring durability was critical. Enhancements to the Mustang EcoBoost engine to withstand the stresses include:
Forged-steel crankshaft
Piston-cooling jets
Steel piston ring carriers
Premium bearing materials
Upgraded valve seat materials
Forged-steel connecting rods
High-pressure die-cast aluminium cylinder block with ladder-frame bearing caps
Deep-sump, die-cast aluminium oil pan
The beating heart of a Mustang
No Ford Mustang engine line-up would be complete without a great V8 engine at its core. The 5.0-litre V8 engine powers into a new generation with a host of upgrades that enable it to breathe better, especially at higher engine speeds.
Getting air into the cylinders and exhaust out is the key to generating more power and torque from any engine, and that has been the focus of development on the V8, which features:
Larger intake valves
Larger exhaust valves
Revised intake camshafts
Revised exhaust camshafts
Stiffer valve springs – ensures that the valves close completely at high rpm
New cylinder-head casting – revised ports that provide a straighter path to the valves for less-restrictive intake and exhaust flow; combustion chamber modifications accommodate larger valves
Sinter forged connecting rods – lighter and more durable for high-rpm operation
Redesigned piston tops – deeper cut-outs clear the new larger valves
Rebalanced forged crankshaft – supports higher-rpm operation
These upgrades are projected to generate more than 426 PS and 529 Nm of torque.
A new intake manifold includes charge motion control valves to partially close off port flow at lower engine speeds. This increases the air charge tumble and swirl for improved air-fuel mixing. This results in better fuel economy, idle stability and lower emissions.
The variable camshaft timing on the intake side now has a greater range of adjustment available thanks to mid-lock phasers. This enables better optimised control of the valve timing over a broader range of engine speeds and loads for improved fuel economy and emissions.
Transmissions
Mustang blends outstanding all-around performance and everyday usability. Drivers who prefer to let the car handle the shifting during their daily work run, but still want to take control when the roads get twisty, will appreciate the new steering-wheel-mounted shift paddles with rev-matching downshifts that are now standard with the Select-Shift six-speed automatic transmission.
The automatic also features a redesigned case with cast-in ribs that help make it stiffer and reduce the weight. Internally clutches have been optimised and the operating temperature has been increased to reduce friction.
The new Mustang's Getrag manual transmission has a shift linkage design for shorter throws and improved precision.
With a choice of powertrains to match driving styles and lifestyles, the new Mustang has contemporary technology under the hood to match its modern design and yet remain quintessentially Mustang.
Original source: Newspress
Most popular news
---
Most popular insights
---
Oops! This article is copy protected.
Why can't I copy the text on this page?
The ability to copy articles is specially reserved for people who are part of a group membership.
How do I become a group member?
To find out how you and your team can copy and share articles and save money as part of a group membership call Shivani Hayer on
+44 (0)1527 573 732 or complete this form..